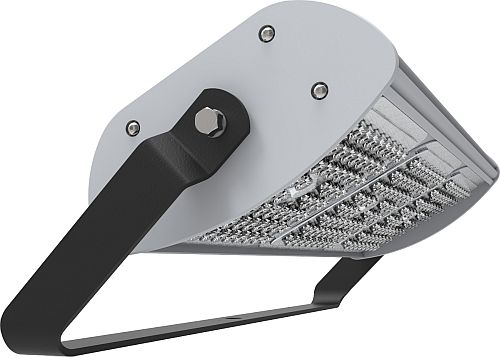 Hubbell Lighting has joined the short list of companies that are directly targeting lighting of large sports venues with LED lighting, an application area that has remained primarily the domain of metal-halide (MH) lighting. The company also recently launched a program called Createchange that helps colleges and universities pursue solid-state lighting (SSL) upgrades through free product trials and new energy-audit and product-selection tools. The Createchange program will be utilized along with Hubbell's Cash Flow Positive financing program for LED lighting.
LED lighting could have a major impact in sports venues both in terms of energy savings and the flexibility it provides operators in creating dramatic effects -- for instance, during player introductions. Because of the long restrike times associated with MH lighting, arena systems use mechanical shutters and motors to dim or extinguish lights for special effects. LEDs with instant on-off capability provide far more flexibility along with dimming.
We covered a major arena project at Weber State supplied by GE Lighting's Albeo brand. Moreover, LED lighting has the ability to serve as both the main venue lighting and double as the emergency lighting system as we documented in a story on Wembley Arena in London.

Still, most LED fixtures that can deliver the required light levels for arenas are very heavy relative to MH lights and the cost differential remains substantial. LED lighting has taken off in areas such as concourses in arenas but is still relative rare in lighting the main venue. Hubbell obviously sees opportunity in the application.
The 415W ArenaLED luminaire is designed to replace 1000W MH fixtures delivering 40,000 lm. Hubbell said a typical 10,000-seat arena would use 70 such fixtures. The LED option would deliver $18,000 in annual savings based on typical usage patterns and an electrical rate of $0.10/kWh. The system efficacy of the fixture is 92 lm/W.
Hubbell directly targets sports arenas with LEDs, launches college SSL incentives
The LED option would also enable superior effects and better light quality. Indeed, maturing LED technology can deliver superior uniformity to MH lamps and reflectors while also allowing the fixtures to be dimmed to the optimum level for an event.
Hubbell Createchange
The new college and university initiative, meanwhile, is designed to encourage the institutions to install efficient lighting. Hubbell said that lighting a 50,000-ft2 classroom can cost $31,000 annually. Moreover, the company believes SSL products can deliver 84% savings.
The Createchange program consists of two primary offerings. First Hubbell has developed new energy-audit and product-selection tools that it will provide for free to consultants working with schools. The tools will allow administrators to accurately predict the cost and potential economic impact of an upgrade.
Second, the company is offering 90-day free trials of products, calling the offer Compare in the Air. Institutions can install lighting trials in indoor or outdoor settings for evaluation with no financial risk.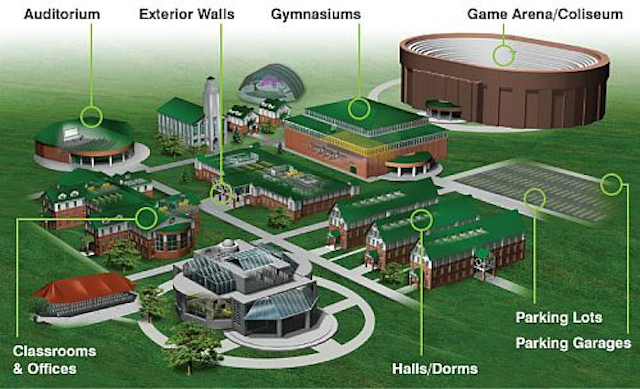 "Making the change to energy-efficient lighting and controls offers schools an incredible opportunity to free up funds that can be used for academic endeavors rather than operating expenses," said Scott Muse, president of Hubbell Lighting. "Our Createchange program offers colleges and universities as close to a guaranteed energy and maintenance savings as exists."
The institutions that decide to pursue retrofits can also leverage Hubbell's Cash Flow Positive financing program that is also broadly offered beyond schools. The program will provide 100% financing for SSL projects in many cases with fixed rates that allow customers to pay back the loan through monthly energy savings.