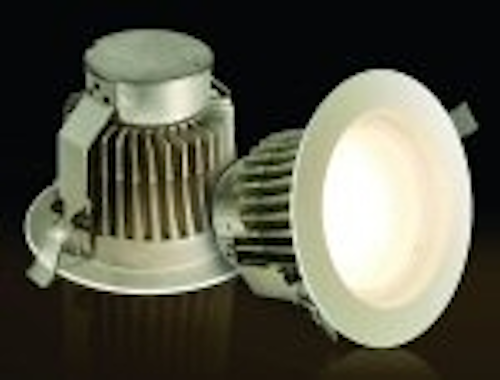 Cree and Zumtobel Group, the Austrian professional lighting company, have announced a "long-term strategic agreement" that will see Zumtobel sell Cree's recessed downlights in the European market. The first-year sales target is 50,000 units of the 230V version of Cree's LR6 luminaire.
The products will be sold exclusively under two brands of the Zumtobel Group, Thorn and Zumtobel, in more than 40 countries throughout Europe and selected export markets. The companies say they will expand their business relationship into other high-volume lighting categories in 2009.
Back in April 2008, Zumtobel announced that it would use Cree LEDs in its own luminaires – see Zumtobel Group teams with Cree to boost innovative LED lighting.
Andreas Ludwig, Zumtobel Group CEO, said that Cree "provides us with a unique source of technological knowledge and leadership. By integrating this innovative LED luminaire into our portfolio, we are securing a significant technological edge."
Chuck Swoboda, Cree chairman and CEO, described the Zumtobel Group as "a forward-thinking, market-leading lighting company that understands that LED technology is changing the industry, and they want to help lead the change. This strategic agreement is targeted to accelerate the LED lighting revolution across Europe by providing customers with energy-efficient and long-lasting products that save energy, save money and help protect the environment."
The LR6-230V downlight consumes just 12 watts of power, and, says Cree, delivers light of equivalent output and color quality to a 75-watt incandescent lamp while lasting up to 50 times longer. It is designed to last more than 20 years in homes and 10 years in businesses under normal use. Compared to compact fluorescent (CFL) lamps, Cree's downlight uses 50 percent less energy, lasts up to five times longer, and contains no mercury.