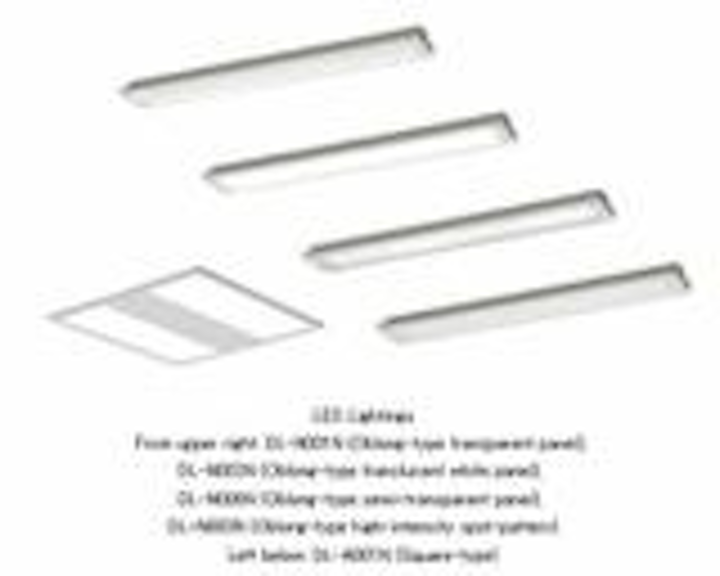 Sharp Corp. has developed a series of 11 new LED lights and will introduce them into the Japanese market on September 1. Four of the lights are oblong overheads with brightness equivalent to the fluorescent lamp fixtures currently in factories, offices and commercial spaces.One of the lights is a square overhead for use in conference rooms and similar spaces. The six remaining lights are circular downlights, three of which have a brightness equivalent to a standard 150W incandescent lamp, says Sharp.
LED lighting manufactured by Sharp will be adopted as the main lighting in all plants to be located within the company's "Manufacturing Complex for the 21st Century." This is now under construction in Sakai City, Osaka Prefecture, and is scheduled to begin operations by March 2010. The company says this will represent the world's largest collection of LED lighting installed in buildings on this scale.
Six new LED downlights
Sharp's six new LED downlights including three that deliver a light intensity equivalent to a 150 W incandescent lamp, and three that deliver the equivalent of 100 W lamps.
The model DL-D007N transparent panel is a neutral-white downlight delivers a brightness of 1400 lumens, the highest in the industry as of August 4, says Sharp, with a 3.6 W electrical input. These units can be used as the main lights in commercial facilities with high ceilings. The other downlight models have brightness that ranges from 680 to 1330 lumens.
The complete line-up combines two types of LED with different emission color temperatures (neutral white and warm white) and two types of cover panels (transparent and translucent white).
Neutral white LEDs can generate bright lighting for factory or office entrances, warm white LEDs can provide relaxed lighting for hotel lobbies and such, and translucent white cover panels are ideal for use in hospitals and other venues where overly bright lighting must be avoided. Users can select from a total of six models according to application and installation location.
The DL-D007N and DL-D001N models have energy efficiency with power consumption that is about one-fifth that of incandescent lamps of equivalent brightness.
These lights have a design product lifetime of 40,000 hours, good for installation in locations where lamp replacement is difficult. Design product life is defined as the length of time until brightness declines to 70% of initial brightness and does not guarantee the product operating life.
Sharp says that three factors minimize the increase in temperature resulting from LED module heat generation: 1) a proprietary heat dissipation design to optimize the fin spacing to promote heat transfer from heat sink surfaces; 2) the use of vertical baffles to increase natural convective airflow (thereby forming an open thermosiphon ); and 3) improving the heat radiation performance by painting the fin surfaces black. In addition, a cover is positioned on the top of the heat sink to control the build-up of dust and maintain heat radiating performance over long periods of time (see
Figure 1
).
These luminaires can also be used to replace existing downlights with no additional ceiling work required. The system to mount the units in the ceiling is based on three spring clips, allowing them to be installed in ceiling materials ranging from 5 to 25 mm in thickness. The power of the spring clips to pull the unit upward minimizes any gap between the surface of the ceiling material and the fixture.
Sharp is also planning to market an adaptor plate (optional; sold separately) to enable these units to be installed in recessed openings up to 150-mm in diameter.
The fixtures comply with J-MOSS (the Japanese version of the European Union's RoHS Directive) with double-insulated construction and flame retardant materials.
Oblong and square LED lighting
The four oblong LED overhead lights are for use in factories and offices. They deliver brightness equivalent to the commercial fluorescent lamp devices typically used in such locations. In addition, Sharp has also developed a "square" type LED light ideal for use in conference rooms and similar spaces.
The model DL-N001N transparent panel has a luminaire efficacy of 74 lm/W, which the company claims is the industry's highest for an LED light. The oblong models DL-N1001N, DL-N002N and DL-N006N feature an elongated form factor and deliver brightness equivalent to conventional fluorescent lighting devices equipped with twin 40-watt straight-tube fluorescent lamps. Models offer power consumption about 25% lower than fluorescent lights as well as high energy efficiency performance.
Although LEDs have traditionally been regarded as having problems when used for surface-emitting illumination, Sharp has employed its proprietary optical technology to achieve bright, uniform surface-emitting lighting. The technology – used in models DL-N002N, DL-N006N and DL-A001N -- reduces light absorption and boosts the percentage of light utilized by treating surfaces to have high reflectivity. This technology minimizes problems of uneven color and variations in light intensity (see
Figure 2
).
With fluorescent lights, the distribution of light may be more spread out than necessary in spaces with high ceilings such as factories and warehouses because of diffusion. But the DL-N003N high-intensity spot-pattern luminaire delivers 1,000 lux of illumination directly underneath the fixture at a distance of 3m. This high level is due to a proprietary condenser lens that ensures adequate levels of illumination with good efficiency even in spaces with high ceilings (see Figure 3).
These LED lights offer excellent heat dissipation capacity based on configuring the low-power LED in a uniformly spaced array. This arrangement minimizes deterioration in light output resulting from LED-generated heat and ensures a consistent, ample level of illumination.
As a result, these units have design product life of 40,000 hours, and can be expected to remain in operation for 10 years or longer, even when lit for 10 hours per day. They are good in locations that require lights to remain on for long periods, or where lamp replacement is difficult such as high places and multi-story open spaces like stairwells and foyers.