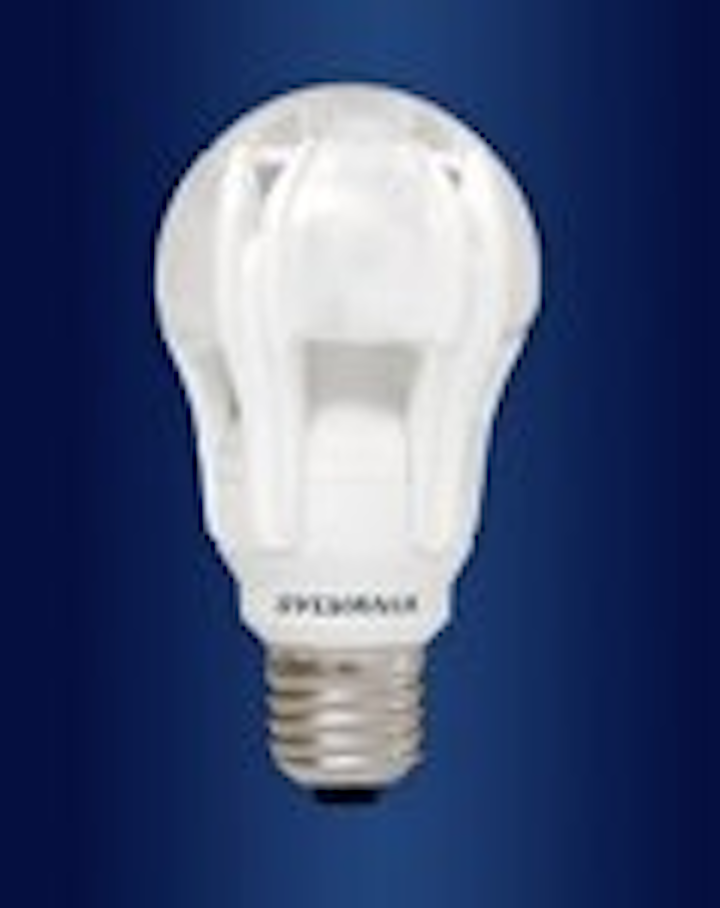 +++++
This article was published in the July/August 2011 issue of LEDs Magazine.
View the Table of Contents and download the PDF file of the complete July/August 2011 issue.
++++
LFI report, part 1: Linear LED lighting, OLED and planar lighting
LFI report, part 3: LED technology, outdoor lighting
++++
Section 3: Retrofit lamps
++++
We get the most out of LEDs in terms of energy efficiency and lighting performance from purpose-built fixtures. But the lure of existing sockets continues to bring players into the retrofit lamp market. LFI witnessed a number of demonstrations of LED lamps targeted at replacing 100W incandescent bulbs and 75W-equivalent lamps that are ready for market. There were also new LED-based lamps in the PAR, MR, and AR form factors.
Lighting Science Group (LSG), Osram Sylvania, GE Lighting, Samsung LED, and Acuity Brands all showed new retrofit products.
LSG
demonstrated a roadmap to lighter brighter lamps achieved via active MEMS-based cooling and remote phosphors.
GE
showed a 60W-equivalent lamp, while
Samsung LED
entered the US market for
LED-retrofit lamps
.
Acuity
introduced its first retrofit products via the new
Acculamp family
including PAR16/20/30/38, MR16, and AR111 lamps.
Sylvania
added omnidirectional A-lamps to its Ultra retrofit line with 40W and 60W-equivalent lamps due this summer and the
75W equivalent
due in the fall. Moreover, the company demonstrated a
100W-equivalent lamp
.
Phillips Lighting
didn't make the boldest claims at LFI about retrofit lamps but the company's announcement of a 75W-equivalent lamp may carry more credence than others given the company's success in the 60W-equivalent space. Philips showed the new EnduraLED A21 lamp that dissipates 17W while delivering 1100 lm. The lamp is rated for 25,000 hours of life and features a 2700K color temperature and a CRI of 80. The new $40-$45 lamp is due in stores late this year.
Philips said that the lamp would soon undergo Energy Star testing and the lamp is based on a design similar to the 12.5W design that was the first 60W-equivalent product to win an Energy Star rating. Philips also demonstrated its Ledalite Jump luminaire that would be at home in our section on linear lighting.
Switch Lighting
entered the retrofit market just before LFI with the introduction of a
75W-equivalent lamp
and followed with demonstration of a 100W-equivalent on the exhibit floor. Switch allowed the public to experiment with the lamps in their booth. The lamps are noticeably heavier than other LED-based lamps due to the inert liquid in the globe used for cooling. When presented side by side behind a screen simulating a light shade, 100W incandescent and Switch retrofit lamps were tough to distinguish at full power.
++++
Section 4: Modular SSL
++++
Modular approaches to luminaire design allow lighting companies to more easily enter the SSL market, and that will become even more true as multi-vendor standards emerge. The Zhaga Consortium is closing in on standards for about a half-dozen different LED light-engine modules. There was a module in the TE Connectivity LFI booth that looked suspiciously like some Zhaga photos, but company spokespeople refused to comment on any Zhaga work. Meanwhile other companies are moving forward on different approaches to modules – for example some with inclusive drivers and others without.
T-Opto
and
Luminus Devices
have partnered on the SoloLux module for what they call high-lumen, general-lighting applications. T-Opto (a division of Toyota Tsusho America) will manufacture the module using a single Luminus CSM-360 LED. Field upgradability is a key attribute of the module. T-Opto general manager Michael Handerhan said, "As LED performance continues to improve, fixture performance can be upgraded by replacing the chip-on-board LED with a standard screwdriver." The companies say the module will replace 175W metal-halide lamps. The SoloLux requires an external driver that will figure into system power consumption, but at 6500 lm the LED module will dissipate around 85W.
Bridgelux
,
Molex
and
GE Lighting
all demonstrated new versions of existing modular products at LFI. Molex and Bridgelux launched the second-generation of the Helieon module family that they jointly launched in March 2010. Whereas the original products required an external driver, the new models integrate the driver and directly
operate from AC line voltage
. Integrating the driver will further simplify luminaire development projects. GE lighting showed new versions of its Infusion LED modules for the first time in the US after
launching the products in Europe
a few months back. The family now spans 1000-3000 lm, and all use the simple twist-lock mechanism allowing easy replacement.
Cree
continues to break brightness barriers in LEDs, achieving 231 lm/W in the lab just before LFI, and a bright module highlighted its LFI exhibit. The LMR4 module is based on Cree XM-L LEDs and delivers a choice of 700 or 1000 lm with better than 90 CRI. The brighter version consumes only 16W yet the company says that it can serve as a replacement for 100W incandescent down lights. Cree offers the products with a choice of 2700K, 3000K, 3500K, and 4000K color temperatures. Cree's Paul Scheidt said that system cost for a luminaire using the module would be in the $100 range.