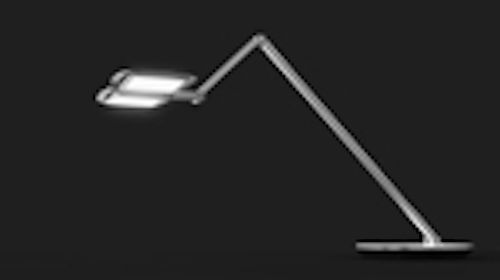 Guangdong Cnlight Optoelectronics Technology Co., Ltd. (Cnlight), based in China, has introduced a planar LED illumination product that incorporates an LED light source from Oree, a planar LED manufacturer based in Israel. The Cnlight slim LED table lamp features a thin (3.73 mm) illuminator, good light uniformity and light quality. It provides an efficacy of 80 lm/W and CRI of 90 -95.
The table lamp is designed to combine high light performance in a very thin form factor, and it will likely compete with visually similar, organic LED (OLED) approaches. The fixture body features aluminum-based alloy construction and a flexible arm that allows movement to various positions. In addition to task lighting, the central axis on the fixture can be rotated to provide illumination around a room.
The Cnlight LED fixtures contain White LightCell source manufactured by Oree, a planar LED manufacturer based in Israel. Oree's LightCell system-ready planar products are
marketed and sold to customers worldwide by Future Lighting Solutions
, allowing luminaire manufacturers to experiment with the white panels.
The LightCell planar LED light source technology is covered by over 30 patents in advanced optics, semiconductor and lighting technologies. It combines the light from individual LED dies with a flat light guide to enable a uniform, planar emitting pattern.