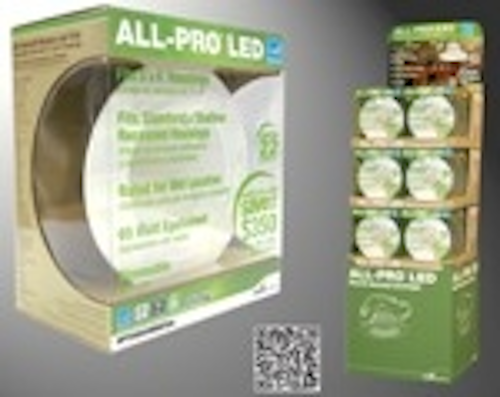 Many residents of Long Island, NY can buy the Energy Star-qualified Cooper Lighting All-Pro LED Retrofit Recessed Downlight at a deeply discounted price during the month of November. The Long Island Power Authority (LIPA) is promoting the solid-state-lighting (SSL) technology as an energy-saving tool through its Residential Energy Efficient Lighting Program with cooperation from nine electrical-distributor partners.
The Cooper downlight is designed to replace existing incandescent downlights and at 15W deliver the light output of typical 65W BR30 incandescent lamps. The product includes an LED module and recessed trim, and Cooper says that it will fit into 5- and 6-inch recessed housings that have been sold by many vendors including Cooper's own Halo and All-Pro lines.
"Energy Star-qualified LED lighting can use up to 75% less energy and lasts at least 25 times longer than incandescent bulbs," said LIPA chief operating officer Michael Hervey. "Lighting can account for up to 15 percent of the average electric bill, mostly due to the use of inefficient fixtures and light bulbs."
Cooper and LIPA did not reveal the discounted selling price, but a survey of some of the participating distributors revealed a price in the $40 range. Home Depot, meanwhile, lists the product for $59.97 on its website. The discount will certainly reduce the payback period on the investment, although not to the one year mark that many industry experts suggest consumers will demand before adopting SSL on a broad scale.
Cooper rates the downlight for 50,000 hours and that equates to more than 20 years in a typical residential usage scenario. Copper says it will save consumers $350 over the life of the product. The SSL retrofit delivers 600 lm with a warm-white 3000K CCT.
"As homeowners become more receptive to new lighting technologies, they not only want energy-efficient solutions, but high quality, reliable ones," said Cooper Lighting president Mark Eubanks. "Cooper Lighting's All-Pro LED Retrofit Recessed Downlight meets these needs by using tested LED technology to achieve the savings and quality of light that homeowners desire."
The participating distributors include AC Electrical Supplies, Continental Lighting, Duplex Electrical Supply, Greenvale Electric Supply, Michaels Electrical Supply, N&S Electric Supply, Revco Lighting and Electrical Supply, and Yorktown Electrical & Lighting Distributors. Each will display the product and offer the discount during the month of November.
LIPA's Hervey added, "We continue to assist and encourage customers to replace inefficient lighting with new LED technology at a reduced cost, which in turn will result in lower electric use and lower bills for our customers."