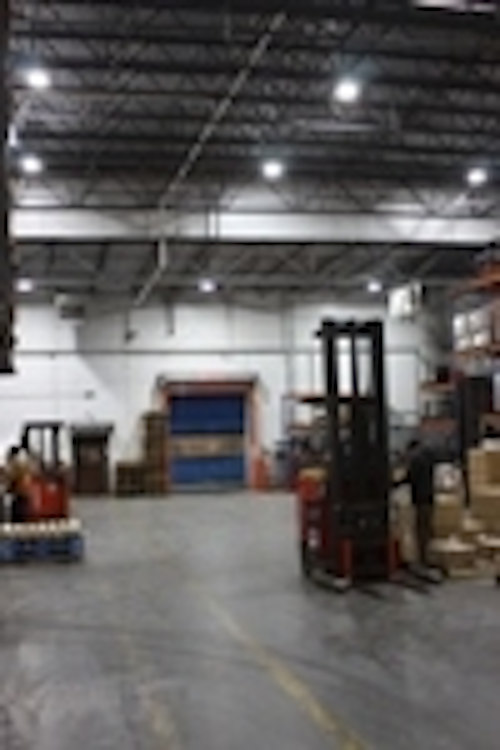 Digital Lumens has announced two new installations of its LED-based Intelligent Lighting System – both wins coming in the food distribution sector. Quandt's Foodservice installed the system in its Amsterdam, New York headquarters while United Sates Cold Storage (USCS) deployed the solid-state lighting (SSL) system in a Hazelton, Pennsylvania distribution hub. Meanwhile Relamp LED will offer Digital Lumens' customers a financing package that offers no upfront payment and relies on anticipated energy savings for a projected cash-flow-positive procurement.
The Digital Lumens system includes wirelessly-networked SSL luminaires combined with sensors and a lighting control system that the company asserts can reduce energy usage centric to lighting by 90%. The system is especially effective in warehouse applications where there is sporadic activity allowing much of the lighting system to be dimmed or extinguished much of the time,
In the case of Quandt's, Bluestone Energy's Lighting Division analyzed the food distribution headquarters to discern the best choice for a lighting upgrade based on return-on-investment (ROI) and energy efficiency. Bluestone recommended and installed the Digital Lumen's system that is projected to reduce annual carbon emissions by 219,436 pounds and reduce energy consumption by 264,915 kWhr per year.
Quandt's pursued the lighting upgrade as part of a broader sustainability program. "We reviewed the alternatives with Bluestone Energy and found that the Digital Lumens system offered dramatic energy savings while providing in-depth reports that we can use for ongoing system analysis and refinement," said Larry Bascom, Quandt's Director of Operations. "As a family-owned business that has been serving customers since 1918, we take a long-term view of the importance of sustainability in the supply chain."
The Quandt's deployment includes high-bay luminaires in the racked aisles, mid-bay luminaires in open spaces, and Digital Lumen's LightRules management system. Quandt's utility partner National Grid provided incentive funds for the project.
United States Cold Storage
USCS installed the Intelligent Lighting System in a recently constructed 88,000-square-foot addition to its Hazelton distribution hub. The company projects that the new system will cost 3.5¢ per square foot per year to operate. That cost compares very favorably to a cost of 46¢ for a traditional lighting system.
According to an article in the local Standard Speaker newspaper, the new facility utilizes 162W LED fixtures, whereas older portions of the facility use 484W metal-halide (MH) fixtures. The MH lights cost $92.60 per day to operate whereas the LEDs lights cost $10.80 per day to operate.
Digital Lumen's reseller Groom Energy Systems worked with USCS on the project that included $45,000 in incentive funding from the local utility PPL Electric. USCS expects to achieve ROI in 14.6 months.
"When reviewing the options for energy efficient lighting, we were drawn to the savings provided by the Digital Lumens system as well as its design," said Michael Lynch, Director of Engineering at USCS. "The rugged, industrial-quality LED fixtures are ideal for our demanding environments, while the LightRules management software provides key data that we can share across the organization."
Funding offer
New customers for the Digital Lumen's SSL system will have access to a financing package that's been put together by Relamp LED. The finance company offers to cover all upfront costs of a lighting project that utilizes the Intelligent Lighting System. Presumably, the monthly payments on the procurement are less than what an operation would spend on electricity in a legacy lighting system.
"With this program, they can lock in immediate savings on their monthly energy bills and hedge against future utility rate increases -- all while reducing monthly energy expenses," said Matt Millman, Principal, Relamp LED. "Clients no longer have to forgo dramatic energy savings due to capital budget limitations."
Customers that rely on the Relamp financing package realize energy savings from the start. Once the lighting system is paid for, the savings accrue directly to the budgetary bottom line.
"The Digital Lumens system provides a direct lighting energy reduction of up to 90%, which creates ample room for attractive financing packages," said Michael Feinstein, Digital Lumens Vice President of Sales and Marketing. "The dramatic savings from the Intelligent Lighting System make financing an appealing option for customers who want to improve energy efficiency, reduce long-term exposure to energy rate inflation, and conserve cash."