The 6th annual Strategies in Light Europe conference will take place November 18-19 and the conference chairs have issued a call for papers.
The conference chairs planning the Strategies in Light Europe event have issued a formal call for papers, inviting participants from the LED and solid-state lighting (SSL) industries to take a step toward participating in the sessions and workshops. UPDATE: Interested parties should submit abstracts by March 20, 2015.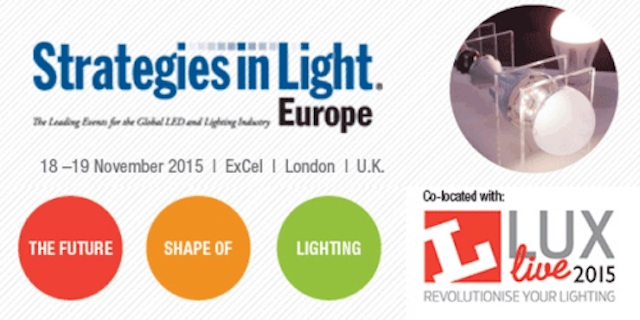 Strategies in Light Europe calls for papers, heads to London in November
Expect the Strategies in Light Europe event to be the biggest ever in what will be the 6th rendition of the event. The conference and exhibition is moving to London's ExCel Covention Center on November 18–19, 2015. Moreover, Strategies in Light Europe will be co-located with the LuxLive trade fair operated by Revo Media. Back in October, PennWell Corp, the owner of LEDs Magazine and the Strategies in Light events, announced acquisition of a controlling interest in Revo.

The Call for Papers is the primary pipeline used by the Strategies in Light teams to plan conferences. The abstracts received in March will subsequently be reviewed by the complete Strategies in Light Europe Advisory Board that includes leaders in the LED and lighting sectors from throughout Europe.
Related article: SILE speakers predict controls to drive next wave of LED adoption
Bob Steele, a stalwart with Strategies in Light going back 15 years, and Stephanie Pruitt, LED analyst at Strategies Unlimited, will co-chair the conference. The co-chairs succinctly described what they are looking for in abstract. "We are seeking presentations that deal with the critical issues regarding the future adoption of LED lighting, whether market and applications-related or technology-related. Presentations that address the opportunities, market drivers, and barriers for the adoption of LED lighting in specific market sectors are welcomed. However, we are also seeking presentations that address cross-cutting issues that affect all application segments."
The 2015 conference will include Keynote and Plenary Sessions, the Lighting Market and Applications Track, and the Technology Issues and Trends Track. There will also be an Investor Forum that has proven very popular with the audience.