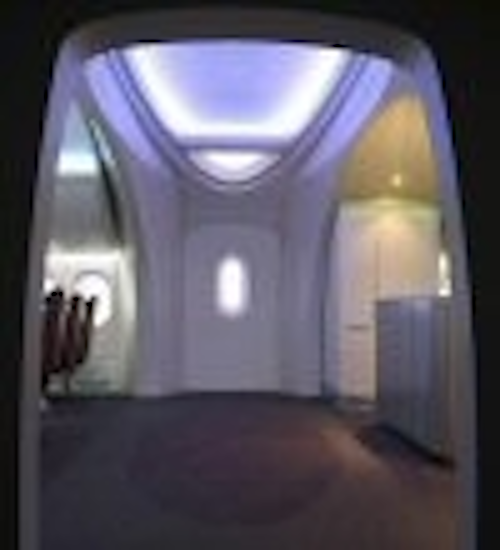 Boeing has named Germany's Diehl Luftfahrt Elektronik (DLE) as the supplier of LED lighting systems for the main cabin of the all-new 787 Dreamliner passenger airplane. Boeing says that the LED system will make it possible to create various moods in the 787 cabin, from sunrise to sunset, making travel a more comfortable and relaxing experience. At the same time, LED technology offers additional advantages regarding lower maintenance costs and longer intervals between unscheduled repairs.
The system consists of indirect ceiling wash lights, sidewall wash lights, entry lights, galley lights and accent lights based solely on LEDs technology. Wolfgang Helbach, president of DLE, said "This is an important milestone in aircraft interior lighting. It is the first major application of LED lighting technology by Boeing for general lighting in the interior of any of their aircraft. We are enthusiastic to be part of the Dreamliner team."
Upon boarding, passengers will be welcomed by a larger, open entryway with sweeping arches directing their eyes upward. Above them they'll see a calming, simulated sky that enhances their perception of spaciousness (see photo). The arches are repeated at carefully selected locations in the interior, giving passengers the sense of being in well-proportioned spaces. The "sky" effect continues over the aisles throughout the airplane. Illuminated by arrays of LEDs this "sky" can change in color and brightness throughout the flight, enhancing the passenger's sense of comfort.