Metropolis supplies customised LED fixtures to Sportsman Casino
A requirement for movement of color dictated the choice and design of LED fixtures for a London venue.
Jul 26th, 2005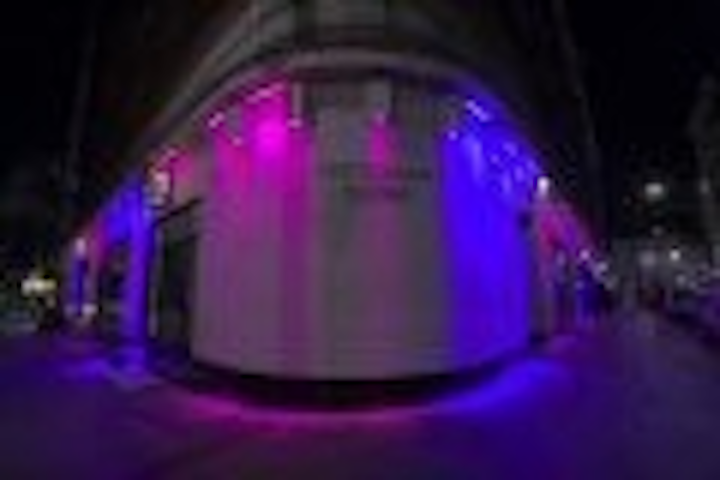 Metropolis AV has designed a colourful new architectural lighting installation, including some specially customised LED fixtures, at the new Sportsman Casino in Old Quebec Street, central London.
The gaming venue wanted something eye-catching that would distinguish it from the surrounding buildings. Exterior lighting was the perfect solution, and in addition to conventional colour-changing wall-washing effects, the customer also wanted some movement of light.
Metropolis's Simon Harris and Andy Shelton asked their manufacturing division Met 3 to make some special moving versions of the company's TC12 LED spotlight, complete with 6 degree lenses. These are mounted within existing down-lighter fittings and fixed onto off-the-shelf pan/tilt motors that are DMX controlled via a custom driver. There are four of these new units, two per side flanking the door of the club, and they provide a gentle sweep of movement over 100 degrees.
In addition to the 4 moving downlighters, there are 12 static RGB spotlights attached to the side of the building.
The walls of the club, which run along 2 different streets, are washed with 25.2 m of Metropolis TC linear LED strip fittings containing a total of 780 one-watt LEDs. The total light emission is equivalent to about 10 kW of tungsten lighting.
The strips are attached to the underside of a small ledge between the top of the ground floor and the first floor. The strips are of various lengths and include 150 mm unlensed strips over the windows and several 75 mm-pitch lensed fittings. It's unusual to use lensed fixtures in this way, but the original demo took place on a snowy night in February and the lensed ones looked much more vibrant, so the client chose them.
The lighting was programmed on a LightProcessor QCommander console and then stored on a QCommander Replay unit. The client has a small keypad behind the reception desk, through which they can access 8 different scenes and sequences and on/off. The brief was that it should be very simple for them to run.