LED retrofit lamp selection grows at LFI (MAGAZINE)
At Lightfair International this year, LED retrofit lamps were all the rage. Companies already offering LED retrofit lamps were joined by several large companies, including Sharp and Toshiba.
Jun 15th, 2010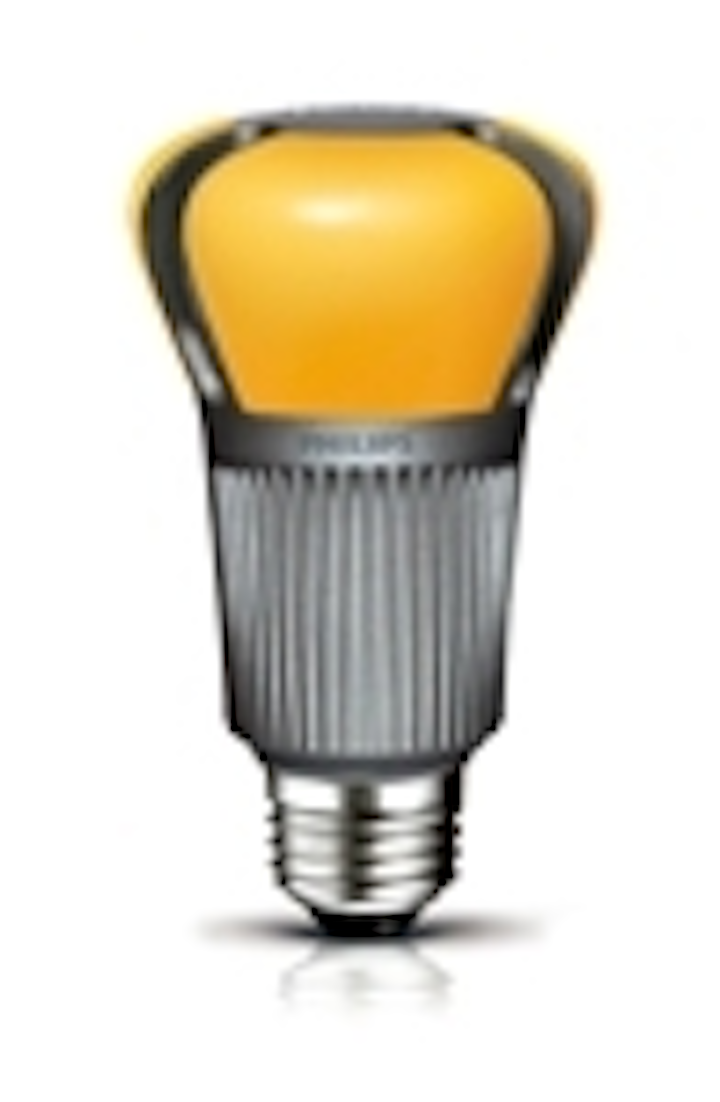 The LED retrofit lamp market was perhaps the hottest segment at May's Lightfair International (LFI) tradeshow. Existing players including Osram Sylvania, Philips, Lighting Science and Lemnis Lighting expanded their offerings, while Japanese giants Sharp and Toshiba entered the retrofit market.
At LFI, Osram Sylvania, Lighting Science Group, and Philips all unveiled new LED lamps targeted at replacing the 60W incandescent bulb.
The Sylvania Ultra LED A-lamp is a 12W, 810-lm dimmable product with a 2700K color temperature and a color-rendering index (CRI) of 90. Sylvania did not announce a price but said the lamp would be available for purchase beginning in late August, and had a 25,000-hour lifetime. The lumen-output figure is significant because it exceeds the value of 806 lm designated by the European Union as the minimum necessary to be able to claim 60W-equivalence.
Philips is the only company to enter a 60W-replacement bulb in the L-Prize (see p.19), and applied this experience to its new
12W EnduraLED light bulb
. The lamp outputs 806 lm, works with standard dimmers, and is rated for 25,000 hours of use. The new EnduraLED bulb (see photo) uses a similar mechanical design to the L-Prize candidate. Both use a remote phosphor. Both segment the bulb and use aluminum air channels between the bulb segments for cooling. The L-Prize candidate uses four illumination quadrants while the new design has three illumination segments. Note that the L-Prize target is more than 900 lm and less than 10 W power consumption. Philips believes the EnduraLED will be more cost effective and serve a broader market than the L-Prize candidate. It declined to provide a price at launch, but plans to make it widely available in the fourth quarter of this year.
Lighting Science Group, meanwhile, did announce a price for its new 9W Definity A-lamp, which has an output of 770 lm. The product will sell in the low $30 range, beginning in the third quarter of 2010, and has a product life of 50,000 hours. The company claims that 60W incandescent bulb sales have traditionally constituted 50% of the market and that's surely why so many companies, as well as DOE with the L-Prize, are targeting that segment. Lighting Science also announced that its 9w Ecosmart A19 LED lamp is being sold in The Home Depot with a retail price of $19.97. The 40W-equivalent lamp has an output of 429 lm (according to the packaging) and a color temperature of 3000K.
GE demonstrated its 450-lm, 9W LED bulb that was announced recently as a 40W replacement. The company still doesn't have a definitive ship date, but at an LFI press conference indicated the lamp will be on sale in 2010 with a price in the $40 to $50 range. The lamp is rated for 25,000 hours. The unusual design of the lamp is intended to improve the omnidirectional light distribution.
Sharp and Toshiba both made news at LFI announcing that they would enter the US and other world markets with LED lighting products. Both companies have been leaders in lighting in Japan, but have not supplied products beyond that country in the past.
Sharp is squarely focused on the commercial customer sector early on and has developed an extensive network of manufacturers' representatives. The company announced PAR38 replacement lamps as its first products and plans to follow with PAR30 lamps in the summer. The PAR38 (see photo) is available in 900- and 720-lm versions, targeted at replacing 90W and 75W halogen bulbs with 20W and 16W LED alternatives, respectively. In Japan, the company has primarily sold LED A-lamps and will ultimately bring those to the world market as well. Although the company only entered the LED space in August 2009, product manager Vini Petroni reported that the company shipped 1.5 million LED A-lamps in Japan in 2009.
Toshiba introduced various LED-based lamps at LFI. The company's A-lamps (see photo) come in 5.6W and 7.8W versions that range in light output from 230 lm to 350 lm, depending both on wattage and color temperature. Toshiba's featured announcement, however, was an A-lamp that is not yet ready for either the Japan or global markets. The company demonstrated an A-lamp that outputs 1690 lm and offers a 260º lighting angle – vertically. Masao Omori, Director of LED Lighting at Toshiba said the company hopes to ship the high-output product within six months.
Moving back to an established player, Lemnis Lighting is among the leaders in LED replacement bulbs. Warner Philips, co-founder and CEO of Lemnis Lighting USA, reports that the company has sold 2.5 million LED bulbs. At LFI, the company announced an 800-lm PAR-style bulb called the Pharox 800, the Pharox MR16 that outputs 300 lm at 5W, and the Pharox Candle that produces 170 lm at 4W. In the A-lamp area, Lemnis introduced the new 500-lm Pharox 500 as a companion to its existing 200- and 300-lm lamps. Lemnis' Philips believes 500 lm and down is the sweet spot for A-lamps. He stated, "Lamps that output 800 lm at $60 will not compete." He believes that consumers won't pay that price premium. Philips claims that Lemnis will soon lower the price point for the low end of its A-lamp family to less than $20 in the coming months.