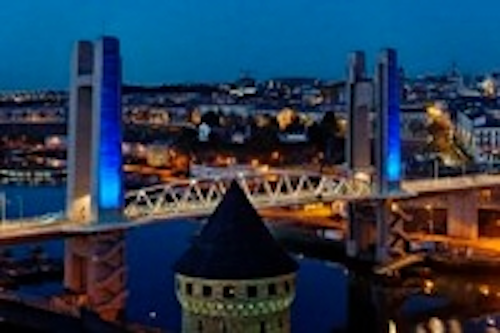 +++++
This article was published in the June 2012 issue of LEDs Magazine.
View the Table of Contents and download the PDF file of the complete June 2012 issue, or view the E-zine version in your browser.
+++++
Residents of Brest, France now enjoy both functional LED ambient lighting and dynamic SSL architectural lighting on the historic and newly-renovated Recouvrance lift bridge. Lighting manufacturer LEC Lyon and the Urban Community of Brest collaborated on the project.
The city had added a new pedestrian walkway to the bridge. The footpath is now lit with LEC School 5640 luminaires spaced at 3.75m and mounted in the handrail. The LED lights use a low-voltage power scheme ensuring pedestrian safety. And the LEDs focus all light on the path with no light pollution.
"During the renovation of the bridge we had decided to implement corbels to achieve a footpath on each side of the bridge, where only thin pavements existed before," said Hubert Le Sech, street lighting manager at the Urban Community of Brest. "At first, lighting this new area with bollards had been presented but the fear of vandalism led us to look at alternatives." LEC proposed the handrail scheme. Le Sech said, "This innovation seduced us immediately."
LEC Ligny 5635 fixtures provide the architectural lighting evident on the iconic, 44-mm-high bridge towers. The fixtures include red, green, and blue LEDs in 4.6m lightbars. The dynamic lighting requires only 300W per pier. The system will enable Brest to customize animations for festivals and events and replaces neon lighting that was costly in terms of maintenance and energy usage.