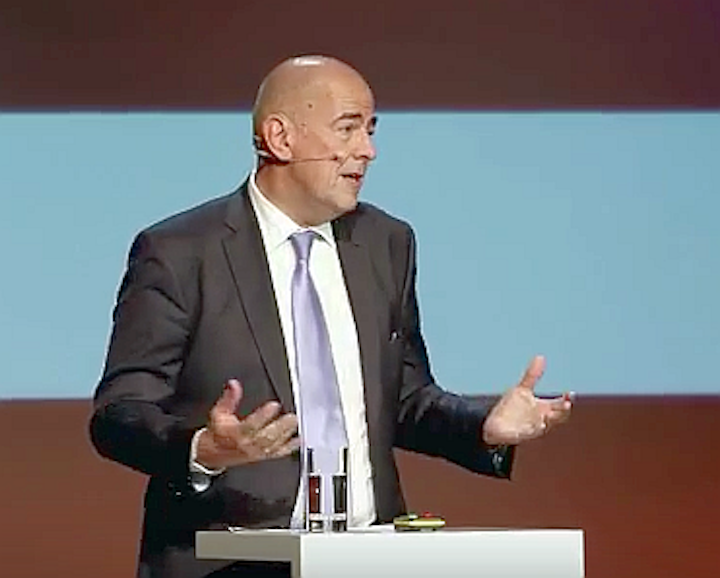 It promotes its chief operating officer to "acting" boss as it tries to escape its quagmire. The industry continues to churn; more turmoil ahead as the IoT shakes things up.
The executive merry-go-round at Zumtobel Group has accelerated to full tilt, as the company announced the departures of both its CEO Ulrich Schumacher and its chief financial officer Karin Sonnenmoser.
Interested in articles & announcements on LED & lighting business?
The €1.3 billion publicly-traded Dornbirn, Austria LED lighting and services vendor promoted chief operating officer Alfred Felder to "acting CEO," which makes him interim chairman of the management board as well, which Zumtobel sometimes calls the executive board.
Felder will also serve as chief sales officer of luminaires. Replacing him as COO is Bernard Motzko, who was vice president of global operations at Diebold-Nixdorf, a maker of ATMs, checkout systems, and kiosks.
Schumacher had offered to resign last month in the week preceding the 68-year-old company's warning that earnings for the April 30, 2018 fiscal year would plunge as much as 70%. Zumtobel's 7-member supervisory board — different from its management board and chaired by scion Jürg Zumtobel — accepted the resignation.
The supervisory board, which also includes Fritz Zumtobel — Fritz and brother Jürg are sons of founder Walter Zumtobel — had last month rejected CFO Sonnenmoser's offer to resign. It is not clear whether the board changed its mind or whether Sonnenmoser's contract will run its course. CEO Schumacher's resignation was effective Feb. 1. Sonnenmoser will depart the company at the end of June.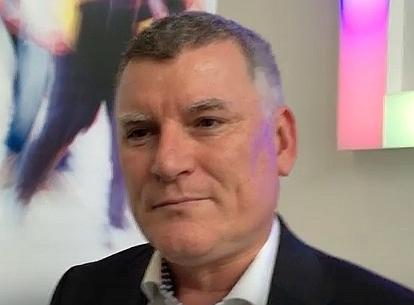 "We will again all pull together in order to provide stability to the shareholders, to motivate our employees and to continue to be a responsible and innovative partner for our clients," Zumtobel Group acting CEO Alfred Felder said. (Photo credit: Volat via YouTube.)
Sonnenmoser will also continue as a member of the company's management board, which new COO Motzko is also joining. The board was set to expand to four members, but with Schumacher gone, it is currently at three: Felder, Motzko, and Sonnenmoser.
As COO, Motzko will oversee Zumtobel's global product network, which had been the responsibility of Felder until he took over his new dual roles as acting CEO and chief sales officer of luminaires. Felder had served about three years as CEO of Zumtobel's LED driver, engine, and controls company Tridonic, until November 2016, when Guido van Tartwijk replaced him in that role. (Van Tartwijk will speak during the opening keynote session next Tuesday during Strategies in Light.) That change followed Felder's April 2016 promotion to COO and appointment to the Zumtobel management board.
"These steps will bring clarity to the executive board regarding its responsibilities," said supervisory board chairman Jürg Zumtobel. "The supervisory board is placing its full confidence in the executive board to accomplish a turnaround to success." He did not indicate whether Felder's "acting" status is expected to become permanent.
"We will again all pull together in order to provide stability to the shareholders, to motivate our employees, and to continue to be a responsible and innovative partner for our clients," Felder said.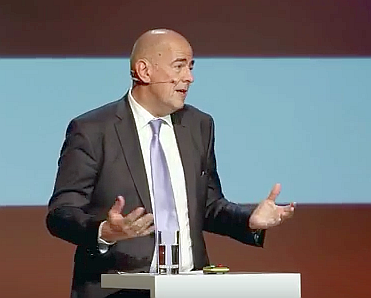 Zumtobel cans its CEO and CFO
Ulrich Schumacher's resignation took effect on Feb. 1. (Photo credit: Zumtobel Group via YouTube.)
The company did not announce any changes at Tridonic or its Zumtobel Services Group (ZSG) and ZSG's NOW lighting-as-a-service unit. Zumtobel created ZGS a year ago, in one of many signs that the lighting industry in general is moving more toward service-based, Internet-connected lighting now that long-lasting LED light sources are undermining the old-fashioned business model of selling lights, bulbs, and their replacements.
Some lighting companies are increasingly building Internet-ready components into their luminaires. Zumtobel's luminaire brands include Zumtobel, Thorn, ACDC, and Reiss.
Schumacher, who had a long background in semiconductors, had been CEO since 2013. Early in his tenure, he articulated a keen interest in "developing increasingly...into a software supplier, a kind of Google of the lighting industry." It's not clear how well that strategy has panned out, or how agreeable it has been to the supervisory board.
Many lighting companies are wrestling with the transition, some better than others.
GE is giving up, as it tries to sell its lighting and energy services divisions amid its broad corporate struggle. Philips Lighting, which recently reported upbeat financial results, is getting ready to change its corporate name to something that will presumably reflect modern, IT-based lighting services. It also recently replaced the head of its Americas group with a former Cisco executive, underscoring the importance of Internet of Things (IoT) lighting.
The industry turmoil also led to a change of CEOs at LEDvance last month.
LEDs Magazine expects more major changes across the industry in the coming weeks and months, and will report on them.
MARK HALPERis a contributing editor for LEDs Magazine, and an energy, technology, and business journalist (markhalper@aol.com).
*Updated Feb. 7, 2018 10:32am for clarification.