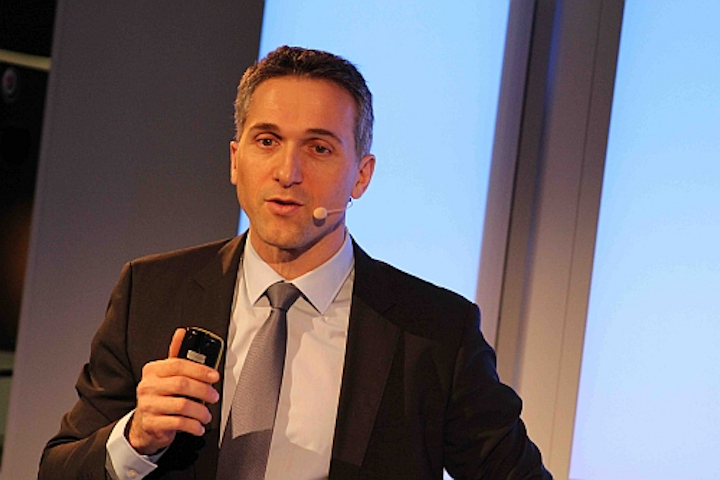 After a solid fourth quarter reaffirmed the importance of services and Internet connectivity to the company's future, CEO Eric Rondolat reveals that a new moniker is coming soon.
After reporting a fourth quarter and year in which it returned to growth on the strength of services and Internet connectivity, and in which the professional sector took over as the leading profit maker, Philips Lighting today revealed it is soon changing its name, a switch expected to reflect the importance of IT-based lighting and services.
Interested in articles & announcements on lighting business?
The world's largest lighting company said that sales for the quarter ending Dec. 31 and for the year were €1.89 billion and €6.97 billion, respectively. A 3% increase in comparable sales for the quarter helped nudge yearly comparable sales growth to 0.5%, reversing a decline that Philips had suffered in 2016, when the quarter fell by 3.2% and the year dropped by 2.4%.
The biggest percentage growth came in the home sector — a young market where Philips sells smart systems based on its Hue line of LED bulbs that change brightness, color, and CCT prompted by many different Internet inputs — followed by the professional sector, in which Philips typically sells Internet-connected lighting to cities and commercial entities. Both considerably outgrew LED electronics — circuitry that Philips sells to lamp and luminaire makers, which was flat for the quarter — as well as conventional lamps, which shrunk.
Notably, the professional sector, by far Philips' largest with sales in the quarter of €781 million and for the year of €2.76 billion, was the top contributor to profits for the first time ever. The professional sector is one where Philips is striving to move to service business models as opposed to hardware sales. That transition has not been easy for many lighting vendors, who are trying to find the right formula to ensure profits in a service world that is new to them following more than a century of a more straightforward product-based revenue stream.
"Looking at Q4 2017, it is worth noting that for the first time, professional is our largest profit contributor," Rondolat said in a conference call with analysts this morning.
Eindhoven, Holland-based Philips reported that adjusted EBITA for the professional sector was €95 million for the quarter, a surge of 44% from the same quarter last year. The quarter's second-highest adjusted EBITA was conventional lamps at €76 million, but that marked a decline of 34%. LED electronics also dropped, by 7% to €46 million. Adjusted EBITA at the home segment jumped 17%, to €20 million.
With both the professional and home sectors keying the relatively rosy results, and with their heavy elements of Internet of Things (IoT) and service orientation marking a departure from the old products and business models, Rondolat told analysts to stay tuned for a corporate name change.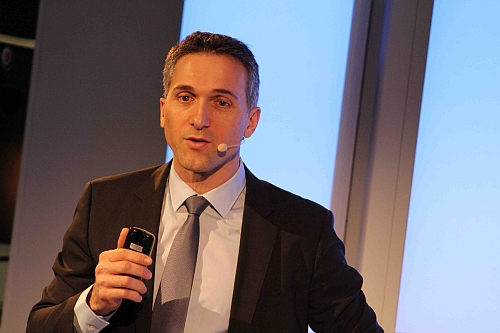 "Looking at Q4 2017, it is worth noting that for the first time, professional is our largest profit contributor," Philips Lighting CEO Eric Rondolat told analysts. Later in the call, he noted, "Ten years from now, I will talk about light as a language." (Photo credit: Mark Halper.)
"We intend to announce our new corporate name in the first half of 2018," Rondolat said. The name change will come roughly two years after former parent Royal Philips spun out Philips Lighting in a stock market offering. "Needless to say, we will continue to use the Philips brand for our product as we have a brand license agreement for the coming decade."
Philips began hinting at the name change about three months ago. Rondolat did not provide any other direct indication today of what the name might be, other than that the Philips name will be involved.
But observers expect the moniker to conjure up notions of lighting as an Internet-connected network that helps gather data to not only improve the operation and control of the lighting itself, but also to provide insights on how to improve operations of cities, roadways, and commercial facilities.
The ongoing evolution of "connected lighting" as an information technology network fits well with Rondolat's clear intention to push service-oriented business models. Responding to an analyst's observation that systems and services appear to be rapidly growing within the professional segment, Rondolat described systems and services as the latest of several strategic lighting industry transitions.
"The first one is the move to LED. This one is well engaged," the Philips boss said. "The second one is to move to systems, and this one has started, but still has fabulous potential ahead. You know, we were talking about 29 million light points that we have connected, but there are 26 billion light points on the planet at this point in time, so yes, it's growing, it's profitable, and we think there's a sizable business ahead.
"The third part of the transformation is services, which is just starting at this point in time, and moving forward. In fact, ten years from now, I will talk about light as a language. We see a fabulous potential ahead, but it's true that at this point in time, systems and services is at the center of the big growth that we enjoy and that we still believe we are going at during the coming quarters."
During the call, Rondolat and chief financial officer Stéphane Rougeot referred repeatedly to a large-scale professional project underway in the US, which is contributing significantly to revenue. They declined to name the customer.
Philips recently replaced the head of its Americas division, naming former Cisco executive Chris White to the post. White is expected to lend expertise on Internet connectivity.
Rondolat also noted that while systems and services are the focus of growth, the company will continue to innovate on the hardware side as well.
He said Philips will emphasize internal innovations both in hardware and services, but that it looks to acquire small- to medium-size companies to help in development. Over the last year or so, Philips acquisitions or equity investments have included Israeli sensor firm PointGrab, French Li-Fi company Luciom, and a company called Stack Lighting.
One company that is for sale is GE's Current division, which specializes in lighting and energy services akin to Philips' services interests. Current would not seem to fit Rondolat's description of "small to medium" acquisition targets. Philips declined to comment when LEDs Magazine asked if they might be interested in Current or in GE's home and conventional lighting business, GE Lighting, which is also for sale.
For the quarter, Philips reported that sales for conventional lamps fell 18.4% on a comparable basis to €442 million, LED electronics were up 5.1% on a comparable basis to €440 million, professional was up 11.2% on a comparable basis to €781 million, and home surged 37.3% on a comparable basis to €232 million. For the year, on a comparable basis, lamps fell 18.6% to €1.8 billion, LED electronics rose 13.8% to €1.7 billion, professional inched up 4.6% to €2.76 billion, and home jumped 26.5% to €684 million.
MARK HALPERis a contributing editor for LEDs Magazine, and an energy, technology, and business journalist (markhalper@aol.com).