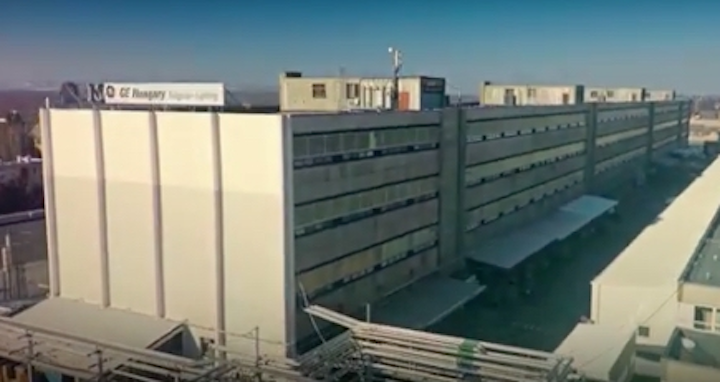 The first stage of the lighting sell-off is a full circle affair, as the company goes back to the Hungarian name that sold it to GE in 1990.
GE has taken a big step in unloading its lighting businesses, reaching an agreement to sell GE Lighting's Budapest-based European, Middle East, and Africa operations (GE calls it EMEAT for Europe, Middle East, Africa and Turkey), plus GE's Global Automotive Lighting group, to a company controlled by the former president of GE Hungary.
Interested in articles & announcements on lighting business?
The entire workforce of those units — over 4000 people in total — will transfer to the new entity, GE told LEDs Magazine, while the new owner posted a comment saying he will eventually drop the GE company name and replace it with Tungsram, which was the name of the former state-owned Hungarian lighting and electronics company that GE bought in 1990.
Neither GE nor the new owner, Joerg Bauer, revealed how much Bauer agreed to pay.
Bauer did not purchase GE Lighting's North American operations, nor did he acquire GE's lighting-related energy group, called "Current, powered by GE," also known as Current. GE is still seeking buyers for both operations, which it could sell either separately or together, GE told LEDs.
GE Lighting focuses on conventional lighting as well as on the home LED market, while Current is an energy consulting group that digitally links commercial users' LED lights, solar panels, electric batteries, car chargers, and the like to help reduce energy costs and consumption.
In a statement posted on his personal LinkedIn page, Bauer said the agreement to buy GE Lighting EMEA and Global Automotive Lighting depends on regulatory approval.
Both he and GE also noted that it hinges on "local agreements," with GE pointing out that, "before entering into local agreements, where appropriate, we will complete a consultation process with the relevant employee representatives in accordance with local law." It did not provide specifics.
Bauer seemed optimistic on the timeline, noting that "the proposed divestiture process is targeting completion by mid-2018 in a number of phases, with the Hungarian business and operations potentially transferring as soon as the beginning of April 2018."
While his company, Tungsram, plans to use the GE brand on some products during a "transition period," it will eventually revive the Tungsram brand. "In some cases, this would occur on day 1," he said. Tungsram, which is part of the Hungarian national identity, was founded in 1896 and has a history in telephones, wires, and switchboards. It entered the lightbulb business in the early 1900s, and takes its name from tungsten and wolfram, two names for metal filaments in incandescent lamps.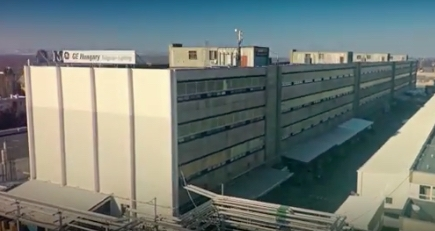 GE Lighting finds buyer for EMEA operations
This GE Lighting factory and distribution center in Nagykanizsa, Hungary could soon be part of the revived Tungsram company. (Photo credit: GE via YouTube.)
"The entity I fully own would enter this proposed deal with excitement about the potential of reinvigorating a true national brand in Tungsram, the most innovative Hungarian industrial company of the last century," Bauer said.
He described Tungsram as having a global reach, and said it would be committed to "creativity, innovation, and engineering — adding to it the agility and can-do attitude of a startup with serious traction, while focusing on future-safe industries and technologies."
Bauer did not elaborate specifically on what products or services he plans to develop.
"Once the deal closes, I look forward to sharing more insights on business plans and providing continual updates," he said. "Until that time, we are not involved in GE Lighting's day-to-day operations, but will be working toward a successful transition and transfer of this iconic business." Tungsram will be headquartered in Hungary and overseen by "existing regional GE Lighting executives," he added.
Meanwhile, regarding GE's ongoing attempts to sell Current and the rest of Lighting, a GE spokesperson in Budapest told LEDs that "several strategic options will be explored for GE's Current and Lighting businesses based on potential buyers — a buyer may want the entire segment, including both Current and Lighting, or it could mean different buyers for each business."
As LEDs has reported, while GE treats Current and Lighting as separate marketing operations, it combines their revenue as one in its financial reporting.
Suitors for Current could possibly include Feilo Sylvania, or Osram, which is shopping for an energy consulting company. Philips Lighting CEO Eric Rondolat seemed to rule out any interest in Current recently when he said that Philips will focus its acquisition eye on small-to-medium-sized companies.
GE's exit from lighting — which means a split from its late 19th-century roots with founder and lightbulb inventor Thomas Edison — is part of a broader effort by the troubled $113 billion conglomerate to shed operations. It intends to focus on power, aviation, and healthcare following a year in which, among other woes, it was the worst performer on the Dow Jones Industrial Average, its CEO resigned, it slashed earnings expectations, and it took a whopping $6.2 billion charge in a legacy insurance business, drawing an SEC investigation.
The lighting withdrawal also reflects a general industry trend to find new revenue models in the era of digital lighting when LED bulbs last so long they deprive vendors of replacement sales. GE's formation of Current in October 2015 marked such an effort, but Current will go down as a short-lived GE attempt once GE sells it.
In a similar vein, Philips Lighting will soon change its name to evince a more contemporary application of LED technology now that luminaires are serving as information technology devices, outfitted with chips and sensors that gather data.
MARK HALPERis a contributing editor for LEDs Magazine, and an energy, technology, and business journalist (markhalper@aol.com).