Never fear: Zumtobel is near, with a surprising lighting-as-a-service twist.
There are still two floors available in the new 18-story St. Martin office complex in Frankfurt, where prospective tenants might think something is missing when they look up at the ceiling: lights.
Interested in articles & announcements on lighting as a service (LaaS)?
Yes, for all its modernity — architects Meyer Schmitz-Morkramer call it "superior dynamics and elegance" — builders of the sparkling edifice seem to have overlooked one of the most fundamental staples of commercial workplaces, artificial illumination.
But this is not by accident. According to lighting vendor Zumtobel Group, the absence of luminaires is an intentional feature to give tenants the flexibility to decide on the ultimate choice of lighting hardware. It is another twist to the lighting-as-a-service (LaaS) theme.
"Each tenant has different desires and requirements for arranging his office spaces," a Zumtobel spokesperson explained to LEDs Magazine. "That's why there are no final luminaires in there. In the office rooms and floors that tenants can rent, they can install pendant or surface-mounted luminaires. Or they can insert a 'second ceiling' to implement recessed luminaires."
The choose-your-own approach is not a service in the traditional sense of LaaS, in which lighting companies typically retain ownership of lights and essentially rent them and their sophisticated operations out to building owners or end users — although that is also on tap at St. Martin. In the lights-not-included stage, the tenant purchases the lights and the installation.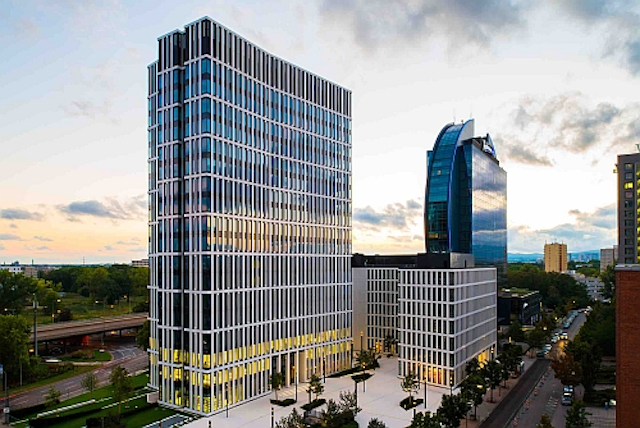 Space available in modern Frankfurt office tower. Lights not included but LaaS an option.
In a modern rental concept, the offices in St. Martin leave the lighting choice up to the tenant in a lighting-as-a-service (LaaS) model provided by Zumtobel. (Photo credit: Zumtobel.)
But the idea embraces a service ethos. At least it does to Dornbirn, Austria-based vendor Zumtobel, which told LEDs that it has already sold ceiling fittings, installation, and commissioning to tenants who have filled all the other floors since the building opened in 2015. Zumtobel provides the lights through its service company called Zumtobel Group Services (ZGS).
The choose-your-own model is just one of several offerings that ZGS is selling at St. Martin. The others fit more obviously into the LaaS model, with the ongoing operations that the word "service" implies.
For example, on the leading edge of Internet-linked lighting, Zumtobel said it has provided its digital services package to the building's operator, THA Immo Verwaltungs GmbH. Zumtobel has outfitted lights in common areas of the building and on a show floor, with sensors that constantly monitor room occupancy and provide insight on how to improve space allocation. LEDs'sister website Lux recently wrote in more detail about that aspect.
Lighting vendors are hoping that such facility management services emerge as a mainstay of Internet of Things (IoT) lighting. Trailblazers have included Feilo Sylvania, which installed one of the first such systems in the headquarters of Dutch standards group NEN in 2016, and which considers it to be the number-one application of all the possible uses of IoT lighting.
Zumtobel is also offering the digital services to building tenants, although none have yet opted for them. Some have, however, chosen to purchase a set of services in which Zumtobel provides ongoing lighting maintenance through an LaaS package that Zumtobel calls Complete.
MARK HALPERis a contributing editor for LEDs Magazine, and an energy, technology, and business journalist (markhalper@aol.com).