The company's fourth-quarter report leaves no doubt that it is looking for a buyer for both.
GE revealed that it has effectively moved its conventional lighting group and its newfangled Current lighting and energy unit closer together, while leaving no doubt that it is seeking a buyer for both operations.
Interested in articles & announcements on lighting company business?
The troubled $113 billion conglomerate posted a footnote in its fourth-quarter financial report last week stating that it is now treating the revenues of Current and of Lighting — responsible for the home market and legacy bulbs — as one business segment called Lighting.
The footnote also explained that an "Energy Connections" business that had been paired with both Current and Lighting has now become part of the Power segment, which handles energy turbines and other gear. GE did not clarify the difference in missions between Energy Connections and Current (it's full name is Current, powered by GE), a two-plus-year-old group that digitally connects lighting, solar panels, and energy storage devices to help commercial energy users cut consumption.
"Beginning in the third quarter of 2017, the Energy Connections business within the former Energy Connections & Lighting segment has been combined with the Power segment and presented as one reporting segment called Power," the footnote reads. "As a result of this combination, our GE Lighting and Current, powered by GE (Current) businesses, have been reported as a separate segment called Lighting."
But by separating out "Energy Connections," GE appears to be moving Current and Lighting closer together.
Although the company still categorizes GE Lighting and Current as separate business units on its website, the revenue stream is another matter. It is not clear whether GE ever did segregate the two on a revenue basis. When GE announced Current in October 2015, LEDs Magazine wrote "for now, it appears as if GE has no plans to create a separate Current business entity."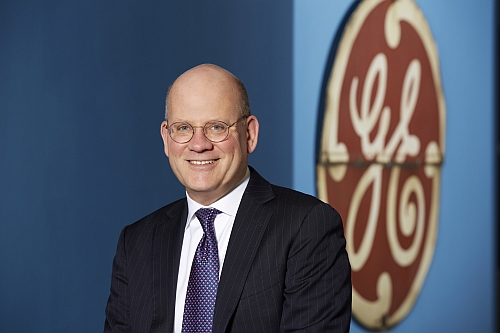 GE moves Lighting and Current closer together as it shops them
In its first year-end financial report since John Flannery took over as CEO, GE made clear that Lighting and Current are up for sale. (Photo credit: GE.)
The idea of Current is to help commercial users cut energy costs by outfitting lighting, solar panels, electric car chargers and batteries, and other things with connected sensors that monitor consumption and impose and suggest changes. The philosophy of Current was a good fit with the Industrial Internet of Things (IIoT) drive by former GE CEO Jeff Immelt, who imposed a huge push toward outfitting everything from gas turbines to jet engines to light bulbs with data gathering technologies. Immelt resigned last summer.
To its credit, Current has secured business with large commercial energy users, such as Walmart.
While Current put GE on the vanguard of the industry's move toward smart IoT lighting, Current's exact mission seems to have vacillated. At one point the company pulled back from smart city projects, deciding to settle for subcontracting roles and working with AT&T. It also seems to have de-emphasized indoor positioning, a smart lighting feature which it had been pushing, to focus on energy savings.
The status of conventional lighting after the high-profile launch of Current has waxed and waned. Although GE told LEDs sister publication Lux at Current's inception that GE Lighting was disappearing as a brand, that has not turned out to be the case. In fact, GE Lighting continues to develop smart home products, such as the "C" line of smart residential lights including the snazzy, circular "C by GE Sol" that can be controlled verbally via Apple's new HomePod personal digital assistant and via other IoT means.
But what is clear is that, as LEDs recently blogged, GE is shopping Current and Lighting as part of new CEO John Flannery's attempt to pare down the company by selling off various operations.
In its fourth-quarter report, GE put to rest any doubts — and there have been some — that it intends to sell Current and Lighting. The company provided a long list of items that could affect its actual financial results, including "our success in completing, including obtaining regulatory approvals and satisfying other closing conditions for, announced transactions, such as our announced plan to sell our Transportation, Industrial Solutions and Current & Lighting businesses or other dispositions that we may pursue."
As LEDs noted in its blog, suitors could include Osram and Feilo Sylvania. It is also not out of the question that Philips Lighting will bid.
Meanwhile, GE reported that "Lighting" revenue declined by 7% for the quarter ending Dec. 31, to $546 million from $584 million in the 2016 fourth quarter, and that Lighting revenue for the year plunged 59%, to $1.99 billion from 2016's $4.82 billion.
MARK HALPER is a contributing editor for LEDs Magazine, and an energy, technology, and business journalist (markhalper@aol.com).