Former head of the Samsung Electronics LED business will take over at LEDvance as CEO and chairman of the management board.
LEDvance has announced that Jacob Tarn will take over as CEO and chairman of the management board effective Feb. 1, 2018. The company that spun out of Osram had quietly revealed at the end of 2017 that Jes Munk Hansen had departed as CEO and managing director as of Dec. 1, 2017. Tarn will operate out of the LEDVance headquarters in Garching, Germany and will be charged with leading the transition of LEDvance from a lamps business to a broad supplier of LED-based lighting including smart and connected technologies.
Interested in articles & announcements on LED lighting?
Hansen came to lead Osram Sylvania in late 2013 before the LEDvance brand had been born and well before the separation into an independent company. While he came from a background far removed from LEDs and solid-state lighting (SSL), Hansen immediately grasped the trend in the lighting industry toward connected lighting. And in a mid-2014 contributed column, Hansen explained his vision for Osram Sylvania.
Two years later, the LEDvance brand had been revealed and we interviewed Hansen about the future for the company as an independent entity. Shortly thereafter, Osram sold LEDvance to a trio of partners from China.
Surely the last few years at LEDvance have been focused in part on managing costs and operations in the legacy lamps business while also developing leading-edge lamp products. We recently covered new lamps that the company announced based on the Bluetooth Mesh standard.
Going forward, however, the LEDvance board clearly expects the company to become a leading broad-based LED-centric lighting company and stressed that it would be innovation based. Tarn will undertake that challenge operating from the LEDvance headquarters in Germany. Hansen had been based at a Massachusetts facility in the US, although we wouldn't suspect that fact was the primary reason for the change.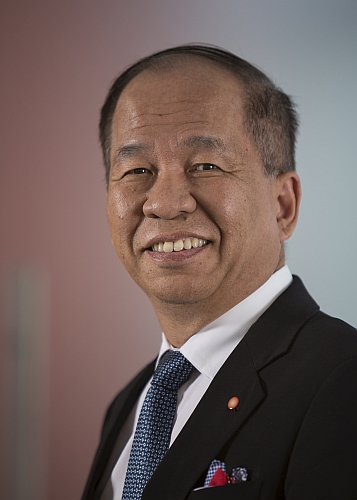 Jacob Tarn leaves LEDvance for personal reasons after joining as CEO in January
Former Samsung executive Jacob Tarn will begin his duties as CEO and chairman of LEDvance's management board next week.
Tarn is an LED industry insider with deep experience on the component side of the business. "Jacob Tarn is an internationally renowned expert in the LED lighting industry, who has shown how to bring a business back on track," said Tim Yun Chen, chairman of the supervisory board at LEDvance. "The supervisory board as well as the company owners are convinced that he is the ideal candidate to lead LEDvance into a successful new era. The supervisory board will provide him and his team its full backing and support."
Tarn has indeed led Samsung Electronics' LED business through a successful period from both a technical and business perspective. The company was among the first to capitalize on the emerging chip scale packaging (CSP) technology. Moreover, Tarn led a move into smart lighting as Samsung developed an IoT platform that it could sell on an OEM basis alongside its LEDs.
Still, Tarn will face a new challenge moving across the table to the side of lighting manufacturer. "LEDvance has all it takes to become a key player in the global LED lighting market and has already successfully expanded into growth areas such as LED luminaires, smart home solutions, and LED lamps," said Tarn. "I look forward to working with the entire LEDvance team to continue on this path at an accelerated pace, turn LEDvance into an innovative full LED lighting company, and thereby consequently seize the opportunities that lie in front of us."
*Updated Jan. 31, 2018 for clarification.