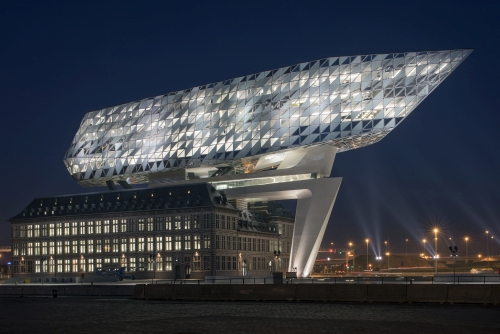 Tridonic supplied linear LED-based light engines that Multiline integrated in custom luminaires that fit the unique and irregular architecture of the dramatic new Havenhuis Port Authority building in Antwerp.
Antwerp, Belgium has a dramatic new Port Authority building called the Havenhuis near the River Scheldt that resembles the shape of a seagoing vessel, and that has a faceted, reflective façade and innovative LED lighting that was customized to deal with unique and irregular architectural shapes. Belgium-based Multiline delivered the luminaires used in the ceilings of the multi-story building and modular, linear LED light engines from Tridonic enabled fixtures in custom lengths to fit into the architecture with varying geometries, few right angles, and varying sizes of spaces such as offices. The solid-state lighting (SSL) project was said by Tridonic to provide a "creative and precise response to the absence of right angles."
Interested in articles & announcements on architectural lighting?
The Havenhuis is actually a mixture of old and new architecture that looks something like a modern ship sitting upon a pedestal. The base of the building is an existing rectangular structure built in 1922 by architect Emiel Van Averbeke that once housed a fire station and that is a historically listed building. The former courtyard of the older structure now features a glass ceiling and serves as a lobby for the new five-story structure. The new nautical-themed structure houses a restaurant where visitors can enjoy a view of the Antwerp port along with office space for around 500 workers.
The design concept may not be totally new to many of you that read LEDs Magazine on a regular basis. Not long ago on our cover, we featured the new Hamburg Elbphilharmonie or Symphony Hall that was built on top of a historic building adjacent to a European waterway. And custom lighting was a key part of both projects.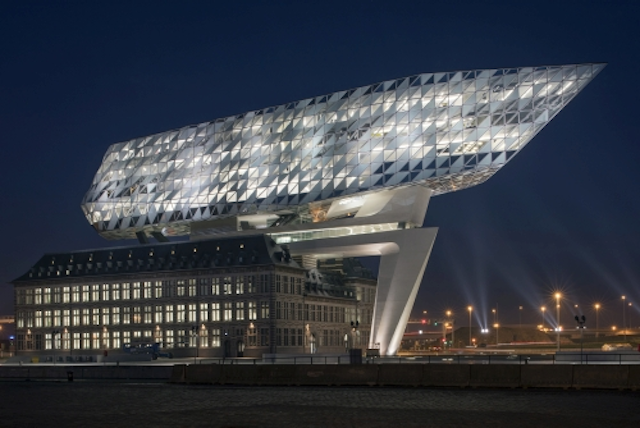 Multiline integrated LED light engines supplied by Tridonic into unusual angular architectural lighting configurations in the Havenhuis building
Multiline integrated LED light engines supplied by Tridonic into unusual angular architectural lighting configurations in the Havenhuis building.
The internal Havenhuis architecture, designed by Zaha Hadid Architects based in London, includes free-form walkways, angled structures such as pillars, irregular office shapes, and curved stairways among other elements. Indeed, the design even resulted in some office desks with trapezoidal shapes.
The architects had specified that linear lighting to be installed in the ceiling would be in profiles that were 90 mm in width or about 3.5 in. "We therefore adapted an existing standard product to this width," said Stijn Pittomvils, who managed the project for Multiline. The architects were looking for a lighting design scheme that could interact with the unique structural elements and the linear lighting delivers — highlighting contours and delivering what the project team called "regular graphic patterns" in the structure. You can watch a video below for more visuals on the facility's architectural lighting integration.
Tridonic drivers and LLE-G3-24 modular light engines were used in the fixtures. The modular products come in a choice of 140-, 280-, and 560-mm lengths (about 5.5, 11, and 22 in.). Pittomvils said Multiline was quick to choose the Tridonic light engine because "We have already been very pleased with the LED modules from Tridonic that we use in our standard products."
Tridonic further supplied DALI (digital addressable lighting interface)-based controls for the Havenhuis architectural lighting. The scheme includes both occupancy sensors and ambient light sensors that can enable autonomous control of the LED lighting for the comfort of workers and maximum energy savings.
Tridonic has long offered DALI-based SSL controls, primarily to customers in Europe. But the company recently entered the North American market and almost simultaneously launched a new Internet Protocol (IP)-based controls portfolio called net4more. We covered the details of the business and technology moves in a Q&A session with new CEO Guido van Tartwijk.
*Updated 9:00am June 14, 2017 with video.