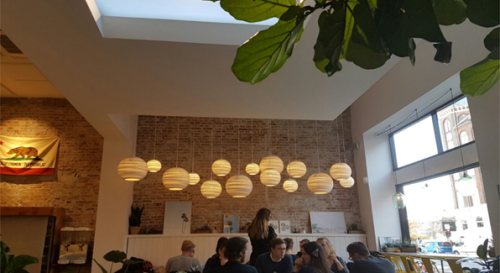 Planar LED-based luminaire installed in restaurant demonstrates how solid-state lighting (SSL) can mimic natural light and deliver an experience to people from across the globe through spatial tuning.
European upstart CoeLux has enabled an LED-lighting project in a California-cuisine-themed restaurant in Copenhagen, Denmark that virtually transports diners to the California sunshine. A planar solid-state lighting (SSL) luminaire looks to be a skylight, but in actuality relies on multiple channels of hidden LED sources along with light-guide optics to simulate outdoor lighting scenes — California sunshine in the case of the new California Kitchen restaurant. Such lighting technique is often referred to as spatial tuning because it mimics the colors and angles of natural sunlight and the impact of the atmosphere in changing natural light over the course of a day.
Interested in articles & announcements on LED lighting in hospitality applications?
We have covered the concept of spatial tuning a handful of times. An interview with LED industry executive Brent York prior to Strategies in Light this year highlights the concept. Spatial tuning is a new frontier for lighting designers and specifiers now that we can control the intensity of LED sources and indeed offer tunable colors. Clever optical design then allows SSL manufacturers to enable the spatial element.
CoeLux, based in style-conscious Italy, has been touting its ability to mimic natural light for several years. Indeed, our sister publication Lux anointed CoeLux as a top-ten must see exhibitor at the LuxLive exhibition back in 2014. But at that point the technology was immature and a luminaire based on the concept would have cost upwards of $50,000. At LuxLive in 2016, the company said it had reduced the cost considerably and brought new products down to the $20,000 range.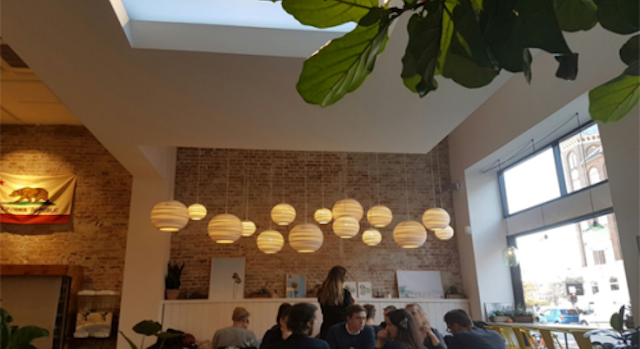 The LED lighting project at a California-themed restaurant in Denmark features CoeLux luminaires enabled with spatial tuning to mimic California daylight transitions.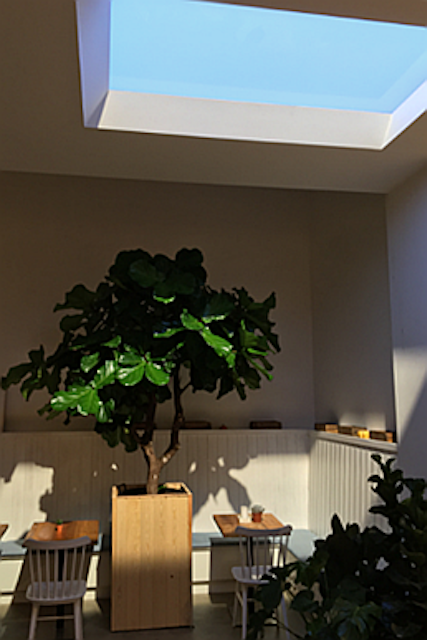 The LED lighting project at a California-themed restaurant in Denmark
features CoeLux luminaires enabled with spatial tuning to mimic California daylight transitions.

The price point still makes the CoeLux luminaires a specialty product, but the type of product that might allow a restaurant or other hospitality setting to set itself apart from a design perspective. Apparently, California Kitchen wanted to accomplish just such an effect and uses the SSL technology to virtually transport its clientele.
The restaurant was the result of collaboration between California and Danish architects and designers. Diners can experience California sunlight and other scenes. Moreover, CoeLux said the product "boosts the feeling of wellbeing and comfort" and that the luminaire creates "the sensation of infinite space."
There are a number of other companies working to mimic natural light scenes. Steve Paolini, founder of Telelumen, captures light scenes from around the world using a handheld spectrometer and can replay those scenes on a 7-channel luminaire that Telelumen has developed. Paolini's design is being used in a New Mexico hospital lighting for health and wellbeing trial being led by LESA (Center for Lighting Enabled Systems & Applications) — formerly called the Smart Lighting Engineering Research Center (ERC) and hatched from the Rensselaer Polytechnic Institute)
Back to CoeLux, the company said it now has installations of its luminaire in Germany, Austria, UK, Ireland, France, Italy, Lithuania, US, Russia, UAE, Switzerland, and Belgium. The company reported that settings include hospitals, retail stores, shopping malls, offices, wellness centers, airports, museums, and houses.