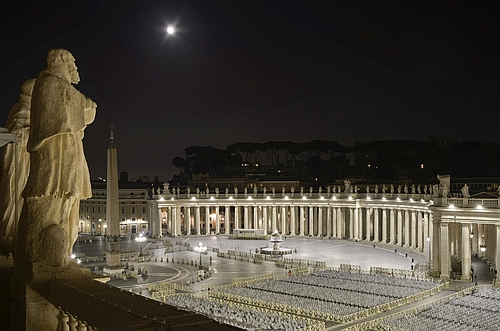 As many as 400,000 visitors gather on occasion for celebrations in the Vatican plaza and now an SSL installation provides a safer environment while slashing power consumption.
Osram has announced that on Oct. 20, 2016 new outdoor LED lighting was christened in the Vatican City plaza called St. Peter's Square that's located in front of St. Peter's Basilica in Rome, Italy. The plaza hosts crowds as large as 400,000 visitors for events such as Easter or the election of a new Pope, and the solid-state lighting (SSL) will provide much improved visibility at night while reducing energy usage by 70%.
Interested in articles & announcements on LED lighting?
The new St. Peter's Square lighting marks the second SSL project that Osram has supplied at Vatican City landmarks. Back in 2013, Osram supplied indoor LED lighting in the iconic Sistine Chapel intended to better reveal subtleties in Michelangelo's frescoes while also protecting the precious works given that the LED lighting produced no energy in the ultraviolet (UV) spectrum. That project was one of the first SSL installations we covered that used LED light sources to illuminate famous works of art, although many museum projects have followed. For example, we covered a Zumtobel project at the Aachen Cathedral Treasury in 2015.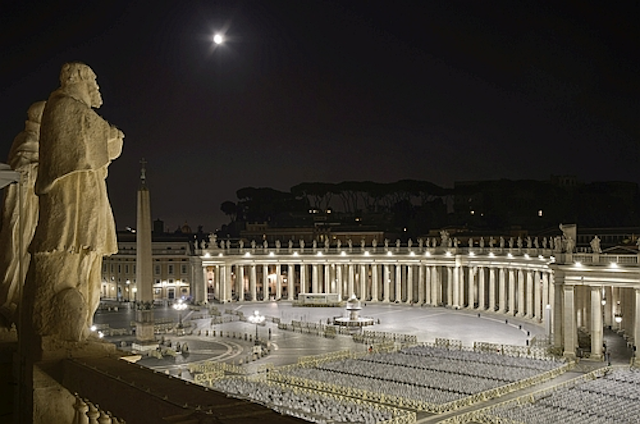 Osram lights St. Peter's Square with customized LED floodlights
New LED floodlights by Osram illuminate St. Peter's Square in Vatican City. (Source: Governatorato S.C.V. - Direzione dei Musei.)
Of course, the outdoor lighting challenges are quite different with the exception that luminaires must be installed in a manner that does not impact the historic architecture. The Floodlight 20 luminaires used in the new project indeed blend into the column-supported façade surrounding the elliptical central area of St. Peter's Square. Osram customized the fixtures to simplify the installation with what Osram called through-wiring capability and a special electrical plug connection that simplified connection of multiple LED luminaires in series.
"In addition to perfect lighting results the task also included visual aspects such as the discreet integration of luminaires into the architectural setting and incorporating a simple, unobtrusive electrical installation," said Eladia Pulido, CEO of the Osram Lighting Solutions business unit. "Saving energy and ecological sustainability was also important."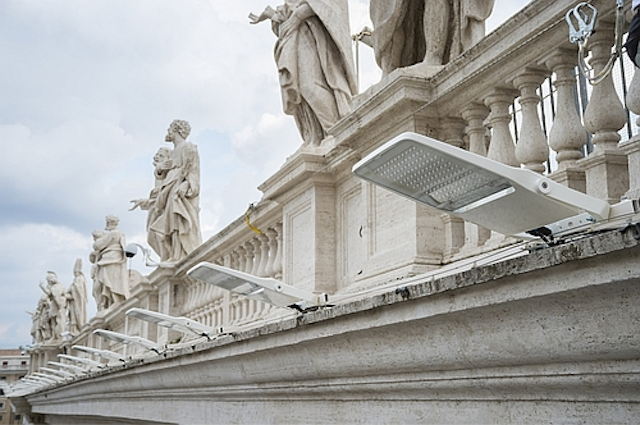 Osram LED floodlights are installed using through-wiring capability, and the installation is equipped with a DALI control system. (Source: Governatorato S.C.V. - Direzione dei Musei.)

Osram worked alongside the Vatican political commission Direzione dei Servizi Tecnici del Governatorato SCV on the project. The Vatican specified a relatively high light level of 120 lx for the project, but that choice was made with safety as the key as the 48,000-m2 plaza hosts so many visitors. There are 132 luminaires installed around the plaza at a 4000K CCT that Osram called neutral white. Osram said at maximum light levels visitors can read during nighttime events under the lighting.
But the partners also installed a DALI (digital addressable lighting interface) control system for the project that enables control of individual LED luminaires and could enable the Vatican to operate the lighting at lower levels when crowds are sparse. That control system is in part responsible for the energy savings attributed to the new SSL installation. "Thanks to modern LED technology in combination with a DALI light management system, we achieve energy savings of around 70%," said Carlo Bogani, executive project director at Osram Italy.