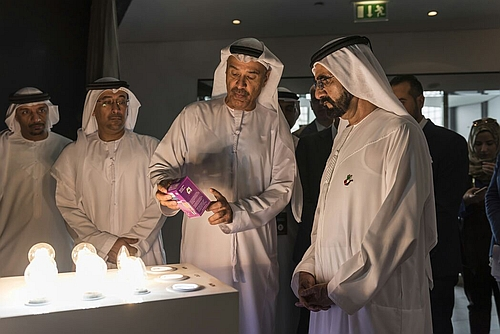 The Dutch giant says that it and the UAE city have leaped way ahead to 200 lumens per watt, available this year.
Philips Lighting and the city of Dubai have teamed up to offer what would appear by a wide margin to be the world's most efficient commercially available LED bulbs. The two entities plan to distribute the new line in the UAE city later this year, with the possibility of marketing them in other countries.
Interested in articles & announcements on LED lamps?
The new Philips Dubai Lamp delivers 200 lm/W, making it the first commercially available lamp to break the 200-lm/W barrier, Philips said.
In the leapfrogging world of efficiency claims, it would appear to spring Philips way ahead of other vendors. It is difficult to pinpoint leaders, but some of the previous best lm/W claims from manufacturers for commercially available lamps have topped out in the 110–120 lm/W range. Philips' own previous best was 101 lm/W. The new Dubai line doubles that.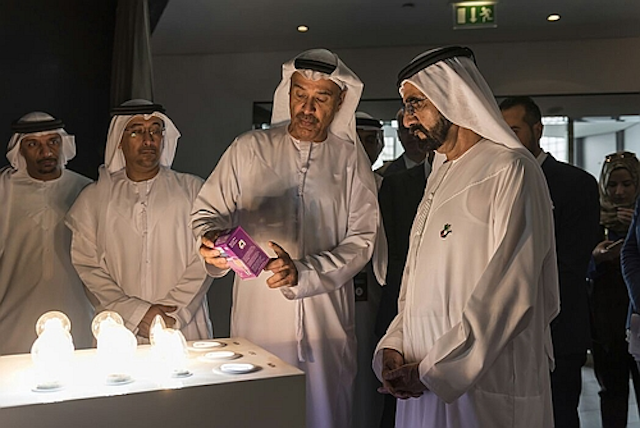 Philips turbocharges the LED bulb, claiming huge efficiency breakthrough with Dubai
Philips and Dubai developed the LED bulb under the patronage of Sheikh Mohammed bin Rashid Al Maktoum (right), Prime Minister of the UAE and Ruler of Dubai. He looks on as Hussain Nasser Lootah, director general of Dubai Municipality, shows him the finished product. (Source: Dubai Municipality.)
The two groups announced the Philips Dubai initiative with fanfare at the Water, Energy, Technology and Environment Exhibition in Dubai today, joined by Sheikh Mohammad Bin Rashid Al Maktoum, the prime minister of the UAE and the ruler of the Emirate of Dubai, where Dubai is the capital city.
"The initiative supports the Dubai Integrated Energy Strategy, which targets a 30% reduction in energy consumption by 2030 and the Dubai Carbon Abatement Strategy aimed at reducing carbon emissions by 16% by 2021," said Hussain Nasser Lootah, director general of Dubai Municipality.
"Over the past three years we have worked with the Municipality to transform municipal buildings with energy-efficient LED lighting," said Philips Lighting CEO Eric Rondolat. "This latest initiative is a natural next step which will help to set a new benchmark in energy efficiency and sustainable development in Dubai."
A Philips spokesperson declined to reveal how the two groups were able to hit the turbocharged level of 200 lm/W, or how much it cost to develop. He told LEDs Magazine that an "LED technology breakthrough" entailed "an optimal optical structure, high efficiency electrics design (and) tight manufacturing process control." Both Philips and Dubai helped fund the 9-month development project, he said, noting that "Dubai Municipality provided useful local input needed to meet the needs of Dubai residents, such data on lights use, number of lamps per house, lamp types and energy consumption."
Philips and Dubai plan to begin distributing several different models later this year, rated at notably low wattage ratings of 1W as a 25W incandescent candle replacement with an E14 fitting, 2W as a 40W standard incandescent E27 replacement, and 3W as a 60W incandescent E27 replacement. The partners also introduced a 3W spot LED, rated at 133 lm/W — not 200 lm/W — to replace 50W halogen spots.

Three different 200-lm/W LED bulbs will be available in two models — one cool, the other warm. (Source: Philips Lighting.)
One skeptical source pointed out that LED chips — the light sources within an LED bulb — themselves have yet to hit 200 lm/W at the warm-white color temperatures that a bulb would require. Given that bulbs have lower efficiency than the chips they contain, a 200-lm/W bulb would thus seem unattainable. The source posited that the bulb might contain more LEDs than normal and thus come at a premium price. Or the bulb might have a poor ability to render colors and warm light, the source said. LED efficiency declines as its light heads toward the warmer colors of around 2700K as opposed to the icier blues of around 6500K.
Philips and Dubai declined to reveal pricing. It's also not clear how the two entities plan to physically sell the bulbs.
"Prices will be set in conjunction with finalizing the distribution model," the Philips spokesperson said, adding that the two entities are exploring "ways to stimulate mass replacement in homes and buildings as well as distribution in the retail channel."
Dubai Municipality's Lootah said Phase 1 will focus on new buildings, and Phase 2 will also include refurbishments.
The Philips spokesperson said Philips and Dubai are providing two versions of each — one having a cold color temperature, and the other a warm one. The bulbs have a CRI of 80, he said.
He also noted that "the intention is for the Dubai Lamp technology to be introduced elsewhere," although he did not reveal where.
LEDs Magazine editor-in-chief Maury Wright contributed to this report.
MARK HALPERis a contributing editor for LEDs Magazine, and an energy, technology, and business journalist (markhalper@aol.com).