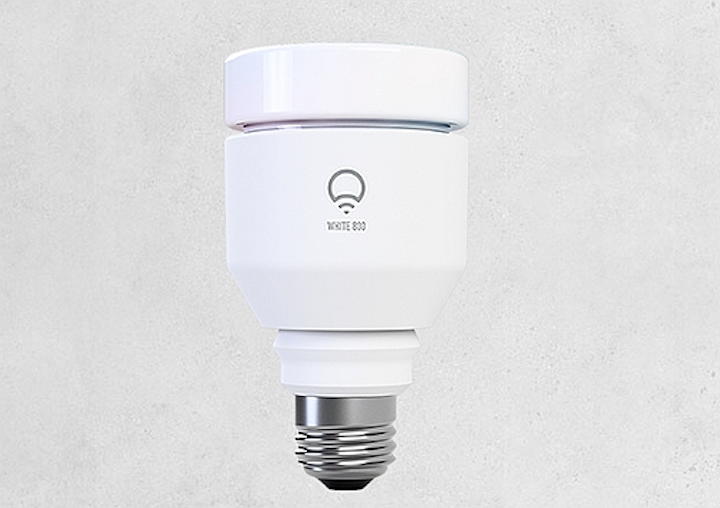 The LED lamp pioneer is returning to its roots. A brighter color bulb is coming, too.
Smart home LED pioneer LIFX looks set to jettison white-only bulbs from its line and to stick to its roots of providing lamps that offer a wide range of colors, LEDs Magazine has learned.
Interested in articles & announcements on LED lamps?
The move comes as part of a broader product refresh in which the company will add a brighter color lamp to its line of Internet-connected, Wi-Fi controllable bulbs.
According to a reliable source, Redwood City, CA-based LIFX will no longer make its White 800 and White 900 LED lamps. Both lamps allow users to wirelessly adjust brightness and color temperature but not color, which stays white. The 800 delivers up to 800 lm of brightness, and the 900 up to 900 lm, tunable via the LIFX app including by voice control.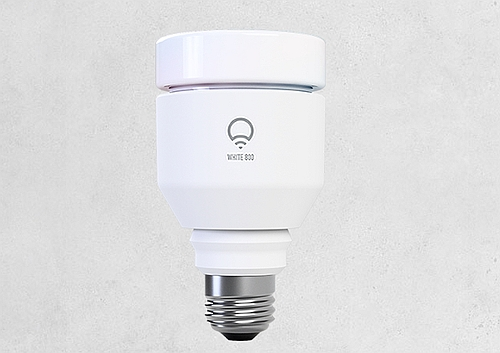 LIFX dropping tunable white LED lamps, to go with color only
LIFX probably isn't dreaming of a white Christmas, now that it is phasing out its White 800 (above) and White 900 LED lamps to offer only color bulbs.
LIFX director of marketing Jon Ivanco declined to confirm or deny the moves, although he did tell LEDs Magazine that "LIFX has from the beginning been about color."
The four-year-old company early this month slashed the price of the 800 to $19.99 and of the 900 to $24.99, from $29.99 and $39.99, respectively. Yesterday it nudged up the prices slightly, to $22.49 for the 800 and $29.99 for the 900. It will sell the two bulbs (the 800 uses an A19 fitting and the 900 a BR30) until supplies run out, and then focus exclusively on color models
LIFX had introduced the white editions 6 months apart last year — the 900 is only a year old — as a way to offer a lower price point that might broaden the appeal of residential smart lighting beyond its niche attraction. Despite the general industry belief that Internet-connected lighting marks the lighting industry's future, home users have been slow to embrace it as a mass-market item. One big reason is that consumers have to pay a premium for smart LED bulbs, which are roughly 10 times more expensive than standard "dumb" LED bulbs now that the dumb ones have tumbled to around $2.50 per bulb in multi-packs. The smart LED lamps have so far appealed principally to early adopters and higher-income buyers.
But as a young company trying to compete against larger entities like Philips and Osram, LIFX has now decided to leave white-only lamps to other vendors while concentrating on its specialty — color — which has been a better seller for the smaller firm.
The color bulbs include a fully tunable white spectrum, in addition to a full spectrum of 16 million shades of color.
The source told LEDs Magazine that on Nov. 1 LIFX will add a color lamp that emits up to 1100 lm, a step up from the current Color 1000 lamp. The new lamp will bear the "LIFX" moniker rather than the "Color" name, as LIFX will no longer need to distinguish between white and color with its move back to color-only. The 1100-lm color lamp is expected to eventually replace the Color 1000.
Like with the white models, LIFX three weeks ago cut the price of the Color 1000 in order to make room for the new model, halving it to $29.99, although yesterday it bumped up the price to $44.99. The new 1100-lm color lamp will sell at $59.99 for one, which was the price of the Color 1000 before Oct. 3. Additional bulbs in a multiple purchase of the new lamp will cost $49.99 each for the second and third, or $47.99 each for four or more.
The new color lamp joins another new color model, the LIFX+, which emits infrared wavelengths and thus allows security cameras to see more. That bulb sells for $79.99 for one, and has multi-pack pricing. LIFX announced it three weeks ago when it announced its price cuts. At the same time, it added its first ever linear light, the LIFX Z LED strip light for $89.99.
LIFX made headlines in 2012 when it launched by raising startup funds via the crowdsourcing website Kickstarter. It has continued to advance the smart lighting cause, adding features such as voice control to its line, and forming partnerships such as one with Campfire in which room lighting changes during children's story time in accordance with the mood or action of the story.
MARK HALPERis a contributing editor for LEDs Magazine, and an energy, technology, and business journalist (markhalper@aol.com).