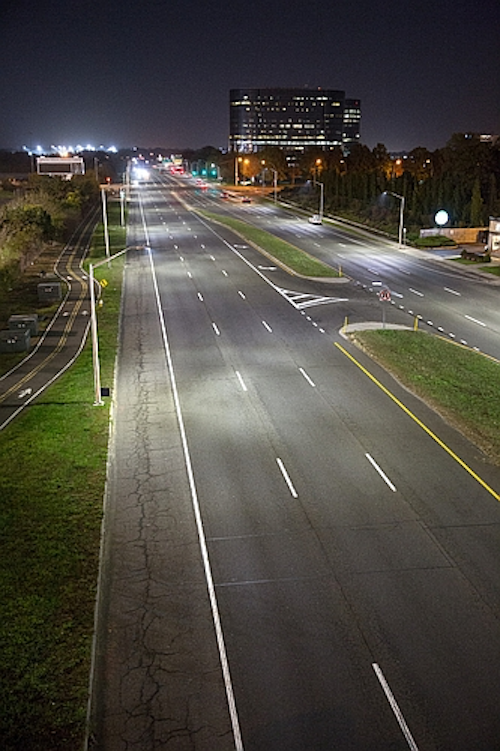 Cree supplies warm-white decorative post-top luminaires to preserve the historic look and feel of Hempstead while delivering cooler cobra-head lighting for nearby roadways.
Cree has announced an outdoor LED lighting project in the town of Hempstead that will ultimately encompass more than 50,000 luminaires on roadways, the downtown area, parking areas, and residential streets. The solid-state lighting (SSL) project will deliver more than 60% energy savings and yield payback for the township in 2.5 years.
Interested in articles & announcements on LED street lights & outdoor projects?
The Hempstead area on Long Island just east of New York City considers itself the largest township in the US in that the area is not incorporated as a city, but has a population near 800,000 people. The township has been spending $4.9 million each year on energy for street and area lighting, and also incurring significant maintenance costs. The expenses led Township Supervisor Anthony Santino to look at more cost-effective lighting to replace the largely high-pressure sodium (HPS) inventory.
The project started with a trial of Cree LED street lights along the Sunrise Highway. That trial documented 63% energy savings equating to $75,000 annually in energy costs. Moreover, the installation reassured the township officials that LEDs would provide quality light and the desired safe environment.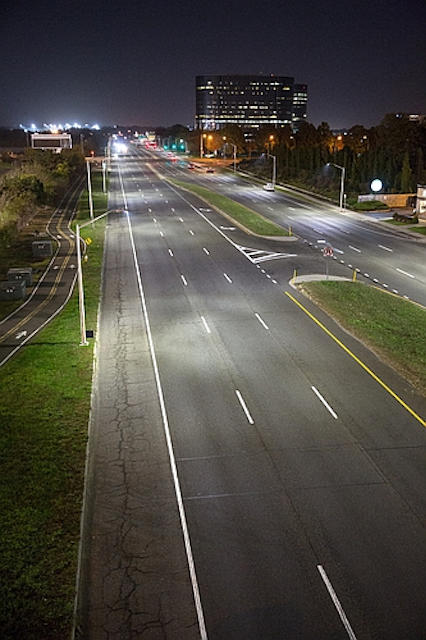 Hempstead installs decorative and traditional LED street lights
The town of Hempstead began replacing HPS lighting along the Sunrise Highway with Cree LED street lights that deliver 4000K-CCT illumination for safety.
"We had our eyes on LED technology for quite a few years because of the impressive energy savings," said Gary Aue, Town of Hempstead street lighting supervisor. "However, we had yet to find the ideal package that made economic sense. After reviewing Cree's options, we saw there was a lot of money to be saved while providing the town with new lighting for a greater sense of comfort and safety that met all our needs, so we proceeded as soon as possible."
Hempstead, however, wanted to preserve the "historic look of the residential streetscape" and was looking for a mix of different luminaire types across the township. Indeed, residential and downtown areas were lit with post-top style luminaires. So Cree is supplying its DPT (Decorative Post Top) Series LED luminaires for retrofits in those areas. Moreover, those DPT luminaires feature a relatively warm CCT of 3000K. Cree said the DPT Series luminaires deliver 74% energy savings relative to the existing decorative fixtures.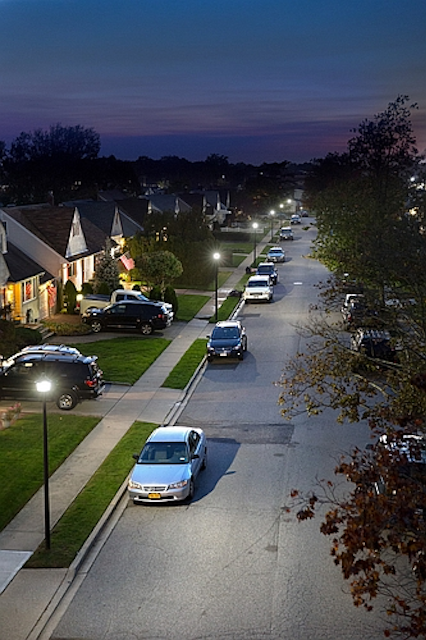 Cree's Decorative Post Top Series LED street lights help to achieve the town's goals of preserving the historic look of residential areas.
CCT has become a contentious issue in many municipalities as we have covered regularly of late. Many citizens seem to prefer the warmer CCT option, although there is a very real possibility that cooler CCTs may enable humans to detect hazards more accurately. Even the American Medical Association has issued an opinion on the topic.
In the Hempstead case, the township is installing cooler 4000K-CCT luminaires on busy roadways and in parking areas. Cree is supplying its XSP Series luminaires for roadways and OSQ flood luminaires for parking areas. Cree said the OSQ includes optics to strictly control light spill outside of the parking areas that the city wants lit.
The Hempstead project is already well underway with LED lighting installed in many parts of the township. The project encompassing all 50,000 plus lights is slated for completion in one year. The township's Aue is expecting zero-maintenance lighting and pointed to Cree's ten year warranty as being important in the project award that is being supplied by distributor Best LED Group. Once complete, the township expects to realize $3 million in annual energy savings.
"The use of environmentally friendly technology is a win-win for the town," said Hempstead Supervisor Santino. "The new LED luminaires generate significant energy savings that provide unprecedented environmental and fiscal benefits to benefit our town and residents."
Cree also asserted that the products being installed support a future rollout of smart-city technology. In essence, that claim comes down to the fact that the luminaires include the ANSI-standard receptacle that could serve to host controls as simple as a daylight sensor, or perhaps as complex as a wireless network node. But most LED street lights sold today include that ANSI receptacle.