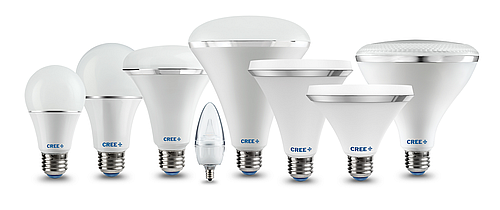 Cree has essentially supplanted its entire SSL replacement lamp portfolio with new products that deliver a longer warranty and lifetime and generally higher-quality lighting.
Cree has announced a broad new selection of LED-based replacement lamps with the new products supplanting its existing product line in A-lamps, directional lamps (PAR), floodlights (BR), and even downlight retrofit kits. Moreover, the company has entered the candelabra lamp market for the first time and offers a dim-to-warm lamp in the small, decorative-bulb category. Generally, the company said the new solid-state lighting (SSL) portfolio offers a better customer experience through a better warranty and longer lifetime, and simply by delivering more pleasing light.
Interested in articles & announcements on retrofit lamps?
It's tough to find the differences in the new versus old retrofit lamps on the spec sheets. The bulk of the new products feature 85 CRI, although there are select models with 90 CRI or better including in the new candelabra family. The new products are rated for 25,000 hours of use and come with a ten-year warranty. Cree was the first company to offer a ten-year warranty on commercial SSL products back in 2012, and has covered some of its lamp products similarly in recent years. Evidently, that coverage extends to the entire replacement lamp portfolio now.
Cree relaunches its entire LED retrofit lamp family, targets customer experience
It appears that Cree has again started from the ground up in its A-lamp architecture. The new products bear no resemblance to the 4Flow Filament Design that was announced initially in 2014 and refreshed in 2015 with a five-year warranty. We haven't yet had a detailed look at the internal architecture of the new models. The CRI of the latest products offers a modest bump from 85 CRI in the 4Flow lamps.
Cree also said the new retrofit lamps will offer consumers a better price, although we'd expect modest changes there as well. A look at the Home Depot website shows the new and old 60W-equivalent lamps selling in the $5.00 range.
Speaking of Home Depot, that retailer will as usual be the first source of the new residentially-targeted Cree lamps. And the company spoke positively about the new portfolio. "Our customers are looking for a high-quality LED lighting experience that combines the latest technology with the benefits of energy savings and durability LEDs are known for," said Joey Corona, merchant at Home Depot. "The Home Depot continues to offer the latest innovations in LED lighting, as can be seen with this new portfolio of Cree LED bulbs."
The most significant element of the new portfolio is probably the candelabra family, given that Cree is new to that space. There are 25W and 40W replacement products in the family, all in 2700K CCT that Cree calls Soft White. All of the products offer 90 CRI or better. And in both power grades, Cree offers what it calls Candlelight Dimming, going from 2700K at full output to 1800K at minimum dim. Moreover, Cree appears to have used some sort of optical light guide in the products to make the light source appear more reminiscent of a candle.
All of the new products in the broad announcement appear to meet Energy Star requirements. As you would expect, energy savings are substantial relative to legacy sources. For instance, in the candelabra family, a 40W-equivalent lamp uses just 5W in the Candlelight Dimming or standard version.
"Cree is committed to innovation and unlocking the true potential of LED technology," said Betty Noonan, Cree chief marketing officer and general manager, consumer lighting. "Many new LED products fail to live up to the promise of LED technology; shouldn't you choose a better bulb when it will live in your house for decades? Cree believes it's now more important than ever to give consumers a better choice."
In Cree news from across the pond, the company continues to invest in its European presence with the opening of UK offices in London. From this base Cree Europe will serve its UK/Ireland-based customers and provide on-site training, product demonstrations, and continuous professional development programs for the local sales team under the leadership of Nick Farraway, vice president and general manager of Cree Lighting, EMEA.