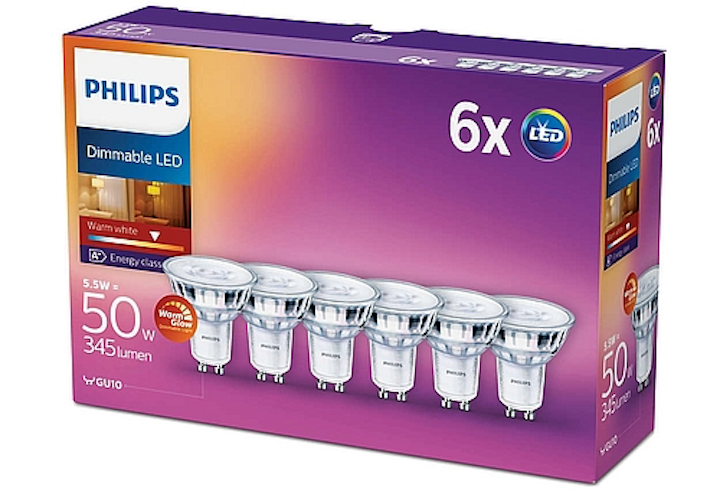 Philips, Sylvania claim LEDs are just as warm. Are they? And in a cat-and-mouse game, UK retailers hoard halogens.
As the European Union's ban of certain halogen bulbs took hold last week, lighting vendors seized the opportunity to promote their LED offerings as an energy-efficient way for consumers to fill the void.
Interested in articles & announcements on LED lamps?
The EU outlawed halogen spot lamps, also known as GU10 and directional bulbs, effective Sept. 1. Halogens, as most LEDs Magazine readers will know, are a form of incandescent bulb that is slightly more efficient than conventional incandescents — somewhere between 5% and 25% — because they are treated with a halogen gas. They are much less efficient than LED lamps or compact fluorescents (CFL).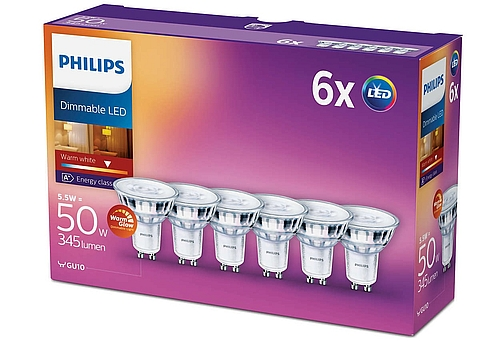 As Europe bans halogen spots, LED vendors pounce
Philips said WarmGlow technology in its LED spots deliver the same light quality as halogens, with 90% greater energy efficiency. (Source: Philips Lighting.)
The halogen spot lamp is thus the latest in the EU's ongoing staged phase-out of guzzlers that has included various wattages of conventional incandescents, and that will include other forms of halogens in September 2018.
Halogen spots have also been a popular source of downlight in European homes. So Philips Lighting did not miss a beat in trying to usher its LED GU10 lamp form factor into the void.
"Focus now turns to LEDs, such as the Philips LED spot classic WarmGlow, as a high-quality alternative that looks, feels, and behaves like a halogen, but is up to 90% more energy efficient," the company said. It also warned that the ban will take Europeans by surprise, as a Philips survey showed that 75% of Europeans were not aware of it.
Feilo Sylvania also pounced.
"Goodbye, inefficient halogen directional lamps — hello Sylvania LED," it said in a press release.
The rally cry of energy savings marked the second reminder this week that energy savings is still a driving force of LED sales, even as it starts to take a marketing backseat to the ballyhooed possibilities of smart lighting connected to the Internet of Things (IoT). As LEDs Magazine reported last week, Current, powered by GE is heralding LED installations in retail stores for electricity and carbon reductions, rather than for any IoT deployments.
Both Sylvania and Philips invoked another classic LED benefit, noting that LEDs outlive halogens by a long shot.
"One Feilo Sylvania LED could last up to 25 times longer than your existing halogen," Feilo Sylvania said.
Furthermore, both companies claimed that their LED replacements will provide the same quality light as halogen, which, as incandescents, are generally regarded as giving off the sort of warm light that many consumers prefer at home in the evening. LEDs have long trailed incandescents in warmth ratings, but they have been gaining.
Philips was particularly emphatic, noting that its WarmGlow technique, which it also uses in other LED form factors, is the equal of halogen.
"The WarmGlow technology we use in our new LED spotlight mimics the warm color you get when you dim a halogen," said Mahesh Iyer, leader of the Philips Lighting LED business group. "This technology is unique." Philips further claimed in a press release that the WarmGlow spot "looks the same and shines with the same color and intensity as halogen spotlights."
Feilo noted that its own LED spots "have a high luminous efficacy, great light output, and are available in a wide range of color temperatures, allowing customers to enjoy the light level and comfort they are used to."
Ironically, the LED industry via trade association LightingEurope had in recent years pushed for a delay in the halogen ban, saying that the big LED makers (such as Philips and Feilo Sylvania, previously called Havells Sylvania prior to an ownership change) would not be ready with halogen-equal products. That was a big reason why in April 2015 the EU delayed the ban of other halogen types — such as general pear-shaped non-directional bulbs and candle-shaped bulbs — until 2018.
But vendors including Philips and Feilo Sylvania now say that at least their GU10s are up to the warm task of halogens.
Consumers will be the judge. What the consumer sees and perceives can often be different from what the labeling on packages claims. Light that is purportedly warm by the numbers can still look cold to the human eye.
Then again, consumers won't have much choice in the matter, because halogen spots in principle will now disappear from the shelves.
Except for one thing: As the Telegraph newspaper reported, UK retailers have been stocking up on halogens and will have plenty to sell to consumers for the foreseeable future (the ban prevents resellers, not consumers, from buying more).
"Britain's biggest retailers are defying an EU crackdown on halogen spotlights by stockpiling up to five years' worth of the popular light bulbs," the Telegraph claimed. "Sources said supermarkets and major hardware stores had stockpiled tens of millions of bulbs to please customers, ensuring they would be able to buy the old-style bulbs for years to come. Stores which typically sell 2 million halogen bulbs a year had bought 10 million over the past few weeks, lighting experts said."
It's not the first time a market has tried to stay one step ahead of regulators. Perhaps the retailers could give their haul a new brand name: The Cat and Mouse Halogens.
MARK HALPERis a contributing editor for LEDs Magazine, and an energy, technology, and business journalist (markhalper@aol.com).