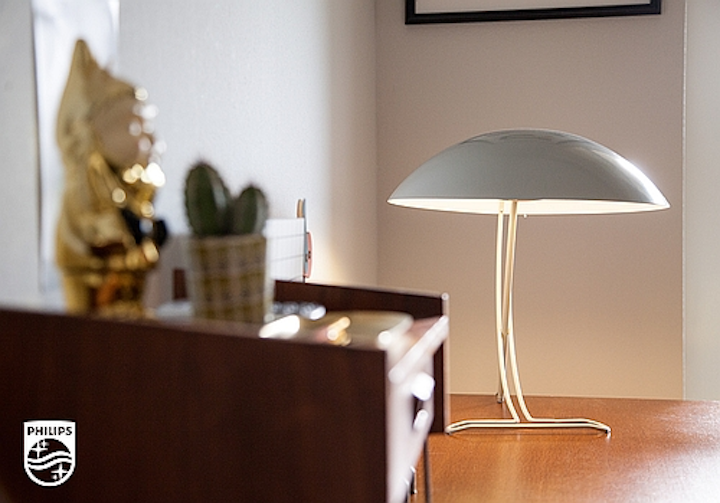 No IoT or apps as Philips introduces classic LED desk lamps and pendants. You can't always have both looks and smarts, as these "dumb lamps" illustrate.
The future of LED lighting might well be in smart, Internet-linked illumination, but certain tried-and-true principles also continue to drive vendors. The latest example: Philips unveiled two new lines of stylish but "dumb" LED table and pendant luminaires lines, showing that design still matters.
Interested in articles & announcements on indoor LED lighting?
The New Vintage lamp series invokes classic and retro looks using metallic materials, while the Smart Volume family features modern design that plays with light and shade. "Smart" in this case is not the all-seeing, all-knowing smart bulb of the digital lighting movement. Rather, it's "smart" in the fashion sense of how the luminaire looks.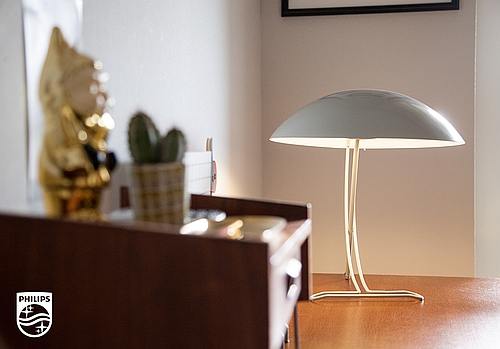 New Philips LED luminaires show that style still counts
The retro Philips Beauvais table lamp draws on a classic design from 1957. It relies on an integrated LED.
"We appreciate that it's not just the quality of light that is important, but also the way light is experienced and the choices we make about materials and form," said Philips Lighting head of design Pierre-Yves Panis. "We have designed each range with a distinctive personality and light effect, so you can choose the one which speaks to your imagination."
Panis could just as easily have made those remarks decades ago in the heyday of incandescent bulbs, and not in today's fledgling Internet of Things (IoT) era of LED lighting. In announcing the two lines, neither Panis nor Philips mentioned a single word about connecting to the Internet or doing any of the digital things that have come to define the industry's future, such as tying lamps in to home security and heating systems, controlling them via smartphones, altering their brightness and color temperature via an app, turning them on and off from around the world, and collecting reams of data in the process.
In fact, the new LED lines do none of that. They have a low IQ by today's lighting standards.
For all of the talk about lighting's IoT future, the new luminaires mark the latest in a swirl of recent LED industry developments indicating that vendors are still also emphasizing conventional selling points, such as design, and such as the more recent traditional hallmark of LED energy savings.
For example, when GE's lighting and energy group Current, powered by GE trumpeted several recent LED installations at retail stores in recent weeks, it focused squarely on energy savings and said nothing about the IoT. Likewise, when the European Union banned certain halogen lamps last week, LED companies took the opportunity to herald the low-energy advantages of their wares.
Philips' New Vintage Lamp line includes the Philips Beauvais table lamp (pictured above), inspired by an iconic 1957 design from Louis Kalff, a Dutch architect who joined Philips in 1925 with the mission of transforming the company's look and branding from an old-fashioned one into a more vibrant image. The line also includes a metallic black- and copper-colored pendant called the Surrey (pictured below). The contemporary-looking Smart Volume line of pendants (pictured below) includes a collection of sculpted shapes that together throw light and shade for an aesthetic effect. Philips did not state their material — it appears to be synthetic.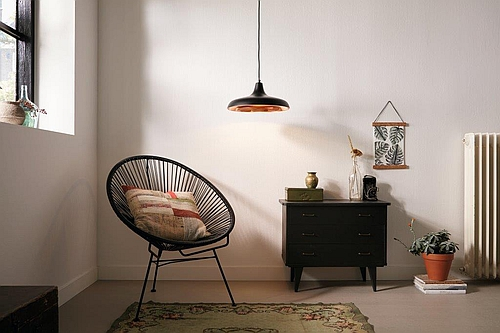 The metallic Surrey pendant has a vintage look, with an LED bulb.
There is one modern LED twist to the new line: Some of the lamps deploy integrated LEDs, which generally means that the light source is built into the luminaire and thus deprives the user of simply replacing a bulb should the light source fail. The Beauvais desk lamp, for instance, uses an integrated LED.
But Philips said the lamps should last at least 15 years, although it did not state how long the warranty lasts.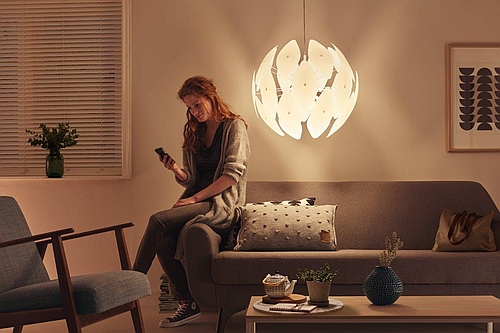 The Smart Volume pendant is "smart" in the way it looks, not in the way it thinks. It does not have a smart bulb.
Pricing for the Beauvais table starts at €149 ($166). The Surrey pendant is priced at €59 ($66). The Smart Volume range runs from €59 to €179 ($66 to $200). Philips said they will be available in Europe starting this month.
MARK HALPERis a contributing editor for LEDs Magazine, and an energy, technology, and business journalist (markhalper@aol.com).