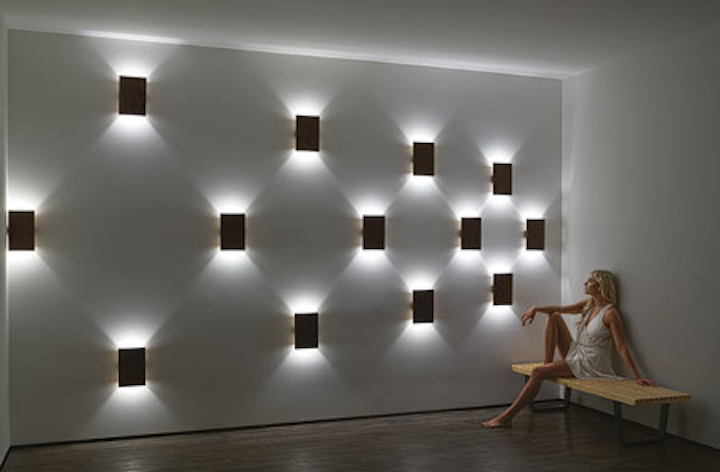 Lighting designers and specifiers working on architectural lighting projects have an ever-increasing selection of LED- and OLED-based luminaires to choose from, enabling a layered approach to lighting with pleasing ambience and impactful task lighting where needed. The latest solid-state lighting (SSL) products bring even more to indoor projects, however, with LED and OLED sources enabling luminaire designs in all new form factors. Meanwhile, the constant improvement in LED sources means that the latest luminaires deliver outstanding light quality and color rendering, and often even the ability to support tunable white point. In this article, MAURY WRIGHT covers some of the latest SSL products ranging from designs that integrate into the architecture to products with unprecedented optical and directional control.
Acuity Brands Olessence with Duet SSL Technology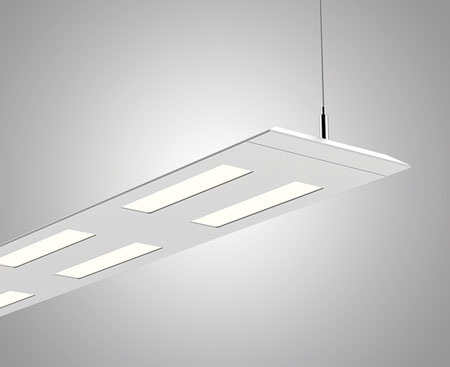 Linear pendants are a mainstay of indoor commercial lighting projects, yet such workhorse products have not necessarily been considered stylish in many cases. But SSL sources are changing the dynamics of the pendant space these days, and stylish and sleek are some of the latest products. The Acuity Olessence certainly fits that description with its 0.5-in. thin and sleek form factor that's enabled by what Acuity calls Duet SSL Technology - implying the use of a mix of LED and OLED sources. The LEDs deliver ambient indirect uplight, while the OLED panels deliver soft direct light to the task plane. Acuity offers the product in a choice of 3000K, 35000K, and 4000K CCTs, and at 80 or 90 CRI. The LED and OLED sources can be independently controlled using Acuity's nLight platform, allowing users of a space to precisely set the desired ambient and task light levels. Specifiers can choose from 4-, 6, or 8-ft sections that can also be cascaded, and Acuity offers white, black, and painted aluminum finish options. The driver is located remotely from the Olessence luminaire and Acuity supplies its eldoLED drivers with the product that support smooth dimming to dark functionality.
Interested in articles & announcements on architectural lighting?

Cree LN Series with WaveMax Technology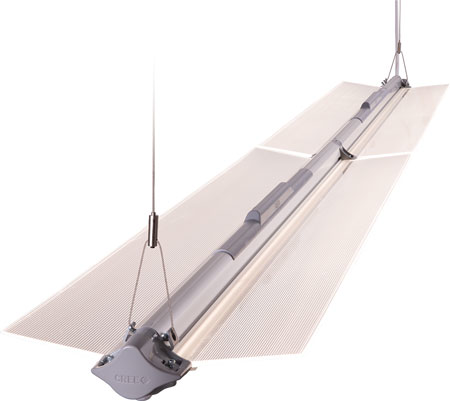 There are, of course, many ways to achieve planar lighting systems with the advent of SSL sources. OLEDs are inherently planar, although the technology is limited in terms of panel size and remains more expensive and less efficient than LED approaches as we have previously covered in feature articles. LED-based edge-lit technologies that use optical light guides, such as Cree's WaveMax, can enable much larger panels, and Cree rates the LN Series luminaires as high as 115 lm/W while also delivering excellent color rendering at 90+ CRI. The LEDs in the LN Series are concealed in a small center frame running linearly through the luminaire while the planar panels deliver an extremely elegant look. The panels are transparent and even daylighting can pass through the luminaire while powered off. When powered on, the WaveMax optics design delivers 60% of the light upward and 40% downward. Emission is uniform from both surfaces of the panels, and users of a space lit by the product experience a soft diffuse light when looking directly at the luminaire. The LN Series integrates support for 0-10V dimming. Moreover, the luminaires can be ordered with Cree's SmartCast wireless network platform installed. You can cascade the LN Series luminaires for runs as long as 136 ft with a single power feed and a simple two-screw connection between each fixture.
Current Lumination IS Series with TriGain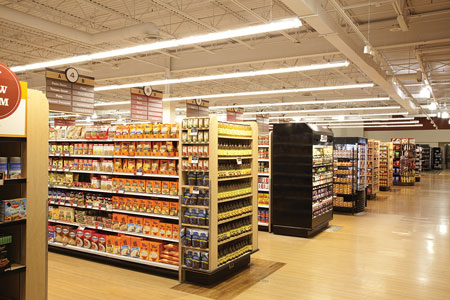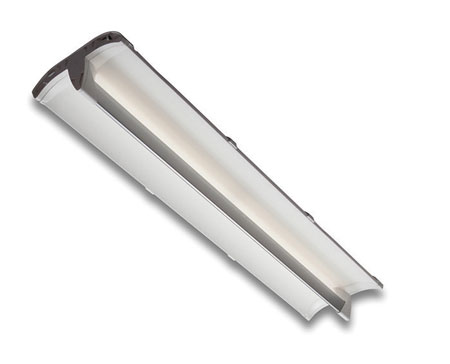 Current, powered by GE also has a planar light-guide-based technology called Intrinsx that it has used in a number of Lumination-branded linear pendant products, but the Lumination IS Series uses a different type of light engine that emits upward into twin reflectors to create an indirect light distribution. The IS Series was actually brought to market more than two years ago, but we mention it here because of some updates that Current made in the Gen 2 (second generation) version of the product. Specifically, the product uses the Reveal TriGain technology developed by GE. Reveal is a brand that GE Lighting long used to indicate a premium level of performance in terms of light quality, even in retrofit lamps that deliver 90 CRI. TriGain is a narrow-bandwidth, red-phosphor technology that can enable high-CRI lighting, including high R9 performance with saturated reds, while also maintaining high efficacy. Indeed, the IS Gen 2 products can deliver 90 CRI and efficacy as high as 136 lm/W.
Philips Lighting Luminous Patterns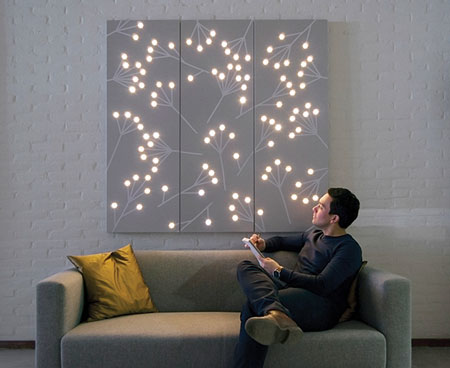 Since the advent of LED-based lighting in general illumination, we have been hearing about the potential of light sources to be integrated directly into building materials, enabled in part by the fact that LEDs generate little heat and can be driven safely with low-voltage DC power. The industry is certainly progressing on closer integration of lighting and architecture and we covered one new product, enabling such a trend, called Goldeneye that was demonstrated at LightFair International earlier this year. Philips Lighting has been at the forefront of technologies that can enable architectural integration, and has launched the Luminous Patterns product family that is intended to add decorative LED lighting in settings such as hotels, office lobbies, restaurants, and retail. The panels are installed on walls and feature customized textures and light patterns. Philips is offering a choice of 3D Graphics, 2D Graphics, Round Sparkle, and Linear Sparkle light effects. A customized kit approach enables simple installation in a project. Moreover, while the technology doesn't produce functional light, a typical installation uses about the same amount of power as a 60W incandescent lamp. The impact for a business can be huge, however, because the products use a digital control system that makes each LED independently controllable and businesses that install Luminous Patterns can expose visiting customers to dynamic effects.
Cerno Tersus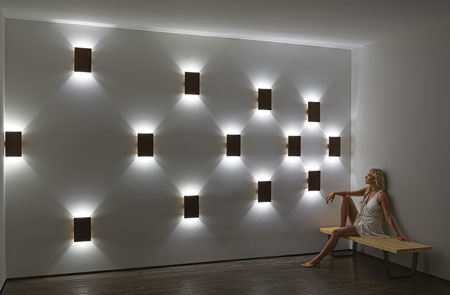 LED luminaires advance in light quality and style (MAGAZINE)
A wall sconce is perhaps the legacy luminaire form factor that comes the closest to integrating lighting into a building's architecture. And LEDs are enabling new sconce designs with the absence of heat from a legacy lamp, and the freedom of a low-profile source. Consider just material finish options for a moment. Cerno in its Tersus line offers the options of walnut, dark stained walnut, and maple finishes along with a variety of metal options including brushed rose gold. The minimalist design extends less than 3. in from the wall while delivering functional light up and down. Indeed, Cerno delivers 90-CRI color quality in the sconce family despite the fact that such performance may not always be a requisite in a sconce. The standard CCT is a warm 2700K, and the products deliver 1130 lm from 13W. Cerno's principals believe the long-reach light combined with the options in finishes will make Tersus a good fit for many high-end residential applications and for commercial settings such as hospitality.
Eaton D2W for Portfolio and Halo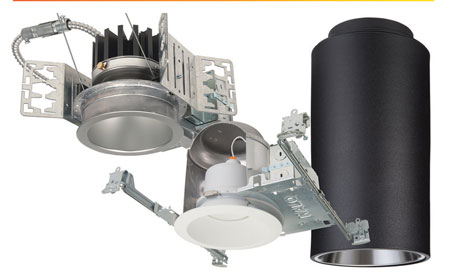 Tunable LED-based lighting is one of the most significant lighting-industry trends, as we mentioned in our feature coverage of LightFair earlier this year. And one usage for which tunable technology has shown up most often is the so-called dim-to-warm implementations that seek to mimic the performance of legacy halogen and incandescent lamps that produce a warmer CCT as they are dimmed. Eaton's lighting business unit (formerly Cooper Lighting) has branded its implementation of the tunable technology D2W, and has recently made it an option on the Portfolio and Halo Series of recessed downlights. Typically, dim-to-warm luminaires or lamps rely on two channels of LEDs with CCTs at either end of the desired tuning range. In the Eaton D2W case, the company has focused on the 1850K- to 3000K-CCT range where architectural design, in commercial applications such as restaurants and high-end residential projects, would likely target operation. Eaton said the 1850K setting mimics the look of candlelight with an even warmer CCT than a legacy incandescent or halogen product would afford. Eaton offers the D2W downlights over a range of 900- to 2000-lm packages with a variety of trims and styles. The products deliver efficacy in the 70-lm/W range with a CRI of 90.
Lumenpulse Fluxwerx Fold, Notch, and Inbox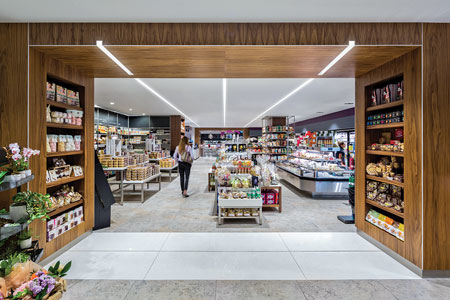 Some of the newest LED-based lighting products almost defy definition or characterization in familiar terms, and that statement certainly holds true for the Fold, Notch, and Inbox luminaires developed by Fluxwerx - a company that was acquired by Lumenpulse early this year. The Fluxwerx products use optical light-guide principles that are commonly used in LED-based planar lighting, but the resulting products don't at all resemble planar lighting. The Notch products pictured, for instance, are intended to be installed in linear runs recessed in a ceiling. An implementation could use a luminaire or panel on each side of a notch for a symmetrical pattern, or on one side for an asymmetrical distribution. The Fold products are intended for pendant mounting and feature a folded or almost tunnel shape. Those products can deliver both indirect uplight and direct light from the side surfaces on the inside of the fold. The Inbox products can be recessed in almost a troffer-like manner although the light-emitting surfaces are quite different from a typical troffer. The company refers to the planar optics as having anidolic optical structures that mix and diffuse the light. Traditional lighting metrics such as efficacy are meaningless with the products, although the company's website does a very good job of presenting application scenarios with accurate ratings of power used relative to square footage of a space.
Soraa Barrel and Gable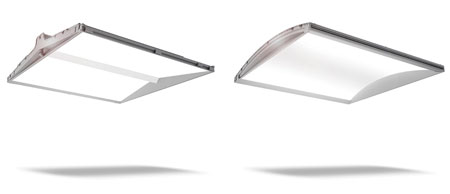 Soraa is a newcomer to the LED luminaire sector, although the company has always staked its reputation on quality of light so we'd expect the same result out of the Barrel and Gable troffer-style products. The company came to life first as an LED manufacturer with a still-to-this-day unique approach of building gallium-nitride (GaN) LEDs on GaN substrates whereas the bulk of the LED industry uses sapphire or silicon carbide substrates. The homogeneous substrate has meant that Soraa LEDs could operate at relatively higher power densities and Soraa leveraged that advantage from the start in its retrofit lamp products. Moreover, the company used what it calls VP3 (violet emission 3-phosphor) technology in its LEDs to deliver inherently high CRI and high R9 performance. The tradeoff has been slightly lower efficacy in Soraa's lighting products, but the company points out that the Barrel and Gable products deliver 85 lm/W and meet the qualification requirements of the DesignLights Consortium (DLC). The Barrel only requires 3 in. of plenum space and comes in versions with 2500-3200-lm output. The Gable is in more of a standard troffer form and offers similar performance. Both products are packaged with drivers that implement 0-10V controls.
Hubbell Lighting Columbia Contemporary Wall Wash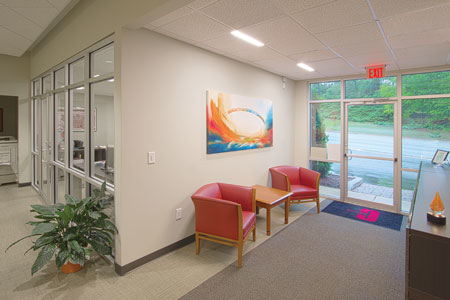 Wall washers are certainly specialty products yet also important in any layered lighting approach to design in architectural spaces. Still, Hubbell Lighting made some bold claims about their price/performance play when introducing the CWW (Contemporary Wall Wash) fixture from the Columbia Lighting brand. The company said the CWW delivers architectural-grade performance at a commercial-grade price point. Addressing performance, Hubbell said the luminaire meets uniformity of 5:1 on vertical surfaces from ceiling to floor, along with efficacy as high as 116 lm/W. The standard CWW configuration delivers 80-CRI performance but you can optionally specify a 90-CRI version. There are a range of lumen-output options topping out at 1300 lm/ft. Most of the CWW models also include the option to add a battery pack that will allow the fixtures to serve as emergency lighting.
Intense Lighting MX next generation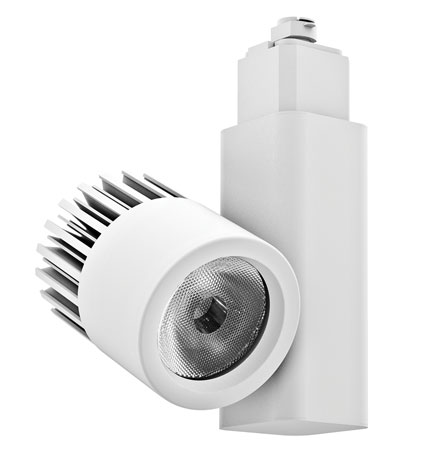 Tunable-white lighting products seem to be coalescing around two distinct product categories - the dim-to-warm category we discussed earlier and products that can be tuned to a CCT over a specified range and maintain CCT when dimmed. Intense Lighting (now a Leviton Company) calls the former Dynamic Dimming and the latter Tunable White. At LightFair earlier this year, the company added both capabilities to the MX family of luminaires that includes recessed downlights, track heads, and so-called recessed multiples that combine multiple track heads in a recessed housing. Intense is relying primarily on Bluetooth Low Energy (BLE) wireless connectivity to enable control of the tunable features, although the company does offer optional DMX and DALI (digital addressable lighting interface) support. The Tunable White products can be set between 2100K and 4300K CCT, and at 3000K offer CRI of 90. Intense said the color points track just below the black body locus. The Dynamic Dimming products dim over the range of 3000K CCT down to 1800K.
Tech Lighting Element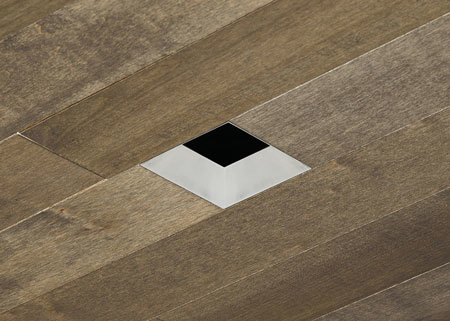 Sticking in the recessed downlight and recessed multiple area, Tech Lighting has announced a number of new luminaire types within the Element family. One unique and interesting quality about Element is the Tech Lighting decision to base the products on modular LED light engines. Indeed, you can specify among Citizen, Xicato, and Lumenetix modules. The modular approach allows for customization of the beam pattern, tunable features such as warm dimming, and color quality. For example, the optional Xicato Artist modules support CRI of 98 and a score of 95 or better across the entire CRI sample set including the red R9 sample. That module targets high-end retail. Back to the fixture design, the Element 3" Flangeless Wood Ceiling option pictured offers a unique approach to the typically difficult installation in thicker materials including wood and stone. Some of the recessed multiples are also very interesting. For example, you can get a four-head linear recessed fixture with spotlights on the outside and diffused lighting through lenses in the middle. The options include square multiple models as well.
Visa Lighting Limit OLED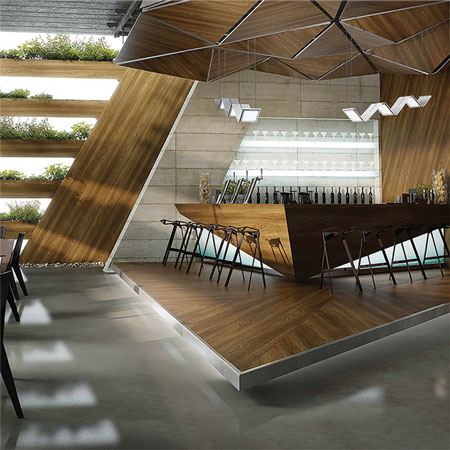 Pure-play OLED fixtures remain almost more curiosity than mainstream tool for the lighting design community, although the inherently diffuse panels enable some extremely compelling concepts. Earlier this year, for example, we covered an interesting project that uses the geometrically-flexible Trilia fixtures from Acuity. Here, let's have a look at an interesting product called Limit from Visa Lighting that targets hospitality or high-end residential settings in a chandelier-type form. The performance deficiency relative to LED-based products is immediately clear when you look at Limit's specs. The luminaire produces only 850 lm and tops out at 80 CRI. But as the nearby bar photo illustrates, the luminaire design makes a fashion statement. The product design does have other interesting elements at play as well. You can individually address each of the OLED panels via DMX or DALI. And to further the sense of style inherent in the product, Visa offers 16 powder-coat paint options.
PureEdge Lighting TruLine .5A and Zip Suspension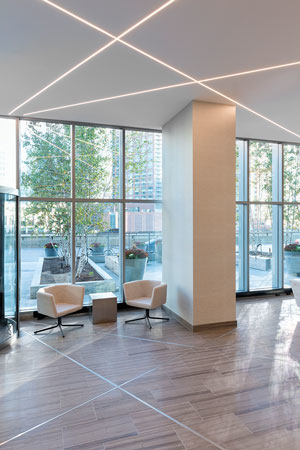 Earlier in this article, we discussed integrating lighting into architecture, but what about extending that concept seamlessly and connecting in-material light sources with traditional luminaires? PureEdge Lighting has just such an offering in the TruLine .5A and Zip Suspension combined product families. Pure Lighting and Edge Lighting generally target different applications with quite different LED product portfolios, although they together form PureEdge Lighting. TruLine has been a key component in the Pure Lighting portfolio and the linear products are intended to be integrated directly into drywall seams. The .5A version of the product has a 0.5-in. aperture and lens that generates diffuse light. The product can be cascaded for long runs and even turn 90° corners both in one plane such as on a ceiling or in applications such as a ceiling to wall run. Edge Lighting, meanwhile, has a new Zip Suspension product line that has equally thin linear luminaires intended for pendant mounting. And now lighting designers can install the TruLine systems in a wall or ceiling and have the Zip Suspension products seamlessly bring that channel of light out into a space, for example with the Zip product providing task light and the TruLine product providing ambient light. The combination was first announced back in March of this year alongside what the company calls an In/Out Connector to link the systems electrically and mechanically. The combined or separate linear products are powered by a remote driver, typically one that outputs 24 VDC. There are options for both phase-controlled and 0-10V dimming. And even RGB LEDs are an option in the TruLine portfolio.
Loto Lighting LaserDim and Zero luminaire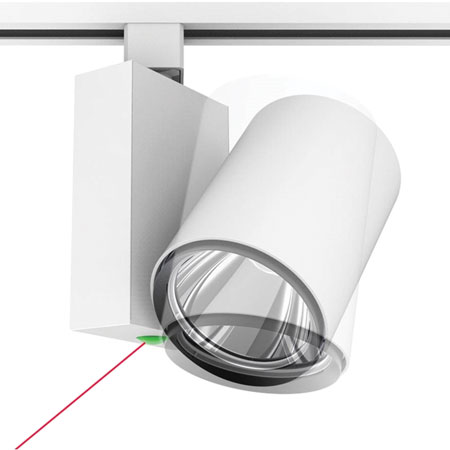 Lighting a display such as in a retail environment or an exhibit in a museum is among the most challenging tasks in the lighting sector. Loto Lighting has pointed out that many such projects involve very tall displays where the top areas of the display end up being more brightly lit than the bottom areas. Dimmable LED-lighting technologies abound, but having the ability to control every fixture independently in such a display application would require a very expensive network control system using the typical SSL control scenarios. So Loto has developed a technology called LaserDim and applied it to the new Zero 100 series of track heads. A curator working on a display can use a simple remote control in the LaserDim system to fine-tune each luminaire individually for an optimum display, enabling a far more cost-effective option in many cases relative to a networked system. The Zero, meanwhile, delivers 3400 lm from 40W and offers 90 CRI for optimal colors. Loto also offers many of its directional lighting products with motorized control to allow for simple adjustment of fixtures mounted on a high ceiling. The motorized trend may be a growing one. We reported on a new fixture back at LightFair that had controls for direction and even for zoom.
Halco Lighting ProLED Square Downlights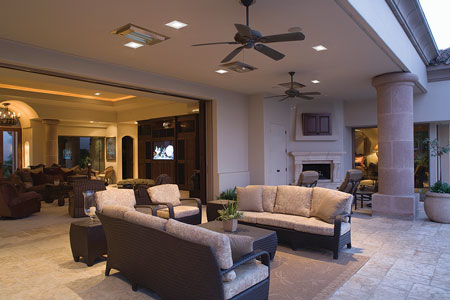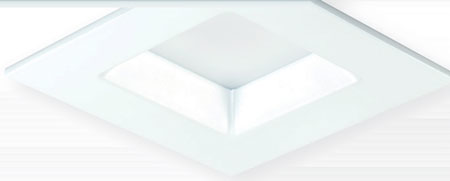 We will close this article with a look at a more traditional approach to downlighting that still may offer lighting designers maximum flexibility in a cost-effective package. This past summer Halco Lighting Technologies announced the ProLED Square Downlights in 4- and 6-in. versions. The products are designed to support LED retrofit lamps with an E26 base or optionally GU24 lamps. Flexibility is indeed at the base of the value proposition because customers can equip the luminaires with the exact type of lighting required on a project including CCT, CRI, beam spread, and more. Moreover, Halco developed a rotating collar that allows easy alignment of installed products relative to features like walls or to the presence of other luminaires. The standard product includes a frosted lens for diffuse light. Halco can supply fixture and lamp combinations that meet Energy Star requirements, and the product typically yields 80% energy savings relative to the incandescent products it is intended to replace.