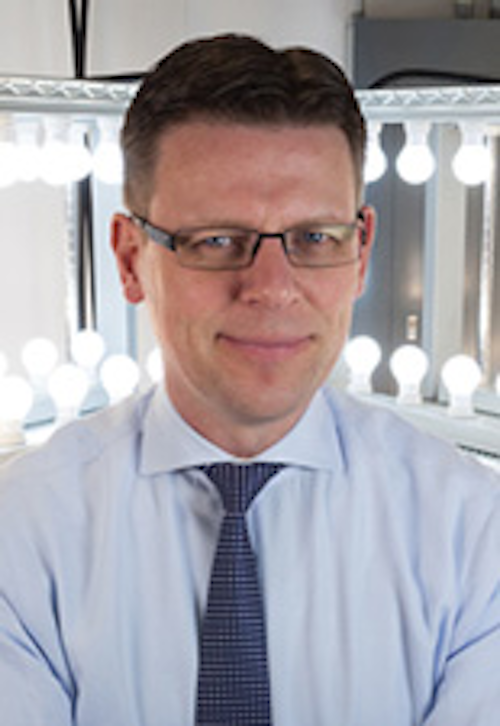 LEDvance CEO JES MUNK HANSEN notes the challenges in lighting markets and product cycles that have come along with the transition to LED sources, while explaining that navigating the changes will allow lighting manufacturers and practitioners to thrive.
The solid-state lighting (SSL) revolution poses not only a massive shift in technology but also how the lighting industry does business. As a result, the lighting market has proven challenging for traditional lighting manufacturers and newcomers alike.
Even though previous technology shifts such as the introduction of linear fluorescent disrupted the industry, fundamental business practices stayed the same. LED sources and SSL products are changing everything. As CEO of LEDvance - which separated from its parent Osram in the middle of this year and continues to deliver quality LED and traditional products under the Sylvania and Osram brands - I'd like to share our take on change, along with some valuable lessons learned.
Traditionally, lighting manufacturers earned profit by delivering high volumes of standardized products with very long product cycles. The LED source disrupted this model as the new technology lowered the barriers of entry for new players. Hundreds of new companies entered the market, producing a wave of innovation that turned lighting into a fast-moving field. Luminaires and light sources merged to create a relatively sophisticated appliance. Suddenly, lighting had quite a bit in common with consumer electronics. And manufacturers are now finding themselves navigating three major trends:
Short product cycles. Product cycles have come down to one to two years or even shorter. As a result, our company, one of the few running what might have been described as a "canned goods" business, found itself in the "fresh produce" business. We responded by managing our global supply chain very carefully, enabling us to continue to offer the right product at the right time.
Emerging markets. Growth in SSL is occurring alongside intelligent lighting control, wireless connectivity, color tuning/tunable-white lighting, pioneering circadian lighting, and LED lighting delivered as an Industrial Internet of Things (IIoT) infrastructure. All of these trends are driving manufacturers to innovate and occasionally partner with high-tech companies.
Navigating change will be critical to SSL success
LEDvance is the product of a two-year transition that was complex but resulted in a stronger company. By adapting to change, our company, which employs 9000 people around the world, has positioned itself to thrive in today's increasingly dynamic market. Our best assets are continuous innovation and high quality, resulting in customer satisfaction, the strength of brand and distribution, and a carefully managed supply chain.
Disruption obviously isn't limited to manufacturers. SSL represents a good opportunity to enter new markets, better serve existing markets, and engage the customer with new features and applications. But it also represents painful change. Shorter product cycles, lack of standards, some players delivering variable and uncertain product quality, and the entrance of many new suppliers are also making doing business in lighting riskier and more difficult. New technology and capabilities plus growth in lighting controls are making it more complex and have increased the compatibility challenges between components.
A need to stay informed. An enormous number of new lighting products are introduced and removed every year. Lighting practitioners need to learn about these products and the companies that make them. Lighting controls and new LED capabilities must be explored. I am very proud of our focus on education, training thousands of lighting practitioners each year both online and at Lightpoint, our training facility located at our new headquarters in Wilmington, MA.
New manufacturers have entered the market, providing innovation and competition but also risks. Many weren't active in the lighting market just a few years ago but are now offering long warranties. Meanwhile, the market is still showing a wide variation in product quality.
Lighting practitioners and users should research the manufacturers they want to do business with. These manufacturers should offer good products, sales claims backed by testing and a solid reputation, and a demonstrated commitment to supporting their products. They should also offer the robust training, customer service, and support the industry received from traditional lighting manufacturers for decades.
By navigating change carefully, lighting manufacturers and practitioners alike can not only survive but thrive in the SSL era.