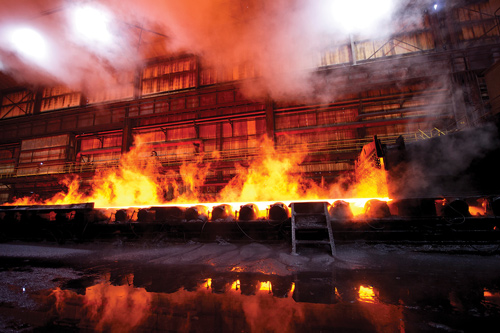 The Russian-owned NLMK plant in western Pennsylvania used to spend inordinate time and money replacing bulbs. Britain's Dialight is correcting the problem with long-life LED lighting while ushering in energy savings and other benefits, as MARK HALPER discovers.
When you operate a rough-and-tough steel mill where the furnaces hit 2300°F, where hydrochloric acid washes impurities from finished metal, where industrial rollers crank and churn as they flatten slabs down from 10 inches to 1-inch sheets and smaller, where welders' arcs flare in the maintenance room and workers fight dust and dirt everywhere, the last thing you want to worry about is replacing lightbulbs.
Interested in articles & announcements on indoor/outdoor industrial LED lighting?
Yet that's what they were doing at the 350-acre NLMK steel works in Farrell, PA, about 70 miles northwest of Pittsburgh, both inside the cavernous halls and outside on the roads, the parking lots, and at the pumping station along the Shenango River.
"I had people in bucket trucks going around pretty much almost every day of the week, pretty much they were going around replacing bulbs and ballasts - I had to keep one guy on street lighting all year long," recalled NLMK corporate risk manager Jeff Stidham. Yet, all the while, "we had a steel mill we were trying to run," he added.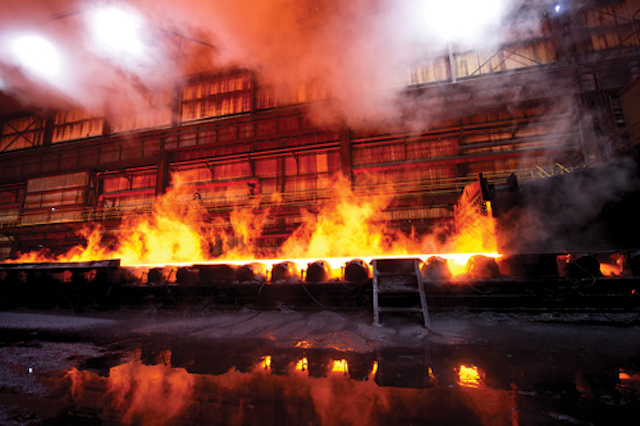 Steel mill blasts away lighting maintenance worries with industrial LED lighting conversion
FIG. 1. Temperatures hit 2300°F in the NLMK hot mill.
With heat like that, the LED lamps better be rugged.
Photo credit: Via NLMK.
Or as senior plant electrical engineer Mike Allenbaugh put it, "We are lightly staffed on our maintenance, and we don't want to be working on our lights all the time." He recalled that high-bay metal-halide (MH) lamps would frequently dim out so that "probably about once a year we had to have somebody go up and change bulbs on them." With ceiling heights around 60 ft in some locations, replacement was never easy.
That was in NLMK's not-too-distant past, which included the MH high bays as well as fluorescents, sodium-vapor lamps, and other light sources for street lamps, area lighting, and other functions. The mill had around 10,000 of the older-technology lamps as recently as 2012. It had been considering installing LED lighting for several years prior to that, tempted in large measure by the promise of longer lifetimes and, eventually, 10-year warranties from British industrial LED lighting vendor Dialight.
"Once every year-and-a-half to two years with conventional lighting, they were needing to change out lamps - relamp the facility or swap out whole entire fixtures," said Dialight regional sales manager Ryan Antonikas. "Any time you do that in a heavy industrial location, whether it's a steel mill or not, it's pretty costly to do so. You have a lot of safety concerns, you have to shut down equipment, lock out, tag out, make a lot of safety precautions just to change a lamp or a ballast."
NLMK had evaluated LED lighting as early as 2008, but the solid-state lighting (SSL) simply wasn't ready. For one reason, it didn't emit enough lumens to provide adequate illumination, which was of particular concern for high-bay installations at the works.
"LEDs just weren't that good back then," said Allenbaugh. "They were very expensive and they weren't as bright as the fluorescents."
But by 2010, SSL technology from Dialight was beginning to improve to the point where NLMK believed it could start to meet the needs of its heavy-duty environment.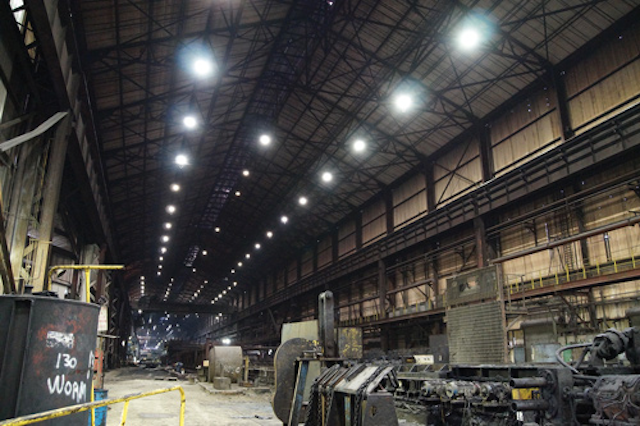 FIG. 2. These Dialight LED high bays in the NLMK hot mill
can take the heat, dust, and dirt that's thrown their way.
Temperatures can even drop below freezing
during a wintertime shutdown at the plant.
Photo credit: NLMK/Dialight.
Down by the river
The plant, which is part of the $7.6 billion Russian steel giant NLMK Group that is the world's 16th largest steelmaker by output, according to the World Steel Association, dabbled in a small LED conversion that year. It installed about a dozen Dialight outdoor area lights - floodlights - to illuminate the pumping station that sends cooling water from the river into the factory's heat exchange system. The 24 6×9-in. lights, about 58W each, replaced 175W MH lights.
"We have a huge river pump house where we bring water in for the steel mill," said Stidham. "We have cameras down there. It was always low lit. We could never light it up. So we went down there and put up Dialight's area lights. We put up around 12 of them on the river, and it lit up like daylight. Not only that, the LEDs are great for our security cameras. You can really see the colors and everything's really good on the cameras. That's our first case study with Dialight - the river pump house."
That marked a good start. But LEDs were not yet up to the indoor challenges at the NLMK plant, where it would have had to use two Dialight LED lamps to replace each metal halide.
"LEDs were still struggling because they didn't have the lumen output, due to the drivers," said Allenbaugh. "They didn't have the drivers perfected yet. That took them a couple of years."
The turnaround came in 2011. By 2012, NLMK placed an order with Dialight for hundreds of LED street lights, thus bypassing a previous plan to replace existing sodium-vapor street lamps with MH.
Around the same time, it also installed about 20 high-bay lights in the mill's electrical repair shop, a relatively small space by steel mill standards, and one where the 30-ft-high ceiling is considerably lower than other areas, thus providing a good test area to help study performance of different types of high bays.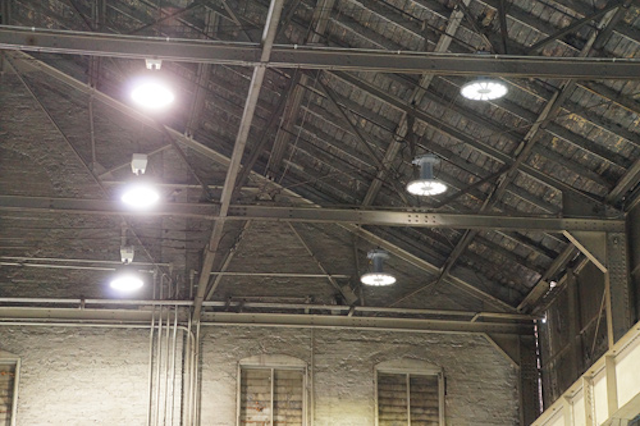 FIG. 3. High-bay LEDs light up the NLMK machine shop.
Photo credit: NLMK/Dialight.
Hitting the heights
Soon after, a full-scale replacement initiative began, which to this day proceeds steadily. Outdoors, the new lighting has reached just about everywhere. Indoors, you can find Dialight LEDs of various shapes and sizes.
That includes high-bay lighting in the hot strip mill, where three furnaces (not blast furnaces) heat 10-in.-thick, 30-ft-long, and an average of 48-in.-wide slabs of metal to 2300°F so a roughing mill can press them into thinner 1-in. sheets and roll them into coils. The LED-lit finishing mill can roll them even thinner. NLMK also uses LED high bays in its pickling area, where it cleans the coils in an acid bath and with a water wash. And LED high bays also light up the cold rolling and annealing areas, both of which can stretch the metal more. Cold rolling uses a machine called a 5-stand tandem mill. Annealing involves heating the metal again, to around 1900°F, and it can yield a final product as thin as aluminum foil.
Dialight high-bay LED lighting also now illuminates the warehouse areas, the maintenance shops full of pipe fitters, welders, electricians and the like, and the rail area.
NLMK has installed another LED format - Dialight linear LEDs - in electrical substations, as well as in inspection rooms.
"Fluorescent is what everyone used to want for the inspections," said Stidham. "But now the quality of light is so good on the LEDs that we've been able to replace those."
NLMK has so far installed about 4000 or 5000 Dialight LED luminaires, or nearly 50% of the project. The swap is not one-for-one, as some of the LEDs are doing the job of more than one of the previous MH lamps or fluorescents. Stidham expects to continue at roughly the same pace, which means the mill should have a full complement of LED lighting across the site, including on new facilities there, by 2022 - 10 years after it all began.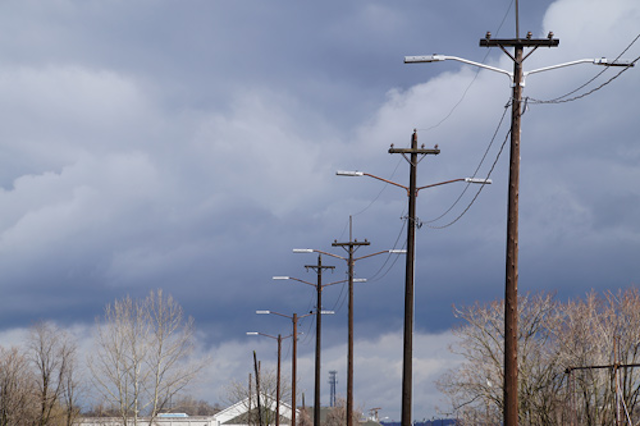 FIG. 4. Dialight LED street lighting went in at the plant as early as 2012.
NLMK had planned to upgrade from sodium vapor to metal halide,
but changed to LED when the technology improved.
Photo credit: NLMK/Dialight.
Less energy, better color, fewer outages
The upshot is that NLMK is saving a bundle not only on maintenance but also on energy consumption. The company says that so far it has slashed its lighting-related energy bill by 62%. The combined savings from energy and maintenance - Stidham ranks them as virtually equal in their contribution -have so far reached around $100,000.
There have been at least three other significant benefits as well. For one: NLMK endures power outages from time to time, which in the past meant waiting for lighting to warm up before full illumination returned. But now, "As soon as the power comes back on, the LEDs are on - they're instantaneous," said Stidham. "Whereas with metal halide, it takes them time to warm up. We used to have to wait on the lights to come up."
The LEDs have also reduced the frequency of power cuts. With the metal halides, "It was always overloading, we were right on the max of the fuse limitation," said Stidham. "But once we put the LEDs in, that dropped dramatically down, because they use a lot less power. So our electrical equipment that we had been looking to upgrade because it was just too small for the amount of high-bay lighting that we had, we didn't have to do anything to them. We just replaced the overhead lighting with LEDs, and that dropped the load on all of that equipment."
And according to Dialight's Antonikas, the LED lighting has vastly improved the color rendering. As Stidham pointed out, that has helped support security cameras. Antonikas added that color rendering can be particularly important in safety areas, where colors such as reds and yellows mark out safety alerts or special operation tags, such as the lock-out mechanisms that prevent workers from accidentally turning machinery on or off.
"When you see a yellow-painted hand rail under HID lighting, it's not too prominent, but by switching to a higher-CRI lighting such as LED, it really helps those colors stand out," said Antonikas. He claimed the light that NLMK has relied on traditionally had CRIs ranging from around 30 to around 50, whereas the Dialight LED luminaires provide a CRI in the 80s, and will soon reach the 90s - far superior for ascertaining true colors and easily spotting the reds and yellows of the safety world.
Well supplied

None of this was possible until Dialight improved its lighting, designing its own power supplies to meet demanding industrial needs. Dialight uses high-end LED chips from Seoul Semiconductor and Nichia, which, when combined with the power supplies, assure that light sources such as its Vigilant brand LED high bays can withstand temperatures ranging from -40°F to +149°F, according to Antonikas. That means they can survive not only the taxing heat of the mill but also the frozen conditions that frequently occur in some areas, like in the open-door stations that receive rail shipments from New Jersey of steel slabs that originate in NLMK's home country of Russia.
NLMK can back up Dialight's assertions. "We've had [some of] the Dialight LEDs up for about seven or eight years now, and we haven't had to do anything," said Allenbaugh. "So that really saves us on manpower."
Same for the 2012 installment of LED street lights. "Those street lights we put up, they're still working today in our front gate," said Stidham. "We haven't replaced them yet."
About the only place you won't find Dialight LEDs at the facility is in the offices. "Our fixture would be considered overkill in an office," said Dialight's Antonikas. "They're meant to be in dirty, dusty, hot, nasty environments. There are lesser technology grades for the office setting. I always joke, anytime I see a customer, especially if they're a new customer, I say, 'Give me your hottest, harshest, nastiest area. Show me somewhere where people don't want to go into and where you've had multiple failures before. That's where I want to start our relationship.'"
NLMK's Stidham would not dispute that as a description of his company's work habitat. "A steel mill is one of the harshest environments, other than mining," he said. "It's a very harsh environment. You're looking at high temperatures, very cold and very dirty as far as the dust and the water and the steam." Then there are the occasional freezing conditions in winter.
The LEDs have been so much up to the task that NLMK is designing them into a new "walking beam" facility it's building, where modern technology walks a slab through the hot mill, preventing marks and imperfections that can disappoint customers such as manufacturers of cars, appliances, and heavy equipment that NLMK supplies from the Farrell mill, considered a "mini mill."
NLMK is also starting to install Dialight LEDs at its galvanizing plant about 5 miles away from the mill, and is installing them in a hot rolling mill near Gary, IN, where the steelmaker operates an electric arc furnace.
"It's been a long time coming," said Stidham. "It took us a couple of years going through trial and error, but the main thing for me has been the maintenance and energy savings."
All indications are that those benefits will continue to roll on at NLMK.
MARK HALPER is a contributing editor for LEDs Magazine, and an energy, technology, and business journalist (markhalper@aol.com).
*Updated August 1, 2017 9:50am for clarification on power supplies.