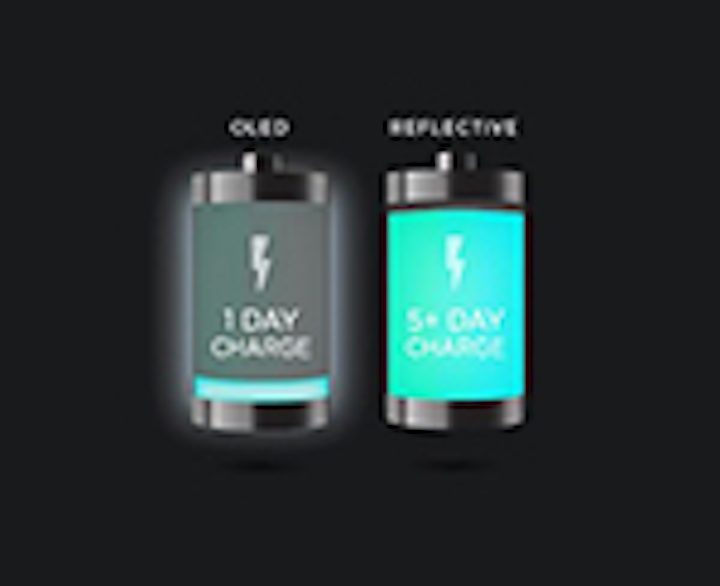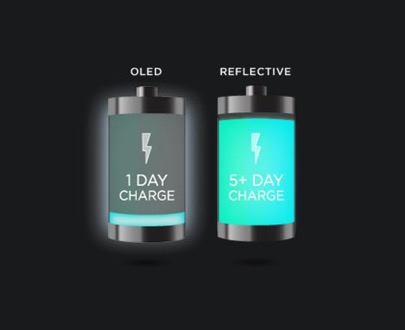 Improving the battery life of devices with displays (wearables, IoT and industrial and medical safety and monitoring) has long been a problem for product designers and engineers. Most of the tech world has been focused on creating new applications, leaving display innovations to stagnate. And that's a big reason why a typical screen eats up about 50% of the energy a device uses. To make matters worse, a backlight wastes most of the light it creates. So the key to making a device with a display hold a charge for 5 days starts with rethinking the light.
FLEx and Front Lighting
That's where FLEx Lighting stepped in with a front light that can be used with a Reflective LCD display. Backlights use an inefficient transmissive type of display that beams light through filters (where most of the light gets blocked) then into pixels. There are new emissive technologies like OLED and MicroLEDs that emit their own light, but they aren't as efficient as the third type of display: reflective.
As the name suggests, reflective displays use any ambient light (e.g., sunlight) to bounce off and illuminate the screen. Emissive and transmissive displays compete with any ambient light, so they need to throw a more intense light to fight these sources, and they ultimately lose the battle against direct sunlight. Another advantage of reflective displays is the ability to read them very clearly outdoors. It's a smart system, but what do you do when there is no ambient light for the display to use? That's where the front light from FLEx comes in. FLEx has engineered an ultrathin lightguide that can laminate to the top surface of an RLCD and needs only one LED to light the screen. Tests show that it's about 90% more efficient than a backlight system. What that means for users is less time spent charging. For commercial applications, it's annoying to have to keep charging your device, but for medical and industrial applications much more is at stake. Time spent charging is time not spent monitoring.
Getting Reflective
JDI and Sharp both make low power Reflective LCDs (RLCDs) that device makers are noticing. Makers of wearables and fitness trackers have used the form factor for awhile because of its sunlight readability, something backlit devices simply can't do (they fight sunlight and lose). Industrial and medical devices are turning to RLCDs for their power-efficiency. These industries tend to innovate at a slower rate, but the benefits for these two applications are becoming more apparent and more adoptions are in the pipeline.