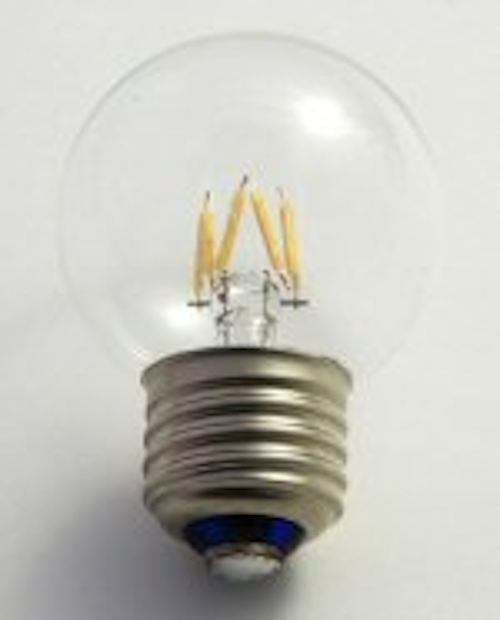 Ushio Lighting releases light bulbs with LED filaments
Ushio Lighting Inc started sample shipment of the "LED Filament Bulb," a light bulb that uses LEDs as its "filaments." An article on the Tech-On website says that the products have a color temperature of 2,500K and a transparent glass bulb.
Ushio Lighting developed an LED enclosed in a transparent package to emit light in all directions regardless of the orientation of the LED, according to the company. The filament-like shape was realized by arranging the LEDs in a three-dimensional configuration, to "homogeneously distribute soft light."
Audi R8 V10 supercar is the first 100% LED-equipped automobile
We've written extensively about the Audi R8's LED headlights, but Audi has now labeled its car as the first to be fitted with LEDs throughout the entire vehicle. See Gizmodo's comments on this announcement.
JVC and Samsung expected to unveil "thinnest ever" LCD TVs
At the Consumer Electronics Show (CES) in Las Vegas this week, both LG and Samsung are set to unveil ultra-thin LCD panels featuring LED backlights, according to
Wired.com
. The Samsung LCD will have a thickness of only 6.5 mm, says an
AFP article
(with photo).
Samsung's press release gives more information on the new 8000, 7000 and 6000 Series of LCD TVs.
LED chipmaker Epistar estimates 38% revenue drop in December
Taiwan's leading LED chipmaker Epistar estimates a 38% drop in December 2008 revenues to about NT$400 million (US$12 million), says Digitimes.
The company expects to see revenues decline further in January 2009 due to weak orders and fewer working days in the month. Epistar had revenues of NT$647.9 million in November 2008, down 28.3% from NT$903.7 million in October, and down 36.43% compared with last year. The company's accumulated revenues from January to November were NT$9.86 billion, up 5% compared with last year, according to data from the Taiwan Stock Exchange (TSE).
Epistar's overall utilization dropped to only 30-40% in December compared to 50-60% in November, according to Shie-Shien Chang, vice president of the company. Chang indicated that some AlGaInP LED production lines were suspended due to weak orders in December, and utilization for the segment was 50%.