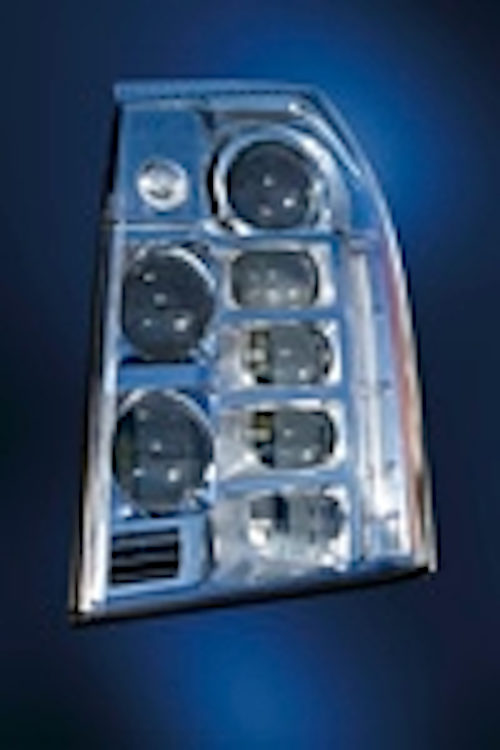 Two suppliers recently described their involvement in the LED headlights that Hella KGaA Hueck & Co. is supplying for the Cadillac Escalade Platinum Sports Utility Vehicle that enters serial production this summer - see Related Stories.
The distinctive design of the LED headlamp is based around seven free-form glass projection lenses that are being used for the first time anywhere in the world, according to Hella.
The projection lenses were supplied by Docter Optics, while the multi-chip LEDs are mounted on a specially developed CeramCool ceramic frame produced by CeramTec AG's Electronics Division.
Docter Optics' projection lenses
Docter Optics produced the sophisticated "free-form" lenses for the Escalade's full-LED headlights. Free-form lenses make it possible, for example, to "shape" light to meet the needs of a specific application with exceptional precision, the company says.
The assemblies in the Escalade integrate not only high- and low-beam functionality, but also daytime running lights and position lights as well as the side markers that are obligatory in the US.
Docter Optics' proprietary DOC3D process permits large-scale production of aspheres and free-form lenses for sophisticated illumination applications, including economical production of special lenses for these LED headlights.
CeramTec's ceramic frame
The partially transparent frame is produced using a dry pressing process and is then metallized. To meet strict customer requirements, a special process had to be developed that observed the lowest tolerances and used an absolutely faultless metallization, CeramTec said.
Each headlight is equipped with 7 LEDs and subsequently fitted with the ceramic CeramCool. The LED solution is particularly robust and works reliably in temperatures ranging from -40°C to +125°C.