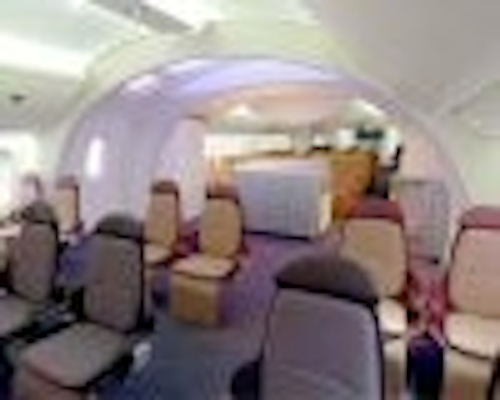 The Lighting Research Center (LRC) at Rensselaer Polytechnic Institute has announced a new partnership with Boeing to develop innovative and efficient lighting solutions for use aboard commercial aircraft.
The LRC and Boeing will collaborate on projects to evaluate current aircraft interior lighting designs and to specify new lighting concepts and requirements.
Boeing is targeting LED lighting for many of its aircraft cabins because of the technology's potential for significant energy savings over traditional light sources.
Many of the research projects to be conducted through this partnership will focus on lighting solutions for Boeing and its partners/suppliers for the new 787 Dreamliner jet, a super-efficient airplane now in development.
Last year, the LRC evaluated LED and halogen passenger reading lights for Boeing to benchmark current fixture performance and recommend new specifications to improve reading light quality (see LEDs for Aircraft Passenger Reading Lights).
Alan Anderson, Chief Engineer, Payloads Systems, said, "The Boeing – LRC partnership will benefit airline passengers by improving their flying experience through new cabin lighting design. By bringing new lighting technology and methods of integrating lighting into the cabin architecture design on Boeing airplanes, the ultimate benefactors of the partnership will be the flying public and our airline customers."
LRC Director Mark Rea, said, "We are pleased to have Boeing as an LRC Partner. Boeing is continually committed to improving the passenger flying experience and recognizes the importance of lighting for those onboard. Through this partnership, Boeing is investing in the future of lighting."
The LRC Partners Program is a collaboration of academia, industry, utilities, public benefit organizations, public advocacy groups, and government. The program provides leadership and coordinates efforts to advance the effective use of light. Through the Partners Program, the LRC works to increase visibility of lighting-related issues at the national and international levels, coordinate efforts across the lighting and energy communities, and develop customized research and education programs.
LRC Partners in addition to Boeing include California Energy Commission, GE Lighting, Genlyte Thomas, New York State Energy Research and Development Authority, Northwest Energy Efficiency Alliance, OSRAM Sylvania, Philips Lighting, U.S. Department of Energy, U.S. Environmental Protection Agency, and Xcel Energy.
Boeing's new 787 Dreamliner jet is a family of three super-efficient airplanes that will provide passengers with a "better flying experience" beginning in 2008. The 787-8 Dreamliner will carry 217 passengers in three classes of seating with a range of up to 8,500 nautical miles (15,700 km). The 787-3, a model of the 787-8 optimized for shorter flights, will carry 289 passengers in two-class seating on ranges up to 3,500 nautical miles (6,500 km). The 787-9, a longer version of the 787-8, will carry 257 passengers in three classes with a range of 8,300 nautical miles (15,400 km).