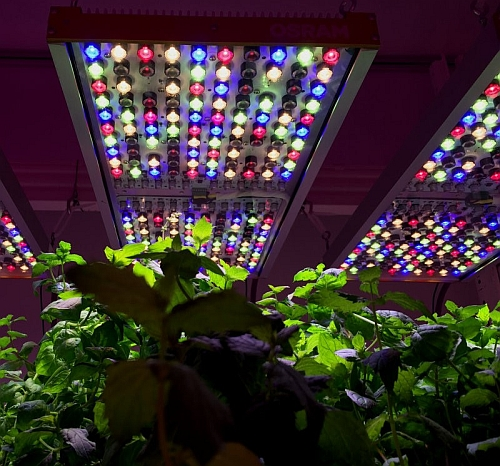 Osram Innovations and Osram Opto Semiconductors partnered to deliver a seven-channel SSL system to the horticultural department at Michigan State University to explore light recipes and sculpting of crop look and taste.
The Controlled Environment Lighting Laboratory (CELL) at Michigan State University (MSU) has a horticultural lighting system installed across multiple growing areas that is arguably the most complex and capable such solid-state lighting (SSL) system in the world. Osram Innovations and Osram Opto Semiconductors partnered to develop the enhanced version of the Osram Phytofy system, stretching the spectral flexibility with seven dedicated LED channels. The system equips the MSU horticultural department with broad flexibility to test light recipes and to experiment with changing the look and taste/smell of cultivars.
Dr. Erik Runkle, PhD, directs the horticultural research work at CELL. Runkle will also be our keynote speaker at the upcoming LEDs MagazineHorticultural Lighting Conference on Oct. 9 in Portland. Runkle and his team of researchers are using the LED system on a variety of cultivars including leafy greens. The work seeks to improve yield and productivity along with exploring the potential of impacting the essential oils in plants.
The custom-designed SSL system includes the following LED channels:
UV-A 380 nm
Blue 450 nm
Green 520 nm
Hyper red 650 nm
Far red 730 nm
Warm white 2700K
Equalized (EQ) white 6500K
Horticultural lighting science has long held that blue and red spectral energy align with chlorophyll absorption peaks that drive photosynthesis. We covered much of that lighting theory in a feature article on the topic. We have also covered the theory that broader-spectrum light is needed for crops such as tomatoes or cannabis that develop biomass.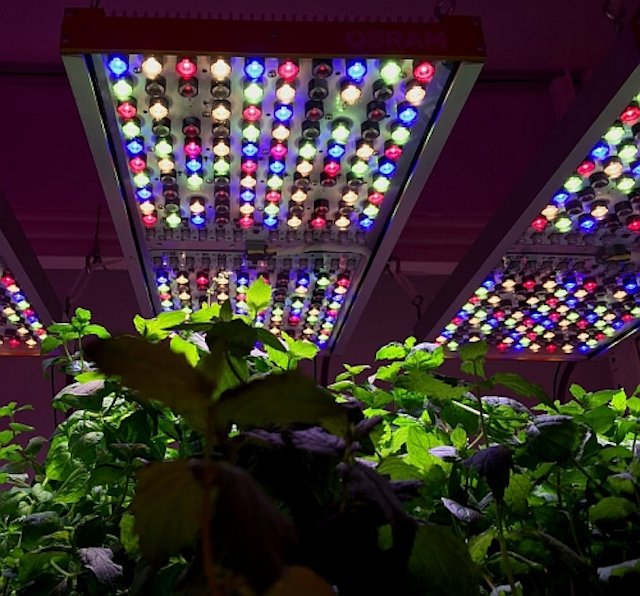 Michigan State Controlled Environment Lighting Laboratory explores LEDs for horticulture
Michigan State University's Controlled Environment Lighting Laboratory (CELL) is working with a horticultural lighting system developed using seven LED channels to deliver various light recipes to plants.
The MSU system features five monochromatic channels including an ultraviolet (UV)-C-band channel. As we covered in an article on the Horticultural Lighting Conference 2017, UV-C spectral energy can stress plants, creating a change in the look and flavor or potency of cultivars. The two phosphor-converted white channels, meanwhile, deliver the broad spectrum for biomass yield and good light for workers. The EQ white has prevalent yellow-green energy and was originally developed for the Osram Brilliant Mix technology — a blue-shifted yellow plus red approach to high-efficacy and warm-white luminaires for general illumination.
There is an excellent video on the Osram website that discusses elements of Runkle's work. The smart SSL system both enables simple control of the seven channels and eliminates the need for manual verification of spectrum and intensity at the plant canopy. Ultimately, the research could yield a cloud-based repository of light recipes via Internet of Things (IoT) technology.
---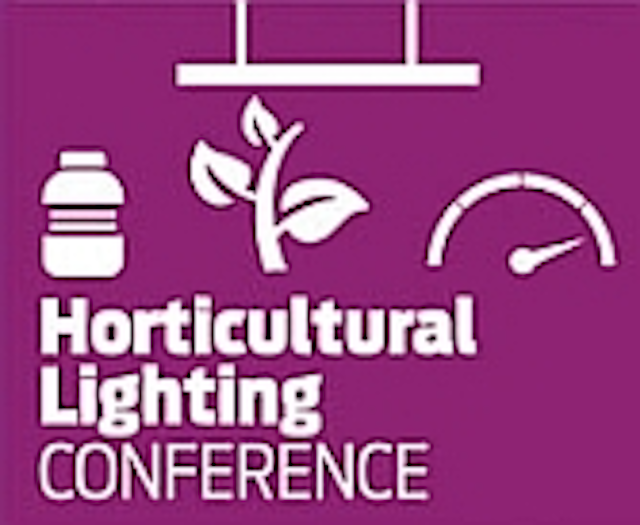 To learn more about our Horticultural Lighting Conference 2019, peruse the online program. We have an excellent roster of expert speakers and a panel on the future of smart lighting for horticultural applications. In addition, Philip Smallwood, director of research at our Strategies Unlimited business unit, will present his latest horticultural lighting research.