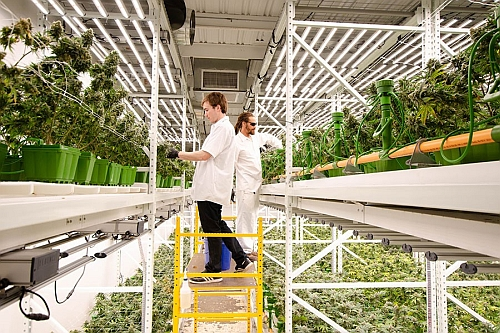 LED lighting is shown to increase yield and secondary metabolites in a Fluence Bioengineering installation at Eve Farms' cannabis vertical farm, and the company has named David Cohen COO.
Fluence Bioengineering has announced the results achieved via the installation of LED lighting at the San Francisco Eve Farms legal and licensed industrial-scale cannabis farm. The indoor facility uses a two-layer vertical configuration and the solid-state lighting (SSL) has enabled a near doubling of output and a higher-quality product. Meanwhile, the company has also announced that David Cohen, most recently CEO of Schréder Lighting USA, has joined the executive team as COO.
Interested in articles & announcements on horticultural lighting?
Eve Farms
Eve Farms compared the performance of new LED lighting in an indoor grow room relative its prior high-pressure sodium (HPS) lighting. The company installed Fluence SPYDRx Plos horticultural fixtures that feature a central linear structural element and as many as eight perpendicular LED light bars. The largest configuration is designed to uniformly light a 4×4-ft canopy with an average photosynthetic photon flux density (PPFD) of 1535 μmoles/m2/sec. For more information on horticultural metrics, see one of our feature articles on the topic.
Ultimately, the move to SSL afforded Eve Farms benefits in two distinct ways — the ability to grow in two layers and the performance of the lighting in terms of plant growth and vitality. We've covered vertical farms on a regular basis in our horticultural lighting articles, generally in relation to leafy greens and herbs. Such configurations are possible with LED lighting because the sources do not radiate heat and can be placed adjacent to the plant canopy.
In leafy green or herb operations, some commercial growers stack racks twenty or more layers deep. But cannabis plants grow much taller and most indoor growing operations have relied on ceiling-mounted, heat-radiating HPS sources a long way from the plant canopy and are limited to a single layer of plants. In the Eve Farms installation, the plants still require substantial free height for growth, but the Fluence technology easily supports two layers of plants. The company said that Eve Farms realized 70% more canopy in the same physical space just by moving to the vertical configuration.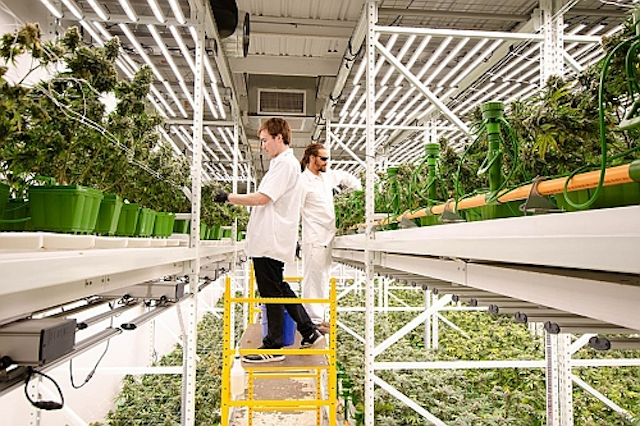 Fluence publishes cannabis horticultural lighting research, names new COO
New broad-spectrum LED-based horticultural lighting by Fluence Bioengineering has enabled cannabis grower Eve Farms to both double its yield and improve crop quality.
The LED lighting, meanwhile, has also delivered increased biomass and faster crop cycles. Eve Farms found that cycles went from nine weeks to eight weeks, yielding the equivalent of 35 additional cultivation days per year. Between the larger canopy and improved plant production, the farm has improved yield from 100–125 lb per harvest to 200–250 lb. The energy efficiency of LEDs enabled the increased output with only a 5% increase in power consumption.
The SSL has also improved the chemical composition of the plants. Eve Farms found that secondary metabolite production of the prized cannabinoid and terpene levels increased by 11% — making the crop more valuable per pound. Both the metabolite production and faster cycles were attributed by Fluence to the spectral power distribution (SPD) of its fixture design. Fluence relies on a broad SPD with energy stretching from blue to near-infrared (IR), far red, and significant energy in the green, yellow, and orange regions.
Some prevailing thoughts on changing essential oils in plants through increasing secondary metabolites has been focused on the need for ultraviolet (UV) spectrum exposure to stress the plant. Indeed, at our Horticultural Lighting Conference 2017, we had several presentations that described that mechanism. But Fluence says the Eve Farms project is proof of its belief that a broad spectrum is actually the key to increasing secondary metabolites.
Eve Farms apparently agrees. "We view Fluence as a strategic partner which has enabled Eve Farms to surpass cultivation targets and reduce operational costs to help us maintain our competitive edge in the market," said Matt Cantelo, CEO and founder of Eve Farms. "With Fluence, our cultivation team has the latest in agtech to reliably produce award-winning cannabis."
Cohen assumes COO role
In other Fluence news, Cohen has joined the company to lead marketing, sales, and operations teams. "David will be an integral part of Fluence's growth trajectory as the company expands to become the global leader of the horticultural lighting industry," said Nick Klase, CEO and co-founder of Fluence Bioengineering. "David's experience in directing high-growth products in the LED lighting industry will ensure Fluence anticipates and addresses developing trends in food and cannabis production around the world."
The year 2018 has been a busy one for Fluence and its relatively new parent Osram regarding the horticultural application. In May alone, Osram acquired Fluence and made an investment in a Canadian horticultural lighting startup called Motorleaf.
Still, it appears that Fluence's management team is steering its way forward with Osram supplying a technology base and global reach. "The Fluence Bioengineering acquisition by Osram pairs best-in-class technology with a global lighting leader," said Cohen. "I am excited to be joining Fluence at this critical time to drive global expansion. As Fluence refines its expertise in plant photobiology to address the escalating demand for natural food and medicine, I will be making sure we reach as many customers as possible around the world."
---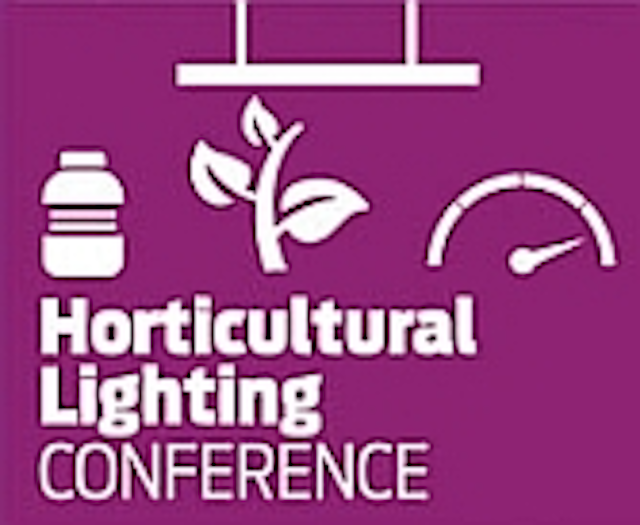 Light recipes and SSL technologies will be at the forefront at our upcoming Horticultural Lighting Conference on Oct. 9 in Portland, OR. The conference will not be focused on cannabis, although a number of the presentations will consider that cultivar. The full day of immersive presentations will also discuss the largest food crops lit by LED such as tomatoes, cucumbers, and peppers. And the program will cover applications spanning vertical farms to supplemental lighting in greenhouses.