Vertical farm is using tunable Signify LED technology to optimize lettuce, spinach, and coriander for the convenience chain.
Signify has won another place at the food table, this time providing its Philips GreenPower LEDs to a vertical farm in Japan that will use the horticultural lighting technology to rapidly grow quality lettuce, spinach, and coriander for 7-Eleven convenience stores, year round.
GreenPower LEDs allow growers to tune brightness and frequency as best suited to different crops.
Sagamihara, Japan-based food products company Prime Delica is using the system in its vertical farming operation to improve vitamin C levels and hygiene, and to permit pesticide-free growth. It also claims to be reducing the time it takes to grow crops. In the case of lettuces, Prime Delica says the Signify horticultural solid-state lighting (SSL) system cuts the amount of time to seed, grow, and harvest to 39 days, compared to 70 days in the open field.
Related: Lumileds helps developers of horticultural LED luminaires dial in light recipes
"We do not use any pesticides because our crops grow in a closed environment, which also means there is no air contamination," said Masayoshi Saito, president of Prime Delica. "Our crops can be delivered to 7-Eleven stores within 48 hours from harvest and are very fresh and full of vitamins. The cost price per crop is higher than in the open field. However, the overall costs of processing are vastly reduced in terms of logistics, checking, and washing with very little waste. It's a cost reduction mechanism if we consider the factory in total."
Prime Delica began operating a new vertical farm in Sagamihara in January, and is using the new facility to supply 7-Eleven. It is considering deploying the technology at other facilities and for other crops, including strawberries.
Related: Philips says LEDs make a rosier rose
"It's difficult to get a good quality and stable food supply from the open field due to the effect of climate change on crop growth," said 7-Eleven president Kazuki Furuya. "We believe the Sagamihara vertical farm is a great step to guarantee safe and healthy food for our customers."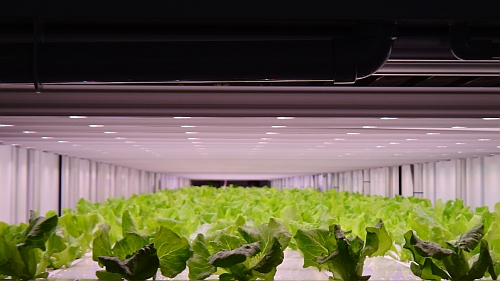 Light recipe delivers clean and fast produce to 7-Eleven stores in Japan
Lettuce growing under Philips GreenPower LED lights. (Photo credit: Signify.)
Signify said produce coming from the GreenPower-driven farm will have a much lower bacterial load than produce from the open field.
"Prime Delica has automated the entire process from seeding to harvest, minimizing manual operation time and improving the hygiene of the crops," Signify said. The facility can produce 3200 kg of lettuce in a day, including frillice, red leaf, and bimittuce varieties, it noted.
Prime Delica is considering using the technology on other crops, such as strawberries. It worked with Signify, Tamagawa University, and Japanese LED specialist CCS Inc. in developing the light recipes.
Earlier this year, Signify said it provided similar technology to French cucumber farms Jardins Réunis and Cheminan.
MARK HALPER is a contributing editor for LEDs Magazine, and an energy, technology, and business journalist (markhalper@aol.com).
*Updated Mar. 26, 2019 12:24 PM for institution correction.