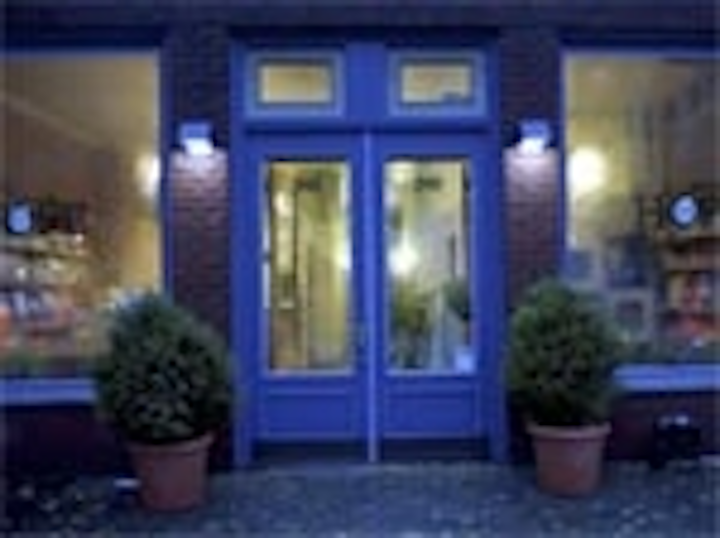 Latest
Lighting industry still learning how to apply advanced LEDs (Sep 06)
Some lighting designers view LEDs as a troublesome technology that is only really useful for color-changing applications, but at the same time the LED community is moving to address many of the concerns voiced by the lighting industry. Tim Whitaker reports from the Applying Advanced LEDs conference.
NeoPac unveils 135-watt LED street light with 5000 lm output (Sep 06)
GE takes full control of GELcore, teams with Nichia (Aug 06)
General Electric has bought Emcore's 49% stake in GELcore for $100 million, and has also announced an alliance with Japanese LED manufacturer Nichia.
LSG and Osram Opto develop LED-based MR-16 and R-30 lamps (Jul 06)
Lighting Science Group has incorporated Osram Ostar LEDs into MR-16 and R-30 lamps that are targeting industrial, commercial and consumer lighting markets.
Permlight makes further inroads in residential LED lighting (Jul 06)
Enjoying record sales for its LED residential lighting fixtures, Permlight is supplying new home builders such as Discovery Homes and also partnering with AudioVisions, part of BestBuy, to provide complete home entertainment packages.
Introductory Articles
LEDs move to the next level at Light+Building (Jun 06)
Strong walking shoes and a pair of sunglasses were a good idea for anyone trying to see all the LED-related products at Light+Building…but it was a worthwhile journey.
LED experts converge at the Solid State Lighting conference
General illumination, white LEDs and pulse-width modulation were among the subjects discussed during the Fifth International Conference on Solid State Lighting, writes David Nicol.
Cyberlux matches attributes of LED lighting to market needs
Emergency lighting and defense-related products have set the stage for US solid-state lighting specialist Cyberlux to begin to penetrate the general lighting market. LEDs Magazine spoke with Mark Schmidt, president and COO of Cyberlux, about the company's plans.
LEDs in the mainstream: technical hurdles and standardization issues
A recent conference in the UK focused on the latest developments in LEDs and the ways in which they can be moved into the mainstream lighting market. Tim Whitaker reports.
TIR's LEXEL platform provides cost-effective LED lighting
TIR Systems has developed a universal platform for solid-state lighting that incorporates important advances in thermal management, optics, color control and drive technology.
Hybrid fixture lights up the night
The LED/incandescent light fixture developed by the California Lighting Technology Center and partners will save energy and costs, and reduce light pollution. The hybrid fixture, which includes a motion detector, is now being applied to pathway, entryway and security lighting.
Introduction to Solid-State Illumination
Selected Features
LED luminaires get warm welcome in supermarket freezers (May 06)
An emerging application for LED luminaires is to provide illumination in temperature-controlled retail cases used in supermarkets for the display of perishable goods, as Liam Kelly of NuaLight discusses.
Product Focus: Permlight's Enbryten Series LEDs lead the wave in marina lighting applications (Feb 06)
LED lighting has provided simple and elegant solutions to some of the problems encountered with trying to provide suitable lighting for marinas.
White-light LED home lighting systems provide great benefits for India's remote tribal villages (Dec 05)
White LED lighting fixtures powered by solar panels are having a huge impact on very poor villagers in the remote regions of Andhra Pradesh, India.
The 5mm package versus the power LED: not a light choice for the luminaire designer (Dec 05)
Although lighting fixture designs tend to emphasize the role of the power LED in current and future luminaires, there is a strong case for continuing to rely on the good old 5 mm package.
ConceptLED: concentrated dispersion of the light source (Dec 05)
LED technology allows luminaire manufacturers to break free of the restraints of working with conventional lamps, according to Moisés Domingo and Julián San Miguel of Indal group.
Elevator lighting gets an upgrade with LEDs
LRC field study shows 45 percent energy saving from replacing incandescent elevator downlights with LEDs.
LEDs for general illumination: energy codes, lumens per watt, and other lighting criteria
The lighting community needs to be able to evaluate LED lighting products in the same way as any other competing technologies. Jeff Schwartz of ICF Consulting describes some of the relevant criteria.
Nomads & Nano-Materials: combining LEDs with textiles
A series of Portable Light prototype designs combine Mesoamerican weaving traditions and solid-state electronics.
The case for solar-powered LED lighting
Rapid developments in solar cells, LED lighting and energy storage are creating great opportunities for solar-powered solid-state lighting, says Moneer Azzam of SolarOne Solutions.
LEDs offer alternative to polluting, fuel-based lighting
A paper published in Science proposes that solar-powered white LEDs offer an attractive to fuel-based light sources in developing regions.
Solid-state lighting gets smarter, more energy efficient
Smart solid-state lighting could have benefits in such diverse fields as medicine, transportation, communications, imaging, and agriculture, according to a paper in Science.
Optek and Lednium form alliance to target solid-state lighting
Visble LED maker Optek Technology has teamed up with an Australian packing specialist, Lednium.
LED luminaires "will be installed in new homes by fall 2005"
Permlight has introduced a complete line of low-cost LED-based products for the new home market, which are compliant with energy codes and Energy Star 4.0.
Industry alliance proposes standard definition for LED life
The Alliance for Solid-State Illumination Systems and Technologies has developed guidelines for defining LED life as a step towards establishing product standards, writes Jennifer Taylor.
The ROI of LEDs: saving money with energy efficient sources, programs and initiatives
LEDs provide an excellent return on investment, especially when paired with energy rebates and tax exemptions, writes Bruce Pelton of OptiLED.
Pulling LED products into the market
Understanding the requirements of the lighting design community is a key challenge in trying to gain acceptance for LEDs in lighting markets, as LEDs Magazine discussed with Eddie Effron of Permlight Products.
Brussels conference sprouts better understanding of LEDs
Interaction between lighting designers, luminaire manufacturers and LED suppliers should help the LED industry to focus on its strengths and continue to develop.
Brooklyn's main street revitalized by LED lighting
An innovative scheme using OSRAM SYLVANIA LED-based lighting of building doorways has reinvigorated the night-time appearance of the historic Atlantic Avenue streetscape in Brooklyn, New York
LED design wins New York City streetlight competition
The City Lights competition to design a new streetlight for the City of New York was won by an entry utilizing LED lighting technology. DGA illuminates trade-fair stand with white power LEDs (May 06)
Italian lighting manufacturer DGA illuminated its 130 sq.m booth at Light+Building entirely with white LED fixtures.
TerraLUX offers LED light engines for Maglite flashlights
High-power LEDs are now being incorporated into flashlights with adjustable focus.
TIR Systems unveils LEXEL lighting platform
TIR has built a platform for solid-state lighting which incorporates key advances in thermal management, optics and color control.
Omni-directional lamps widen the illumination pattern of LEDs
A technique to achieve a wide illumination pattern using LEDs is described by Steve Terlep of Terlep Lamp Company.
Polymer technology provides uniform glow for PolyBrite bulbs
PolyBrite International has released a range of LED bulbs and lighting systems based around the company's patented polymer technology which provides bright, even illumination.
From colored indicators to office downlights: LEDs face obstacles to become acceptable for interior lighting applications
While LEDs are widely used as colored marker and orientation lights and to provide color-changing effects, they are still some way from being suitable for use as an interior lighting tool, argues Richard Turner of Louis Poulsen UK Ltd.
NGLIA supports initiative to develop solid-state lighting industry in the US
The purpose of the Next Generation Lighting Industry Alliance is to support and partner with the government on solid-state lighting R&D, and to lobby on behalf of solid-state lighting issues, including increased R&D funding. LEDs Magazine spoke with Dale Work of Philips, the current chair of the NGLIA.
TIR Systems' agreement with Canlyte raises profile of solid-state lighting
The recent agreement between TIR Systems and Canlyte could have important implications for the credibility and acceptance of solid-state lighting, writes Tim Whitaker.
DOE provides update Solid State Lighting program
The Fourth International Conference on Solid State Lighting, held in the first week of August 2004, opened with an update from Jim Brodrick of the US Department of Energy (DOE) on the Solid State Lighting program, which is seeking to improve the performance of both LED and OLED technologies for lighting applications.
LED lighting: challenges and benefits
Although there are many benefits associated with using LEDs for lighting applications, there are also many issues to resolve.
HB-LEDs: the market drive towards solid-state lighting
Growth in the high-brightness LED market will be fueled increasingly by illumination applications over the next five years as the price/performance characteristics of devices improve. Bob Steele of Strategies Unlimited analyzes the development of the solid-state lighting marketplace (Compound Semiconductor magazine, December 2003).
Selected News
LLF warm-white luminaire has efficacy of 73 lm/W (Apr 06)
LED Lighting Fixtures has conducted independent testing of a 3200K luminaire, which produces more that 700 lm using less than 10 W of power.
R30 LED floodlight beats incandescent performance (Apr 06)
A LED-based drop-in replacement for the very widely used R30 floodlight offers advantages in terms of power consumption, lifetime and total cost of operation.
Progress and Permlight to launch residential LED fittings (Mar 06)
Permlight has teamed with Progress Lighting to develop LED lighting products for residential applications, using warm-white LEDs from Cree and Nichia.
US group launches solid-state lighting competition (Feb 06)
Lighting for Tomorrow has announced a national lighting competition focused on innovative new light sources using LEDs.
Lighting Science receives orders for LED parking garage lights
Lighting Science Group has received an order for 1000 LED Low Bay Lights for use in parking garages.
LLF announces warm-white LED fixture with 54 lm/W efficiency
An independently tested recessed-can fixture produces 700 lm at 2900 K, with a power consumption of only 13 W.
Zumtobel invests $4 million in TIR, licenses Lexel (Jan 06)
Zumtobel and TIR have announced a strategic agreement to develop LED lighting products incorporating TIR's Lexel technology.
LED joint venture Lexedis launched in Paris (Dec 05)
Lexedis Lighting, a joint venture between Toyoda Gosei and Tridonic, has proclaimed "the rebirth of light" at its official launch.
ASSIST group develops snap-in scheme for LED lighting (Dec 05)
An LED lighting research group has unveiled a novel interior lighting design scheme that integrates LED technology with building materials and systems to create electronic walls and ceilings.
Leotek LED luminaire targets roadway lighting (Nov 05)
A LED luminaire provides low-level lighting for local roadways with half the power consumption of a high-pressure sodium lamp.
Light Waves plans manufacturing operation in China
Light Waves Concept is planning to build a new factory in China to manufacture LED-based lighting fixtures.
TIR gains two Lexel partners, CAN$14 million in financing
TIR Systems has announced two partnerships, with Genlyte Group and Lighting Services Inc, to develop Lexel technology, and has a closed a financing round.
Former Cree employees launch LED lighting venture
Several ex-employees of Cree, including former chairman Neal Hunter, have created a new company to develop LED lighting fixtures.
Permlight's under-cabinet light features Cree XLamp LEDs
Permlight has introduced a dimmable, long-life under-cabinet light featuring Cree XLamp power LEDs.
Lighting Science supplies parking garage lights to Amtech
Lighting Science has commercialized its Optimized Digital Lighting (ODL) technology through an alliance with Amtech Lighting.
Permlight LED systems light American Indian Nation Homes
Permlight's Enbryten Pendant luminaires, powered by Cree Xlamp LEDs, have been installed in a new North Dakota School.
Sololuce announces 560-lumen Power Giant lighting module
Using chip-on-board technology, a solid-state light engine delivers 560 lm at 15 W with a color temperature of 3500K.
Cyberlux teams with Bruni to promote LED lighting
A new joint venture will introduce Cyberlux's LED-based lighting products to the European market.
Philips installs LED streetlights in Dutch town of Ede
LED luminaires from Philips Lighting have been used to provide warm-white street lighting.
Test lab rates Cyberlux LED lighting products at 55 lm/W
Cyberlux Corporation says that its Aeon Pro E task and accent home lighting meets and exceeds the soon-to-be-updated requirements of California's Title 24 standards.
Carmanah acquires SPS, becomes largest Canadian solar company
Cree, Osram Opto announce design wins with Color Kinetics
OptiLED secures lighting deal with Philips in Mexico
Catalyst, TAOS jointly promote LED system solutions
SAIC wins contract to provide LED flashlights
Carmanah secures order for LED aviation lights
Permlight and Chloride co-develop emergency LED lighting systems
Osram LEDs illuminate exhibition at Electronica 2004
LEDs supply lighting to remote village in India
DOE announces 2005 workshop, solicits grant applications
Lighting Science claims affordability for LED bulb technology
SolarOne Solutions improves security with solar-powered lighting systems
TIR systems receives $1.4 million in new solid-state lighting orders
Color Kinetics adds five OEM and licensing partners in third quarter
Underwater Kinetics' LED lights help divers to spot marine life
Cyberlux receives patent for emergency lighting technology
Selected Products
NeoPac launches LED Tube Light to replace fluorescent lamps
Cyberlux announces RelyOn LED work and emergency light
LEDtronics unveils new one-watt LED flashlight
Cyberlux expands Aeon sales channels coast to coast
QLT introduces AR111 power LED module
Cyberlux launches Aeon line of LED task & accent lighting
CAO Group, Inc. releases latest MR-16 LUXEMBulbs
Enlux introduces 1K LED light modules
Solarone debuts Soled-lx01 signature light