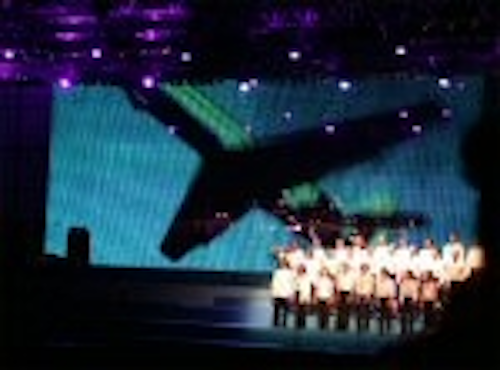 Martin Professional A/S and G-LEC Europe GmbH have entered into a licensing agreement relating to semi-transparent LED screens.
The agreement allows Martin Professional and its affiliated companies to manufacture, market and sell the Martin LC Series of LED video screens worldwide. It will also allow Martin to apply its market expertise and worldwide distribution reach to the market opportunity for LED video screens.
Martin's product was launched at last year's PLASA, and the similarities with G-LEC's product range were plain to see (see Martin light curtain).
G-LEC is the market leader in the development of transparent LED video display technology. The licensing agreement allows Martin Professional to use G-LEC's LED patents and utility models covering Martin's LC 2140 and the LC 1140 LED video screens.
The agreement also includes the setting up of a technology cooperation regarding the development of successors to the licensed products.
Lars Wolf, Managing Director at G-LEC, described the agreement as "an important acknowledgement of our patent portfolio for transparent LED graphic displays. G-LEC offers a wide range of products to suit very large scale LED video displays and our products department continues to develop custom installations for fixed markets."
However, said Wolf, the strength of the Martin brand name, their well-developed distribution network and worldwide market reach should further develop the market for G-LEC's products. "We see great potential in this cooperation," he said.
Lars Dige, chief financial officer at Martin Professional A/S, said the agreement "represents our entrance into the potentially huge market for transparent LED video screens and allows us to now market our LC Series aggressively. It is our intention to expand upon this cooperation and further develop opportunities for LED video screens."