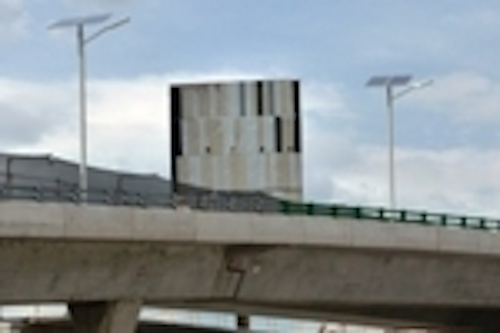 The Lighting Science Group (LSG) is using a new Mexico City roadway-lighting project as a launch event for the DC-powered Prolific DC LED-based street light, LSG is partnering with BHP Energy Mexico to deploy solar-powered solid-state lighting (SSL) along the new 23-km Viaducto Bicentenario elevated superhighway that runs from Lomas Verges to Tepotzotlan in the Mexico City area.
The Prolific DC series is a new addition to the Prolific family, and integrates a DC-DC converter that allows the luminaire to operate from solar or wind power. The company states that the Prolific luminaires are 50% more efficient than legacy technologies such as high-pressure sodium (HPS) lights, and the SSL technology provides more uniform lighting.
"After extensive research and testing, we selected Lighting Science Group's PROLIFIC DC series LED RoadWay 100 watt street light for this project," said Alan Barson, CEO of BHP Energy Mexico. "This is the first elevated superhighway in Mexico that will be illuminated entirely by solar-powered LED streetlights, and our customer required the most efficient and reliable illumination system available to complement the advanced nature of its solar power system."
Gerstl Consultores – a leading solar photovoltaic system integrator in Mexico – is leading the SSL project. CEO Jose Gerstl said, "As one of Mexico's foremost solar photovoltaic system integrators, we invited BHP Energy México, Mexico's leading expert in LED lighting technologies, to guide our selection of LED street lights for this demanding project, and when they demonstrated the Lighting Science PROLIFIC DC LED street light, we knew it would be the perfect lighting solution to integrate with our solar power system for this superhighway project—where street lights don't use energy from the electrical grid and must be maintenance-free."
LSG announced the Prolific family in October 2009. The products are available in versions ranging from 50W to 150W. LSG CEO Zach Gibler said, "With the PROLIFIC DC series, countries around the world now have the freedom to install virtually anywhere environmentally friendly, affordable and energy efficient street lights that have better lighting quality than traditional HID lights."