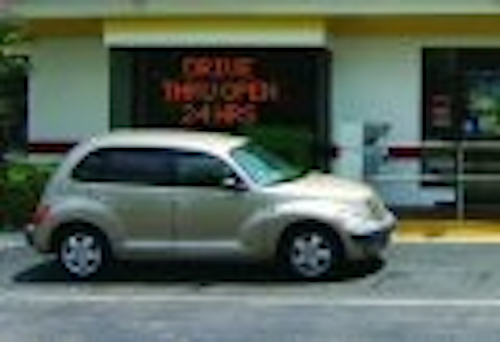 Baltimore Ravens enhance fan experience
The Baltimore Ravens will debut over 750 feet of new LED fascia displays at M&T Bank Stadium for the 2006 National Football League season.
Through a multi-year agreement, ANC Sports Enterprises will provide and operate the SMARTVISION® LED signage for the Ravens. In addition, ANC will create all the graphic content to be displayed on the new and existing LED signage.
The new displays will replace the rotational signage on the first level of fascia, combining with the existing LED signage to create more than 1100 linear feet of full motion video effects. The three-foot high ribbon has viewing angles of 170 degrees horizontally and 90 degrees vertically, offering animated content to every seat in the stadium.
OnScreen debuts Living Window full-color LED sign
OnScreen Technologies is to debut its new Living Window -- a colorful, dynamic messaging sign that can turn any retail or storefront window into a customized dynamic digital sign.
OnScreen has added new features to its original see-through display design, such as multi-color LEDs, modular design for custom sizes and WiFi local management capabilities. The new version is also lighter in weight than the original, weighing only 25 pounds for the 3 x 5-foot sign and 35 pounds for the 4 x 6-foot sign.
The new Living Window retains certain features of the original platform, such as a unique see-through design, which allows customers to see into the store, unlike traditional LED signs that block out light, hinder security and prevent passers-by from seeing inside.
The dynamic messaging system can help retailers move current merchandise in a timely manner. By changing messages in multiple locations from one central computer, users can easily communicate sale pricing and react quickly to competitors' advertised prices.
RSC Anderlecht to install Barco's sports perimeter LEDs
The Belgian football club RSC Anderlecht has chosen Barco's latest sports perimeter LED display, the SP-10, for its Constant Vanden Stock Stadium.
Anderlecht chose the Barco SP-10 and Sports Box management controller for its stadium as it wanted to provide an enhanced match day experience for fans, viewers and advertisers alike. The club recognizes the value the SP-10 will add to the sponsorship packages that it is able to offer advertisers.
Herman Van Holsbeeck, General Manager RSC Anderlecht said, "Barco's LED solution will offer our fans a new generation of entertainment and interactivity and will offer our sponsors a significant added value and a new tool of communication."
Texas Longhorns choose Daktronics
The University of Texas has chosen Daktronics to design and build the largest high-definition video display in collegiate sports for Darrell K Royal-Texas Memorial Stadium. The multimillion dollar display and control system will be installed and operational for the 2006 season opener against North Texas on Sept 2.
Daktronics will install a ProStar® LED display with an active area approximately 55 feet high by 134 feet wide (848 by 2,064 pixels). The physical pixel resolution will exceed the 720p HDTV standard.
Three more large displays, each measuring approximately 4 feet high by 150 feet wide, will be installed on the east, west and north sides of the stadium. Two smaller displays, approximately 4 feet high by 20 feet wide, will installed behind the north end zone.