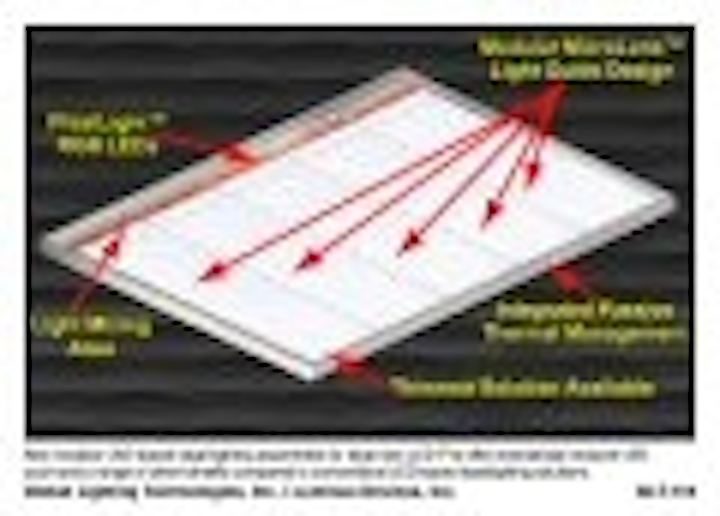 Global Lighting Technologies (GLT) Inc. of Brecksville, OH, a developer of LCD backlighting technology, has formed a partnership with LED manufacturer Luminus Devices, Inc., of Woburn, MA, to produce modular LED-based edge-lighting assemblies for large-screen LCD TVs.
Luminus emerged from stealth mode at the start of 2006 when several TV manufacturers unveiled rear-projection TVs using Luminus PhlatLight™ LED chipsets (see
CES exhibits herald the arrival of televisions based on LEDs
). Luminus' PhlatLight or
Ph
otonic
Lat
tice technology results in very high brightness emitters, and will now be combined with GLT's patented MicroLens™ light guides.
GLT's MicroLens pixel-based light extraction technology is based on micro-optical elements molded directly into a light guide. The elements are optimized to deliver more collimated light, which increases the efficiency of the optical system.
The combination of PhlatLight and MicroLens technologies results in the large-size LCD panels that are edge-lit, as opposed to direct backlighting. The result is dramatically reduced LED count, and simplified color and thermal management compared to conventional LED-based backlighting solutions.
Small-sized color LCD displays, ranging in size from those used in mobile phone handsets to the 11.1-inch screen in some Sony Vaio laptops, use white LEDs arranged on the edges of the display. Monitor and TV applications use RGB LEDs for a wider color gamut. At a size of around 20 inches it becomes necessary to use direct backlighting (the LEDs are distributed across the backplane) to achieve the necessary uniformity and brightness.
Luminus and GLT say that a 32-inch LCD TV that formerly required hundreds of LEDs in the backlight can now be edge-lit with less than 12 PhlatLight chipsets – each containing a single red, green and blue die – for optimal brightness, color, and significantly reduced thickness. Future developments are expected to reduce the number of chipsets even further.
The companies say that the benefits of the new edge-lighting assemblies increase with panel size, and that their strategy will be to concentrate on edge-lighting of LCD TVs 40-inch diagonal and larger.
This combination of technologies results in LCD TVs that are very thin (<15mm in production units) with high brightness (8500 cd/m2 at the backlight surface), passive thermal management, and significantly lower production costs.
GLT will be demonstrating a 24-in working prototype of a MicroLens/PhlatLight edge-lit LCD TV backlight at the 2006 Society for Information Display (SID) Conference & Exhibition, June 6-8, Moscone Center, San Francisco, in Booth 626.
"Previously, Luminus' focus has been on micro display projection applications," said David DeAgazio, Director of Sales Worldwide at GLT. "But, the light extraction features of our MicroLens light guides allow the benefits of their PhlatLight technology to extend to large LCD flat panel displays."
"The breakthrough for this application is that we're using the PhlatLight chipsets to edge-light, not backlight, the panels," added DeAgazio. "These edge-lit units are modular and scalable to screen sizes 50-in. and larger. We are using a handful of PhlatLight chipsets instead of hundreds or thousands of LEDs. This is not possible with any other type of LED."
"The combination of our PhlatLight technology and GLT's MicroLens technology enables edge lighting for large LCD-TVs," said John Langevin, vice president of sales and marketing at Luminus. "LEDs have obvious benefits for backlighting, including superior image quality and color, longer lifetimes, instant on, and RoHS compliance. But our edge-lighting approach, provides scalability to large screen sizes in an ultra-thin form factor."