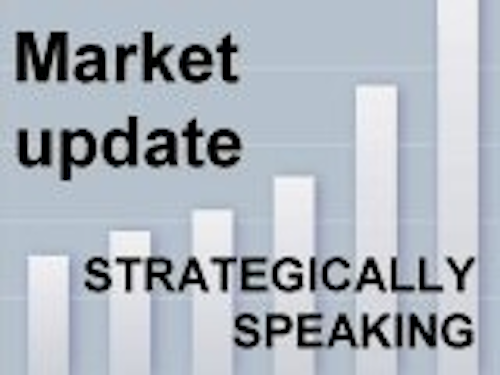 +++++
STRATEGICALLY SPEAKING:
Insights Into LEDs & Lighting, from Strategies Unlimited
+++++
HB-LED Market Stumbles in 2009 but Long-Term Outlook Remains Bullish
ROBERT STEELE
The worldwide economic recession has had a negative impact on many industries, including HB-LEDs. Although market growth for 2008 was positive (+11%), in spite of a shaky fourth quarter, a decline of 3.7% is expected for this year, resulting in a market size of $4.9 billion. However, this decline will not affect all HB-LED market segments equally. For example, although some of the more mature markets such as automotive lighting and mobile phones are experiencing substantial downturns, other emerging segments such as backlights for LCD displays in notebook computers and TVs are showing strong growth. Moreover, the LED lighting market is also continuing to grow, although at a somewhat slower pace than in recent years.
Downturn
Since we began tracking the HB-LED market in 1995, there has never before been a down year, although the market in 2001 was flat. However, that was during a worldwide recession in which all other technology-based markets experienced dramatic downturns (for example, the silicon semiconductor market contracted by 32%). A market decline of any magnitude is always reason for concern. However, in the current economic environment, it is not surprising that a number of end-use sectors that consume HB-LEDs are experiencing downturns. For example, worldwide automobile production declined by 4.5% in 2008 and is expected to shrink again by 20% in 2009. Mobile phone handset shipments are expected to decline by 10% in 2009 after years of steady growth. These two segments accounted for 15% and 42%, respectively, of HB-LED consumption in 2008. In other LED market segments, end product growth is forecast to be positive for 2009, but at a much slower rate than in recent years.
In all market segments, the penetration rates for the use of HB-LEDs continue to grow. The fundamental drivers for HB-LED adoption have not changed. It is the impact of the worldwide economic recession on end product demand, rather than any slowdown in the rate of HB-LED adoption, that is causing the HB-LED market to dip in 2009. Moreover, as noted above, not all segments are suffering downturns. The bright spots in the market this year are LED backlights for LCD displays and LED lighting fixtures and replacement lamps.
Display backlights
The initial use of white LEDs for LCD display backlights in notebook computers took place in 2005 in high-end, utra-lightweight models from Sony, Fujitsu and Toshiba. By 2007, LED penetration had increased to just 3.5%. But in 2008 it reached 12%, and it is expected to reach 50% in 2009. Because of the improving price/performance situation of white side-view LEDs, and the advantage of longer battery life provided by more efficient LCD backlights, the adoption of LED backlights in notebook PCs can be considered to be a "done deal". It will reach close to 100% within a few more years.
LED backlights for LCD TVs are in a much earlier stage of development, but the market is beginning to accelerate this year, thanks to the efforts of Samsung, LG, Sharp, Sony and other TV manufacturers to push the technology into the mainstream consumer electronics markets. Samsung is the most aggressive, reportedly spending $35 million on an ad campaign to promote its "LED" TVs, and it has forecast sales of two million sets in 2009. However, introduction of an expensive product ($700-800 higher in price than conventional CCFL backlit LCD TVs) during a worldwide economic recession is likely to be a tough sell. Over the longer term, as the price differential between LED and conventional TVs comes down, we expect the market for backlights to be the largest contributor to HB-LED market growth, reaching billions of dollars by 2013.
Lighting
In spite of the recession, which has resulted in significant sales declines for established lighting product companies, LED lighting continues to have strong momentum. The number of new products being introduced to the market, and the number of companies offering LED lighting products, has increased dramatically in 2009. In 2008, the consumption of LEDs in lighting applications increased by 54%. In 2009, we expect growth on the order of 15%, increasing to 40-50% growth in subsequent years following economic recovery. With the increase of white LED efficacy to well over 100 lumens per watt, lighting efficiency, promoted by various government policy initiatives around the world, will become the main driver for LED lighting market growth. This segment will become the second largest HB-LED application (after backlights) by 2013.
Conclusions
In conclusion, we believe that not only have the fundamental drivers for LED adoption not weakened during the current recession, but rather have become even stronger, as the emerging markets for LEDs in lighting and backlights open up new large-volume markets that were not available in earlier years. Overall, we are forecasting the HB-LED market to grow from $5.1 billion in 2008 to $14.9 billion in 2013, which represents a compound annual growth rate of 24.0%.
More information
Strategies Unlimited
has just released the 10th edition of its annual report on the worldwide LED market: "High-Brightness LED Market Review and Forecast – 2009".
Contact Tim Carli, Sales Manager, at +1 650-941-3438 ext. 23, or by e-mail at tcarli@strategies-u.com for more details.