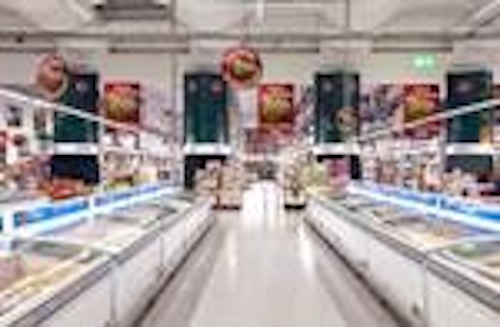 The Jerónimo Martins Group has installed all-LED lighting inside and outside its new supermarkets located in Portugal. The first installation took place in 2011 in its Recheio store in Torres Vedras, a region north of Lisbon. The installation uses LEDs from Osram Opto Semiconductors and luminaires and intelligent light management system from Arquiled, a Portuguese lamp manufacturer, to reduce energy cost for lighting by up to 50 percent. The lighting in the shopping and outdoor areas will be used as a model and reference for the chain's other stores. The second installation will take place in a store in Tavira, Portugal.
"Apart from the performance and efficiency of the products, which are unparalleled on the LED market, another winning feature of the LEDs from Germany is the excellent local support we receive," said Rafael Abelha Santos, CEO of Arquiled.
Arquiled developed the luminaires for the project based on a detailed assessment of the retailer's lighting requirements. A key advantage to using LEDs in supermarkets is the fact that they emit little thermal energy and therefore can be placed close to food to illuminate it directly without damage. Three Arquiled modules are to be used at the Jerónimo Martins in Tavira: the Arquiway, a module that uses four Oslon SSL LEDs; the Arquistore, with 72 Oslon SSL LEDs per luminaire; and Arquishelf luminaires, which provide shelf lighting using 56 Oslon SSL LEDs.
The Jerónimo Martins Group is among the first European retail companies to equip its new stores entirely with LED lighting, including the outdoor parking lot and integrated gas stations. The Arquicity street lamps incorporate light sensors and can adjust light levels automatically. Antonio Sousa of Osram Opto Semiconductors in Portugal said "The technical properties of the LED technology will help to achieve considerable savings on power consumption and offer numerous advantages in terms of installation and maintenance, too. That means we save three different resources: power, time and money."