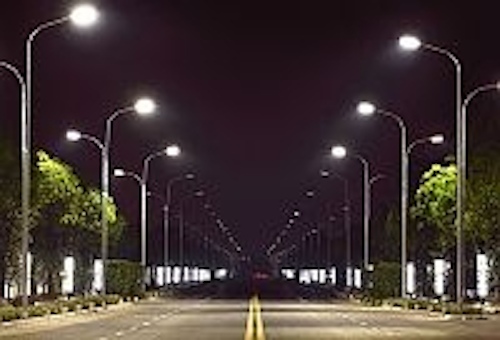 Seoul Semiconductor has announced that streetlights based on the company's AC-LED Acrich2 modules have been successfully installed on Weiyang Road in the Jiangsu Province in China, saving 55% in energy relative to the typical high-pressure sodium (HPS) lights used in such applications. Cree introduced $99 LED streetlights designed to replace 100W legacy lights in residential roadway applications. Meanwhile, MaxLite added to its roster of DesignLights Consortium (DLC)-listed portfolio with the Merak outdoor solid-state lighting (SSL) family.
High-voltage LEDs
The Jiangsu project follows on the heels of a project in Yangzhou City that was completed back in April. The LED streetlights use the Acrich2 4040 LEDs that are based on what Seoul calls multi-junction technology (MJT). Essentially MJT equates to what the industry at large calls high-voltage LEDs that connect multiple emitters in series within a single package, thereby simplifying the driver design. Seoul's 4040 has a 64V forward voltage and is driven typically at 20 mA.
Seoul takes the high-voltage approach a step further with its Acrich AC-driver technology that has now been completely integrated in a single IC that we covered back in March. The company says that you can replace the typical AC/DC modular driver used in an LED streetlight with the IC mounted on the LED circuit board. Presumably, that configuration is representative of the lights used in the China projects.
Indeed, Seoul said the Acrich 2 modules eliminate a 2- to 4-kg driver module while also offering inherent dimming support. The company also said that the space saved due to the AC technology was utilized to add surge protection to handle over-current and -voltage conditions, and lightning strikes, while also enabling the use of a smaller enclosure.
"Acrich2 AC LED modules are the optimized solution for high reliability and remove the difficulties of installing dimming control systems using drivers/ballasts for existing DC LEDs," said Marten Willemsen, vice president of marketing for Seoul Semiconductor. "Due to the competitive price, there will be continued success cases… These successful cases in China will lead to more widespread adoption of Seoul Semiconductor solutions in the global outdoor lighting market."
Based on Seoul's published specs, the Acrich2 modules offer performance on par with top luminaires based on traditional DC-driver technology. The company claims system efficacy of 100 lm/W and power factor of 0.99. We recently covered a DOE report on outdoor SSL efficacy and 100-lm/W performance is generally considered at the top of the range of products. Seoul, however, did not specify the exact conditions under which that level of performance is achieved.
Streetlight product news
While part of Seoul's value proposition is low cost, AC-driver technology clearly isn't the only avenue toward that result. Cree took the unusual tactic of leading a recent LED streetlight announcement with product pricing, with the news being a product for residential streets that broke the $100 level.
The new XSPR series can deliver 2529–3819 lm and Cree says they deliver a typical 63% reduction in energy usage, replacing 100W legacy lights. Cree says the payback is one year. For more information see the detailed article we ran over on our Illumination in Focus website.
In other streetlight product news, MaxLite announced that its Merak LED Roadway Light fixtures have achieved DLC listing. The products are offered in 30W to 300W models.
"We are proud to welcome the Merak fixtures to our growing list of DLC-qualified outdoor products," said Bill Fenimore, director of sales for outdoor lighting. "Since the series was announced in late 2012, it has made strong inroads in the roadway market segment for MaxLite."