GKD wraps Cleveland art institute in LED-based mesh display (UPDATED)
A transparent façade-based LED mesh display screen leverages SSL technology to display the works of Cleveland Institute of Art students in static and moving images.
Feb 16th, 2016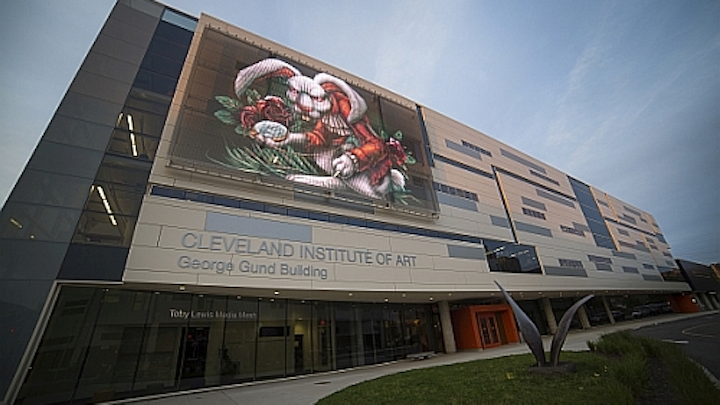 A transparent façade-based screen leverages SSL technology to display the works of Cleveland Institute of Art students in static and moving images.
The American subsidiary of GKD (Gebr. Kufferath AG), GKD Metal Fabrics, has announced an LED-based, façade-mounted video screen installation at the Cleveland Institute of Art (CIA). The solid-state lighting (SSL) project utilizes the GKD Mediamesh material that embeds LEDs in a stainless-steel metal fabric, and allows the CIA to display the work of its students in static and video form.
Interested in more articles & announcements on LED displays?
LED-based façade lighting spans a range of technologies from video walls and mesh-type approaches such as the one at the CIA to projected architectural lighting. For example, we recently ran a story about projected architectural lighting installed on New York's Walker Tower. And we featured a mesh-type installation from Lima, Peru on our cover back in 2014. That project even offers control of the lighting to the public on a limited basis.
Source: © GKD/Connor Elder.
What sets the LED mesh display installations apart including the CIA work is the ability to make the SSL installation an integral part of a building's architecture while enabling dynamic images and even video content. Indeed, the GKD screen at the CIA is mostly transparent allowing natural light to enter windows behind the screen and allowing people inside the building to see out.
The Mediamesh fabric includes groups of red, green, and blue LEDs that GKD calls LED profiles, which are mounted in horizontal steel channels. Smaller steel wires and vertical interconnect elements make up the supporting and mostly transparent mesh. GKD offers various versions of the product with a pixel pitch in the 40–60-nm range.
Grafton Nunes, president of the CIA, had seen mesh displays in other locations such as the large screen at the New York Port Authority Bus Terminal. In most cases, such LED displays are used for commercial purposes such as advertising. But Nunes was focused on using the technology as a communication channel between the institute's students and the public, and to provide an iconic addition to a revitalized building that is an important part of Cleveland's heritage.
Source: © GKD/Connor Elder.
The display consists of four 4×9.3-m panels that comprise a display area totaling more than 150m2. The screen includes 71,680 pixels and can display complex graphics, photos, and full-motion video clips. Still, the CIA project is unobtrusive. The institute feels that the minimalist construction blends into the architectural background while also having the ability to showcase important works.
GKD has been involved with a number of other high-profile Mediamesh projects. A few years back, we covered an installation at a Midwestern casino. The company also handled a project at the American Airlines Arena in Miami, FL back in 2009, a very early installation of large-scale LED-based displays.