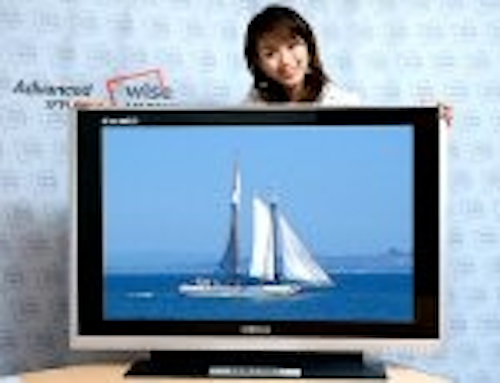 Samsung Electronics has exhibited a number of solid-state display technologies at the Society for Information Display (SID) 2005 conference in Boston. These include a 40-inch OLED display, billed as the world's largest single-sheet glass plate OLED; a 46-inch LED backlight LCD TV with 107 percent NTSC color reproduction, and an LED backlight LCD for 2.22-inch mobile phone displays that uses RGB, rather than white, LEDs.
40-inch OLED
Samsung says that its 40-inch amorphous silicon OLED prototype is the world's largest single-sheet glass plate OLED and demonstrates that Samsung Electronics' implementation of OLED is unique and scalable to large-screen TV sizes.
It employs WXGA (1280 x 800) HD-class resolution and screen brightness of up to 600 nits (cd/m2), as well as a black-and-white contrast ratio (shade ratio) of at least 5,000:1 and a color reproduction scale of 80 percent or higher. The ultra-slim panel will enable large-sized OLED TVs with a thickness of only 3 cm or less.
RGB backlights for phones
Samsung also exhibited a 2.22-inch LED backlight LCD for mobile appliances, featuring RGB LEDs as the light source instead of white LEDs. The RGB LED light source allows the 2.22-inch backlight to offer enhanced color tones, improving color reproduction from today's 60 percent to 86 percent, relative to NTSC standards.
46-inch LED backlight
Another technology at the show was an ultra-slim 46-inch LED BLU (Back Light Unit) that employs "Xmitter", Samsung's proprietary optical technology. "Xmitter" technology has an optical structure that enhances light usage efficiency by more than 40 percent, relative to today's widely used side scan method.
The 46-inch LED BLU consumes 40 percent less power, compared to existing LED products. It has brightness of 500 nits and outstanding color reproduction of 107 percent. Typical CRT-TVs and LCD-TVs are manufactured with 72% color reproducibility, but for HDTVs, higher color reproducibility is needed for sharper image reproduction.
LED backlights are also being positioned as the next-generation light source for meeting environmental regulations involving the use of mercury and lead, which begin to go into effect in Europe in 2006.
World's largest LCD panel
Last but not least, Samsung's 82-inch LCD TV panel is the largest LCD panel in the world, and was produced on the world's largest (1,870 x 2,200 mm) TFT-LCD production line, located in Tangjeong, Korea.
Benefiting from 7G (Seventh Generation) technology, Samsung's 82-inch LCD prototype is equipped with proprietary extended-viewing-angle technology, an unsurpassed vertical and horizontal viewing angle of 180 degrees, 92 percent NTSC color reproduction and a screen quality response speed of 8 ms or less. In addition to the 40- and 46-inch LCD TV panels currently in mass production, Samsung believes that the 82-inch LCD TV panel, along with a 57-inch LCD panel, will impact significantly the growth of the large LCD TV market.