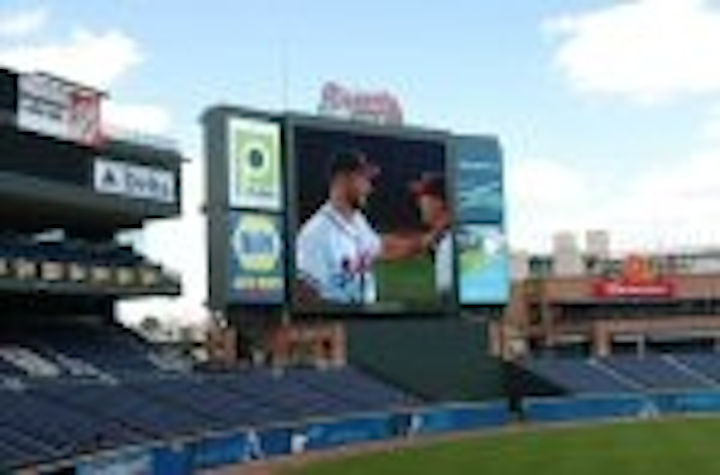 The world's largest outdoor high definition display will greet and entertain Atlanta Braves fans at the newly renovated Turner Field this season. The 5,600-square-foot Mitsubishi Electric Diamond Vision screen, which will be recognized by Guinness World Records at a special ceremony on March 23, is 71 feet tall and 79 feet wide, weighs 50 tons and has more than five million LED lights.
"The Diamond Vision display is the centerpiece of the Turner Field renovation, and will give fans a video experience unequalled in major league sports," said Terence McGuirk, vice chairman of Turner Broadcasting System Inc. (TBS Inc.) and chairman and president of the Atlanta Braves. "This screen is almost three times the size as our old display, and seeing the replays, videos and animations in high definition screen will add even more excitement to the Turner Field experience."
The new display consists of 266 panels that each contains 20 lighting units, resulting in a screen with nearly 5.2 million LED modules that can faithfully reproduce 1 billion colors, and be clearly seen from almost any viewing angle.
The 400,000-watt screen, which will be cooled by 10 fans that move 60,000 cubic feet of air per minute, can be accessed for service via a nine-tiered catwalk behind the display.
The centerfield display is one of two new Diamond Vision displays being installed at Turner Field; a 16 x 28-foot, 446-square-foot display is being installed in the Plaza area of the ballpark. Both will be controlled from a new control room that features four 30-inch and two 40-inch Mitsubishi LCD monitors.
"We are thrilled that the Braves selected Mitsubishi Electric to create what we believe is the crown jewel of ballpark displays, and are proud that Diamond Vision once again has set a new standard in large-scale video display performance," said Mark Foster, general manager for Mitsubishi Electric Power Products Diamond Vision Systems Division. "Mitsubishi Electric is an industry leader in consumer high definition displays, and only Diamond Vision can bring that quality and expertise to large-scale video displays as well."
Mitsubishi Electric has installed more than 100 Diamond Vision screens for sports, entertainment and advertising use in premier venues across the country. Recent installations include US Cellular Field, home of the Chicago White Sox; Yankee Stadium; MTV's 44-1/2, Times Square's first high definition display; the Colosseum at Caesars Palace in Las Vegas; and the 11-screen display Reuters Building display in Times Square. Indoor Diamond Vision installations include Staples Center in Los Angeles; Conseco Fieldhouse in Indianapolis; The Palace at Auburn Hills; and Philips Arena in Atlanta.
The Diamond Vision LEDERBOARD(R) is a full-color, LED display system which merges the company's expertise in large-scale video displays with LED technology. The result is a stunning, high-resolution video image from a thinner, lighter, energy-efficient medium, with an amazing 170-degree horizontal viewing angle and a 1.5 times improved image resolution. Mitsubishi Electric's Colorspace Conversion technology converts the chromaticity of each color of the LED display to more accurately reproduce the colors of the original image.
Diamond Vision Systems' US operations has headquarters in Warrendale, PA. Diamond Vision is a division of Mitsubishi Electric Power Products Inc., a U.S. subsidiary of Mitsubishi Electric Corp. of Japan.