Gigantic G-LEC curtains help celebrate 100 years of Daimler Chrysler plant
Two giant displays measuring 245 square meters each and constructed from G-LEC's LED frames have been used to celebrate the anniversary of an automobile factory.
Dec 7th, 2004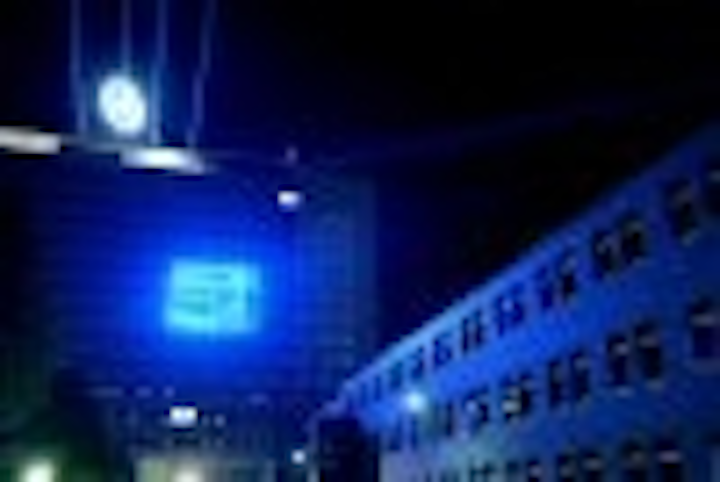 When Mercedes Benz celebrated the 100 year anniversary of its Untert?rkheim plant near Stuttgart, G-LEC were there to make sure that everyone could see the action.
At a ceremony attended by 300 of Germany's movers and shakers from the political, business and social worlds, events on the main stage were displayed on two colossal systems of G-LEC ClassicFrame, which were attached to the facade on each side of the 14-storey Mercedes Benz office building.
With both displays measuring in at a gigantic 245m2, or more than 2,600 square feet, the 140 frames of ClassicFrame, controlled by 12 graphic computers, were used to display live video feed from the events on the main stage.
With such a large rig required, ClassicFrame was the only product for the job owing to the lightweight fa?ade of the building - a video wall would have brought the building down!
The ClassicFrame also created minimal disruption for workers, with staff continuing to work in the offices throughout the build-up, as it allowed daylight through to the offices and did not obscure people's views out.
Richard Profe, media and lighting designer at Munich and Stuttgart based design company TLD, had been waiting to specify the G-LEC system for a while, after experimenting with it last year. Three months of meticulous planning saw a steel frame developed to securely attach the ClassicFrame to the block, utilising the existing window railings.
Unrivalled in its transparency to light, wind and sound, the large-scale graphics display delivered a dynamic texture with fast moving and smooth, bright graphics which flawlessly captured the events on stage. "I chose the ClassicFrame in particular as it is so lightweight and transparent," said Profe. "An added benefit was there was minimal disruption for the staff working in the offices as they could still see out of the windows."
To complement the G-LEC systems there were 20 searchlights on top of the tower with a further 10 positioned on neighbouring roofs, while from the ground a Wholehog2 controlled High End Studio Beams and Martins Macs.
In 1904 Daimler-Motoren-Gesellschaft relocated its company headquarters from Canstatt to Untert?rkheim, on the banks of the river Neckar. Axles, transmissions and engines for Mercedes-Benz vehicles are produced here before they are sent on to assembly facilities around the world. With seven branches and a staff of around 32,000, the Untert?rkheim plant is one of the company's most up to the minute production locations and is the heart of the Mercedes Car Group management.