Selador helps lighting designer Bruce Ferri cross the finish line
Before the NASCAR race telecasts on ABC you can witness TV lighting history. ESPN's NASCAR studio show will broadcast from the most technologically advanced mobile studio ever used.
Apr 3rd, 2007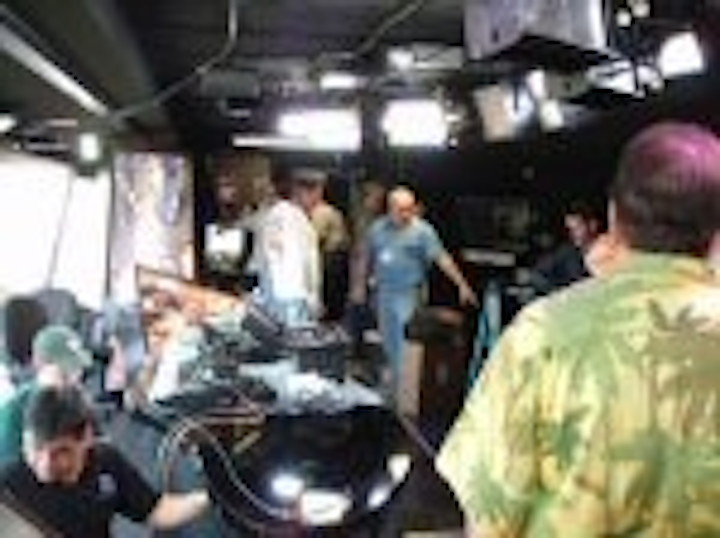 The mobile pit studio, which weighs nearly 78,000 lbs and will travel to 26 NASCAR tracks this season, has been entirely outfitted with state-of-the-art LED lighting. Situated near the pits at every track, the Countdown studio elevates 14 ft while in use and has 30 ft of glass windows along the one side giving viewers a look at the cars, grandstands and pageantry before the start of the race.
"ESPN and ESPN on ABC's coverage of the NASCAR NEXTEL Cup Series and NASCAR Busch Series will be the most technologically advanced programming in the history of televised motorsports," claimed Jed Drake, senior vice-president and executive producer for ESPN.
ESPN's mobile pit studio marks a new direction in TV studio lighting as designed by lighting designer Bruce Ferri of New York City Lites. This was intentional: "We all know that we could have done things the old-fashioned way but the mandate was to be cutting-edge and to think outside the box. It is in an expando truck so we had very little room; also the side of the truck is all glass so you can have a view of the track" explained Ferri.
A concern was having enough light on people to counteract the background, as well as being able to change color temperature as during the transition from day to night. "Early on, I probed my mind for what source could change color. I was looking around and I saw Selador, I got a demo and it looked interesting so I arranged to do a camera test in Bristol, CT where ESPN is located – the test made my mind up." said Ferri
Ferri used a mix of LED units but chose the Selador X7TM•12-Square as his key light "The nice thing about the Selador is that with the lens system I was able to really use it as a key light," explained Ferri, "It is kind of a crazy use for the light but using 30° lenses on some of the lights and 20° on others it kept one light from spilling onto another person."
The Selador units, in fact the entire idea of going the LED route, solved several problems that mobile TV studios often face, as Ferri pointed out: "Heat and power were big concerns in the truck. With the Selador we can mix any color temperature, there is virtually no heat, also there is very little power consumption and I don't need dimmers; I can control them directly through DMX."
Ferri was particularly pleased with the color control he had using the Selador X7 fixture: "At this point I don't know what else I would have used. I really liked the idea of the seven colors. I've tried to use three color LEDs to make white and that has never been very successful; the white is always cold."
Ferri'' assistant, LED technician and programmer for this project was Ed McEneney, who agrees that the Selador units were a perfect fit: "It was a good choice for the project for many reasons. One it has the punch, two you have a higher resolution of color control and also the units are very roadworthy."
To take full advantage of the seven color mixing capabilities Ferri used a Pharos Lighting Playback Controller. "We have a laptop in the pit studio that has a custom-designed interface to access the lights through Pharos and we also have a backup in the video truck with a second laptop so the color temperature can be controlled."
Ferri and McEneney worked closely with both Selador and Pharos to customize the control and be able to access all of the Selador features. McEneney was pleased with the results: "Between Selador, Pharos and us it became quite a collaboration, and it worked out very well." The customized laptop has a control panel that was made by Pharos to New York City Lite's specifications, which allowed them to control all the LEDs.
"It actually gave us individual color control of all seven colors in the Selador, which was pretty cutting-edge because there isn't really a fixture personality out there or the software for it that can use seven colors. I think people are realizing they have to develop this because what Selador has done with the seven colors seems like the way of the future." said Ferri.
The pit studio's debut in February marked a great success for both ESPN and Ferri, who took a risk with this idea. "I am proud of the whole system," stated Ferri, "It was a nail-biter until the very end. I was afraid it wouldn't work and then were would I be?! It is a new idea of using LEDs to light people, in fact having the entire studio completely LED, but I figured that once I went that far, why not go the whole way."
Selador, who introduced the patent-pending concept of seven LED colors, offers a range of fixtures that have the ability to mix deep, rich color and full whites at any color temperature allowing beautifully rendered colored objects and skin tones. The units are compact, have low power consumption and are DMX controllable. They come standard in black or silver and can be anodized to any color. All of the products begin with a primary beam spread of 12° and have slots that accommodate secondary lenses that alter the beam spread from 20° to 80° in 10° increments.